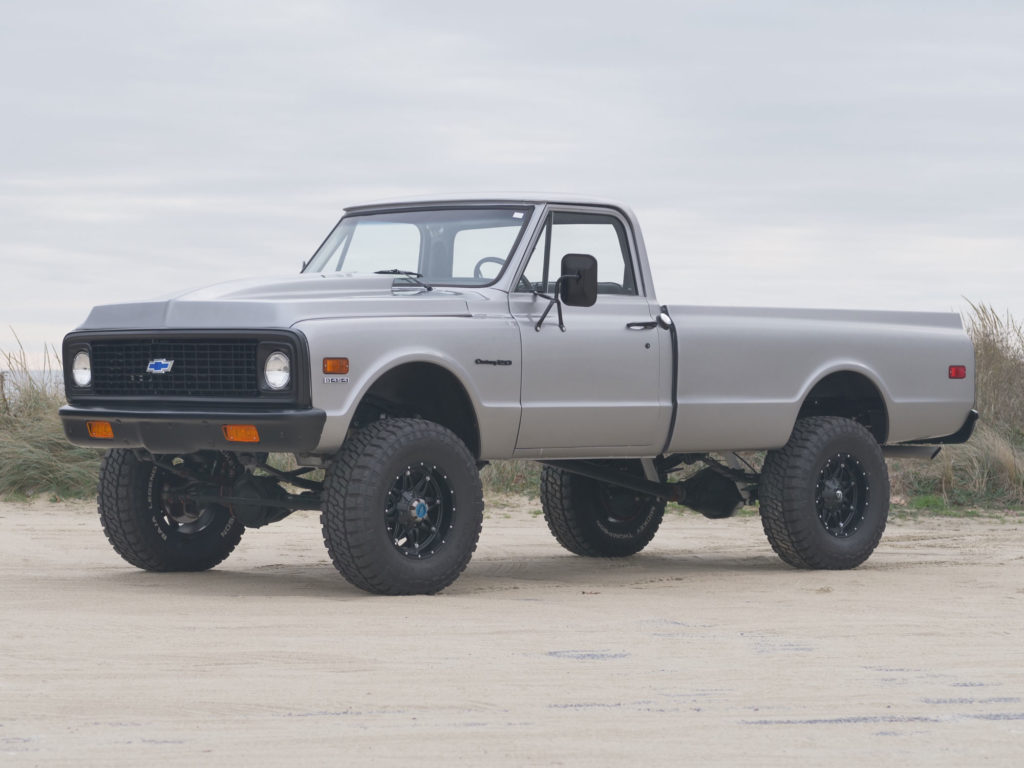 The best way to describe this 1969 Chevy K20 is it is a vehicle that retains its roots as a pickup truck that has been supplemented with the performance of a muscle car with modern updates. This southern truck is rust free and experienced a complete frame off restoration with everything on this truck being replaced or refurbished.
To start with the powertrain, the truck is fitted with a period correct 454ci engine with big oval port heads that also feature a COMP cams camshaft with roller rocker arms. Fuel is delivered by a Holley Sniper Fuel Injection system helping to give this vehicle ultimate performance. A custom 4-core aluminum radiator with dual electric fooling fans was installed to provide this beast with superior cooling capabilities. The engine is mated to a 4-speed manual transmission that was completely rebuilt during the restoration. Power is then subsequently delivered to a set of brand new driveshafts and from there to 1-ton heavy duty axles that have also been completely rebuilt. Output from the engine is released through a set of custom dual exhausts that are featured on either side of the rear of the vehicle.
The truck sits on a 4″ lifted suspension, which makes room for its 35″ Mickey Thompson Baja Legend EXP's that are wrapped around 17″ Fuel Offroad Hostage wheels. Behind the wheels you will find disc brakes that provide this vehicle with great stopping capabilities, which is something you will need in such a powerful truck like this one. Power steering will also aid you in turning these 35″ all-terrain tires making for a comfortable driving experience.
Focusing more on the body of the vehicle, you will first notice that this vehicle is finished in a beautiful silver, and it pairs well with the the black accents on the vehicle. This is another thing you will notice. All chrome has been deleted on this truck helping to give it a modern look. Other modern features on the exterior include LED headlights, taillights, and side markers. A custom cowl induction hood has also been added to represent the performance-oriented nature of this vehicle. If you look over the bedsides, you will also see that this truck's 8″ bed has been fitted with beautiful custom wood flooring.
Moving to the interior, the first thing you will notice as you open the door is the brand new Houndstooth pattern on the bench seat that pairs well with the truck's black and silver color scheme. Some modern amenities you will notice inside the cab is a Vintage Air system that will help to keep the cab nice and cool. Behind the tilt wheel, you will also notice a Dakota Digital Dash giving you all the running info you need about this truck. The interior of this K20 also features a retro looking stereo with new speakers.
That essentially wraps up mostly everything that was done to this K20. This truck is overall a good mix between classic and modern performance and looks. It is not just another old pickup truck, but it is also not some super high end crazy expensive custom build. It sits somewhere right in the middle and is perfect for what many people are looking for nowadays. It still retains that look and feel of a classic truck, but it also incorporates tasteful modern upgrades to give this vehicle added performance and styling.