1972 Chevrolet K5 Blazer CST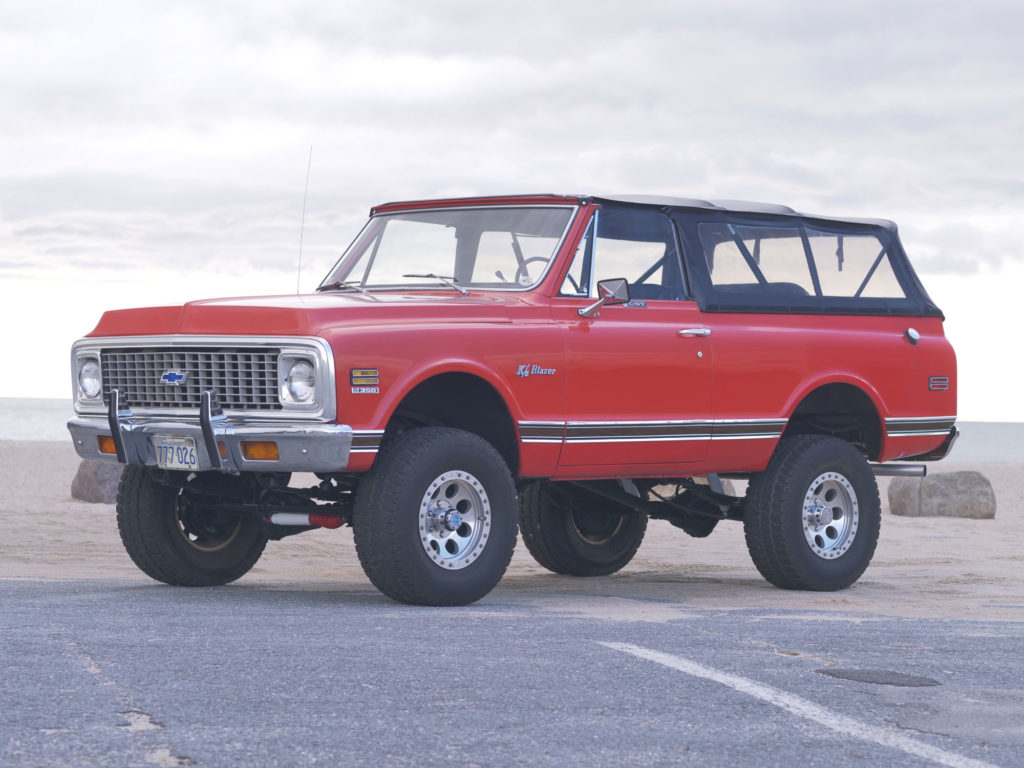 It is not every day that you find a mostly original first-generation Chevy Blazer. Due to the 1969-1972 era Blazers' low production numbers, their tendency to rot out, and their attractive body style, most surviving examples have been restored or refurbished. However, that is not the case for this CST Blazer. This specific vehicle was bought from Pierce Chevrolet in Rhode Island at the beginning of 1972, and it still sports its original documentation to go with it.
To start with the powertrain, this vehicle is powered by its numbers matching 350 V8 engine that is fed fuel by its factory 4-barrell carburetor. Power is then sent through its numbers matching rebuilt Turbo 350 automatic transmission, and from there to its also numbers matching NP205 transfer case that has been resealed. This Blazer sports Dana 44 axles on both the front and rear with both being numbers matching. New brakes and seals have been installed on both axles with bearings, ball joints, and u-joints replaced for the front axle. This Blazer also has its original alternator that has been rebuilt, and it features a new four row radiator and water pump. It also has a rebuilt driveshaft with new u-joints, and it features an aluminum dual exhaust with Flowmaster mufflers.
The exterior of this truck is mostly original. This Blazer features all original sheetmetal and retains 85% of its original paint, which is in very good condition. The previous owner installed a 4″ lift kit that features new springs and shocks, which can also be easily removed to bring back to stock ride height. This lift kit made room for this vehicle to sit on its 33″ Mickey Thompson tires and 16″ Mickey Thompson wheels.
Moving inside, this Blazer still has its original factory scroll bucket seats and console, which are all in great condition. The dash has never been cut or painted, and it still sports its original rugs, doors, and tailgate that feature no rust and have never been cut. For an audio system this Blazer still has its original factory am/fm radio installed, and it also has a newer CD player with 4 speakers and an amplifier under the seat as well as an amplified sub-woofer in the rear. This Blazer also comes with its original hardtop, which has been refurbished, and it currently wears a new convertible safari top with removable sides and rear windows.
This 1972 Chevy Blazer CST is an unmolested time capsule that has only had bolt on additions that comes with many factory parts. This is a rare piece with original miles, the right colors, packages, and original paperwork from the dealer, which includes the factory order, bill of sale, original check stub, protecto plate warranty tag, glovebox manuals, and a whole binder filled with order paperwork.
The previous owner was the third owner as he bought it off the original owner's son in law making the new purchaser of this vehicle the fourth owner. This vehicle has never been abused and has been garage kept most of its life. It has a great patina all around and is so original it sill has the factory chalk marks on the firewall from when it was built. As the values rise for these first-generation Chevy Blazers more and more are becoming candidates and products of restorations and restomod projects, meaning there will be less and less like one that are still in their virgin form and in good condition. Act now and get yourself that makes you feel like you are back in 1972. For more information, please give us a call at 508-775-3276 or email us at contact@hyannisautoaccessories.com