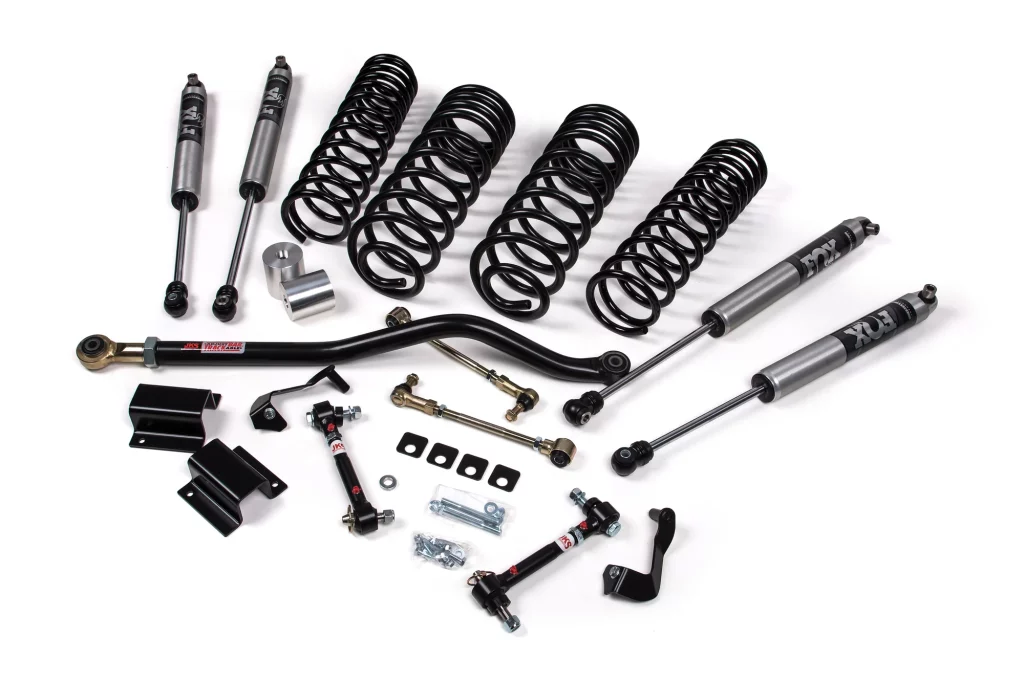 JKS 3" J-Venture Kit w/ Fox Shocks
For a lift we went with JKS's 3″ J-Venture lift that incorporates dual rate coil springs for a soft ride on the road, and we paired that with the optional Fox 2.0 Performance Series shocks to provide superior dampening giving the customer a soft and comfortab;e ride.
The J-Venture kit comes with an adjustable front track bar and rear track bar bracket to help keep the axles centered underneath the vehicle, and we also added front lower lower control arms to help ensure caster angles are kept in factory specs, so steering is not affected.
Overall, this kit will not only lift your Jeep but it will give you an improved ride over stock.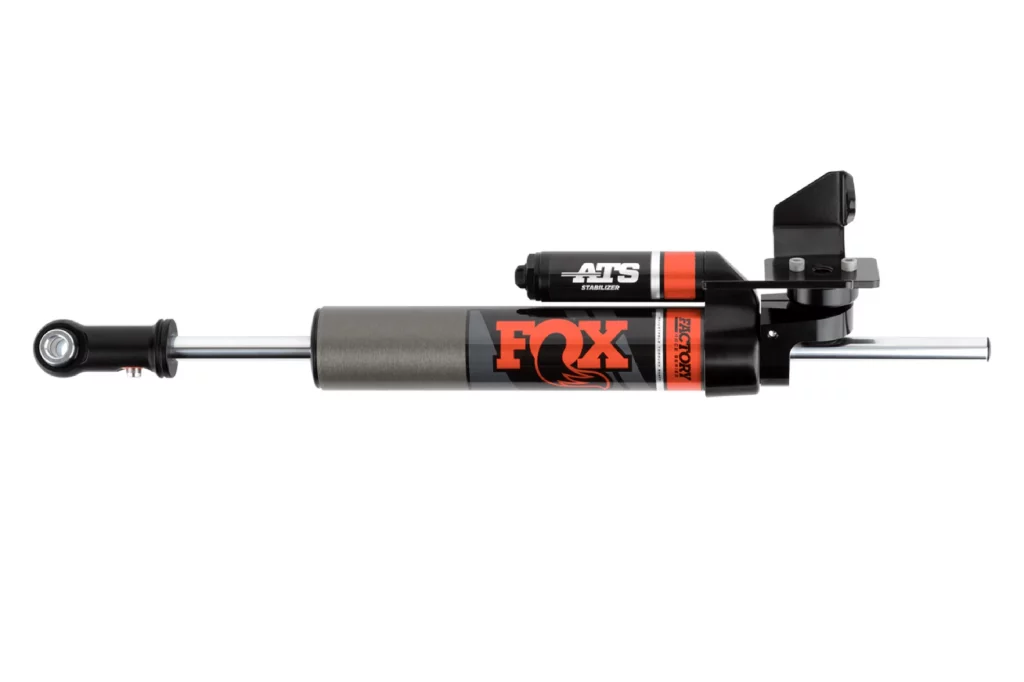 Fox 2.0 ATS Steering Stabilizer
Another item that we incorporated on this Jeep is an adjustable steering stabilizer from Fox. Being that this vehicle is now lifted, it can fit much larger tires. 
Larger tires are heavier than stock, which can make steering a bit more difficult and can lead to more side to side movement. To aid in this we like to incorporate a steering stabilizer to help mitigate any vibrations or unwanted movements as well as enhance your steering capabilities.
This adjustable steering stabilizer from Fox has 24 levels of adjustability ranging from soft to firm, allowing you the ability to find a level that works best for your driving preferences.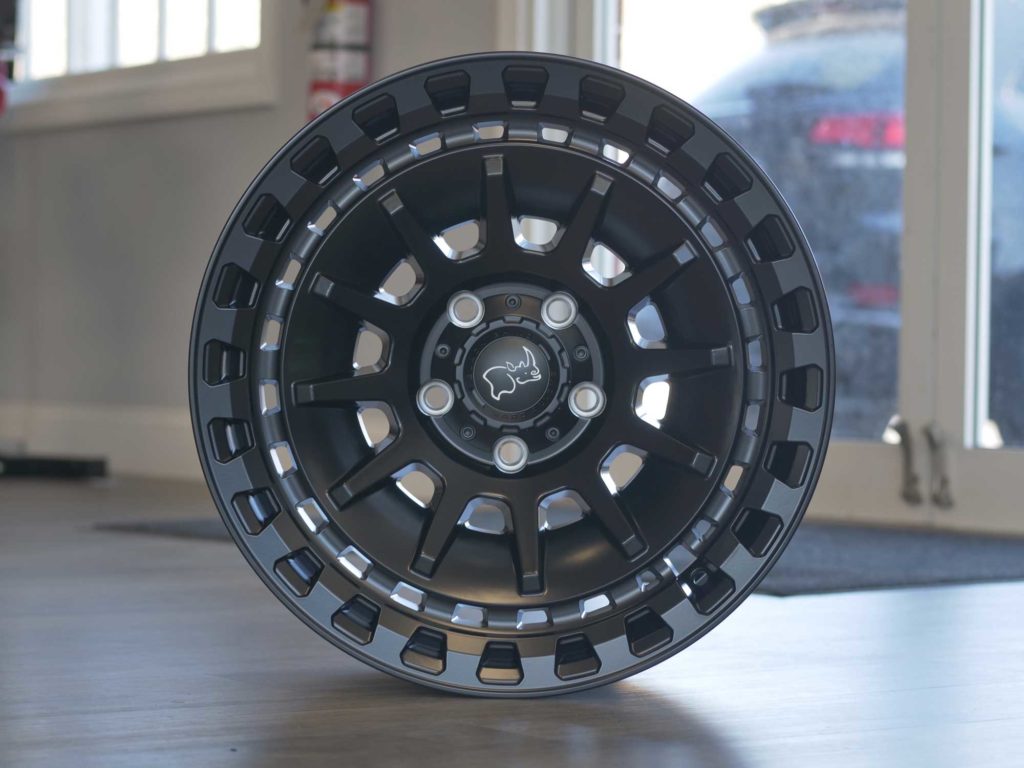 Black Rhino Barrage 18"x9" (0mm)
For wheels, the customer was looking for either a 17″ or 18″ wheel to help maintain the rugged look of the Jeep. He ultimately landed on the Black Rhino Barrage, a new wheel from Black Rhino that comes in a few different finishes. The customer ultimately went with a Matte Black.
For a size we went with an 18″x9″ wheel with a 0mm offset as this satisfied the backspacing requirement specified by the lift kit manufacturer, and it did not stick too far out past the fender flares. 0mm offset is the most common offset found for aftermarket wheels that are of this size.
We love incorporating the Black Rhino wheels on the Jeeps as they come in many different designs, sizes, and finishes, and they go with the offroad theme of the Jeeps.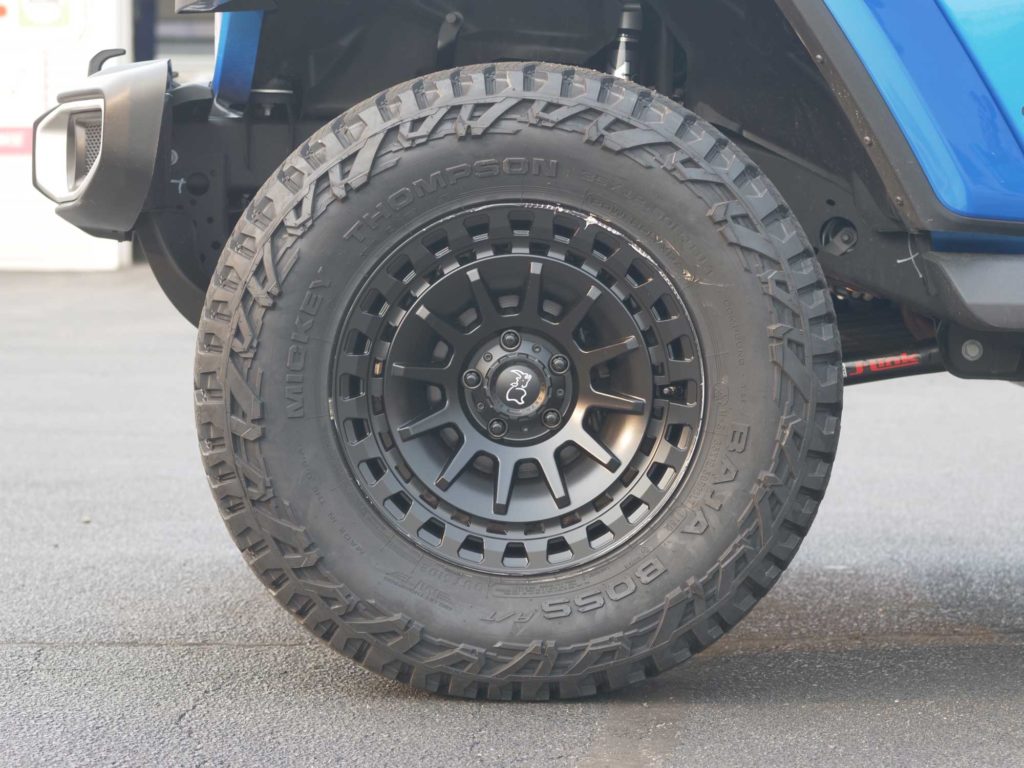 Mickey Thompson Baja Boss A/T 35"x12.5"x18"
For tires the customer was looking for an all-terrain tire that would drive well on the road but still had an aggressive look. 
We had it narrowed down between the Nitto Ridge Grappler and the Mickey Thompson Baja Boss A/T, and the customer ultimately went with the Baja Boss A/T as he loved the sidewall and tread design on the tire.
He also liked that it was a versatile tire that would drive well on the road, would do great when he took his Jeep on the beach, and it would provide great traction in the rain and snow. For a size we went with a 35″x12.5″x18″ that really helps to aid in giving this Jeep a more muscular look.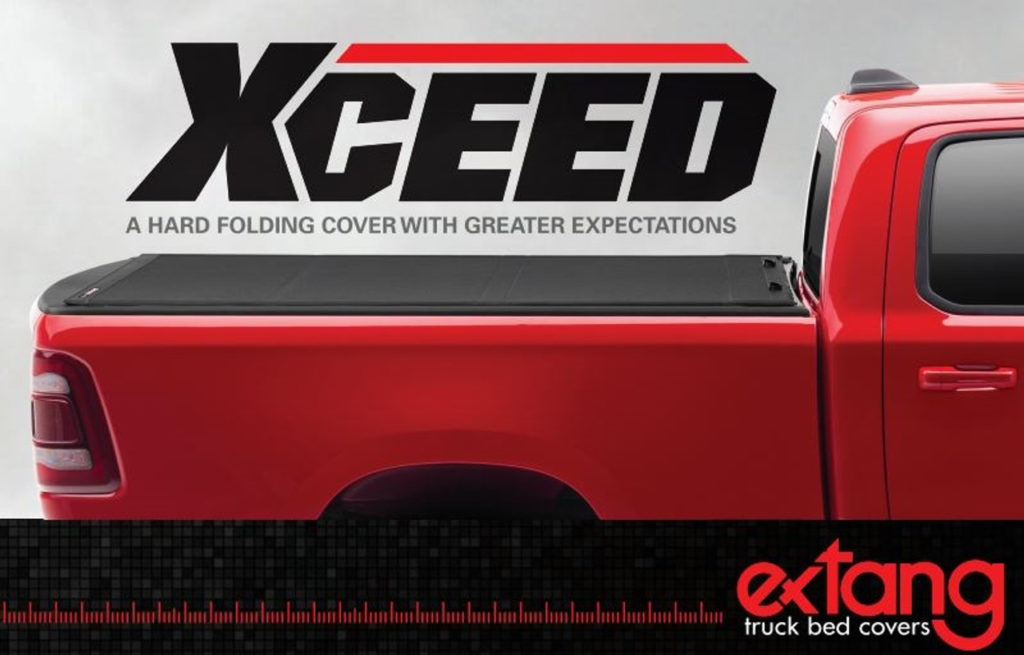 The final piece of this build was a tonneau cover. The customer was not entirely sure what he wanted for a cover, but he ultimately picked a hard tri-fold cover from Extang called the Xceed.
This cover is great as it is one of the most functional tri-folds that also looks great. The problem with many tri-folds is that you either lose a third of your bed space as not all fold up the last third, or if they do they rub on the cab.
The Xceed not only folds all the way up, but it has holders so it does not rub against your cab when it is all the way up. Along with that it has a nice flush appearance making it hard to tell there is even a cover on your bed.