2022 Ford Bronco Cape Cod Edition - Cyber Orange
This Bronco marks our 2nd Cape Cod Edition build and follows a similar scheme to our first Bronco that we completed. The main difference between this one is this Bronco is Cyber Orange and has a 7-speed manual transmission. The main goal with this build was to show what can be done with these Broncos. They look good stock, but with the right modifications they look even better. Take a look down below to see everything we did to this vehicle to make it what it is.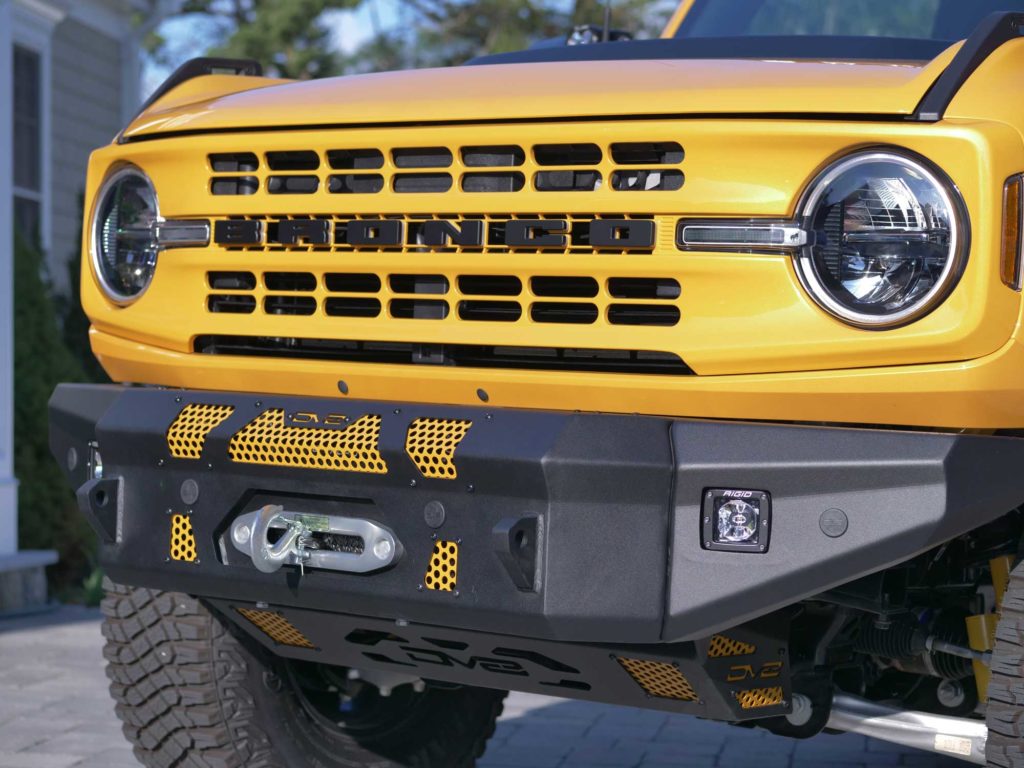 DV8 Front Bumper, Skid Plate, Winch
We swapped out the stock bumper for a more complete steel bumper from DV8. This bumper provides a nice wide presence, and it houses a winch also from DV8. Right below that is a skid plate from DV8 that offers extra off-road protection. This bumper also has space for two pod lights as well as an array of different grates that we opted to paint to match the rest of the vehicle.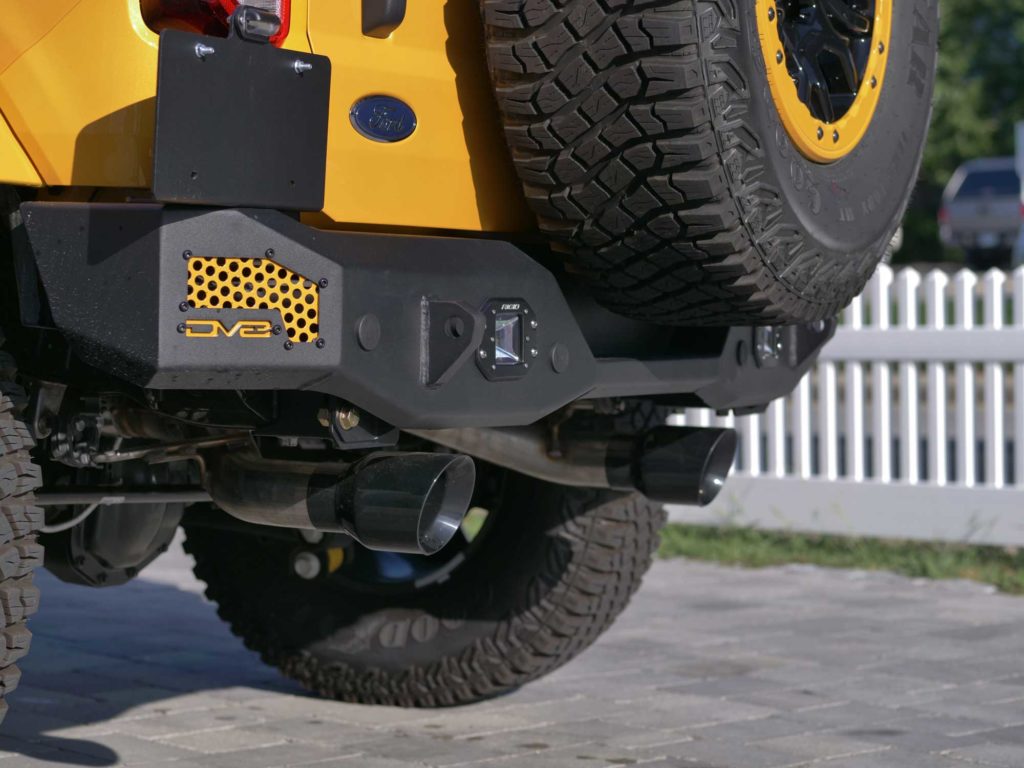 To match what we did up front, we replaced the stock rear bumper for a steel bumper from DV8. This bumpers has a nice simple yet sleek look and has space to house accessory pod lights. What is great about this bumper is that it has a designated place for the license plate, and it features grates that we painted to accent the rest of the vehicle.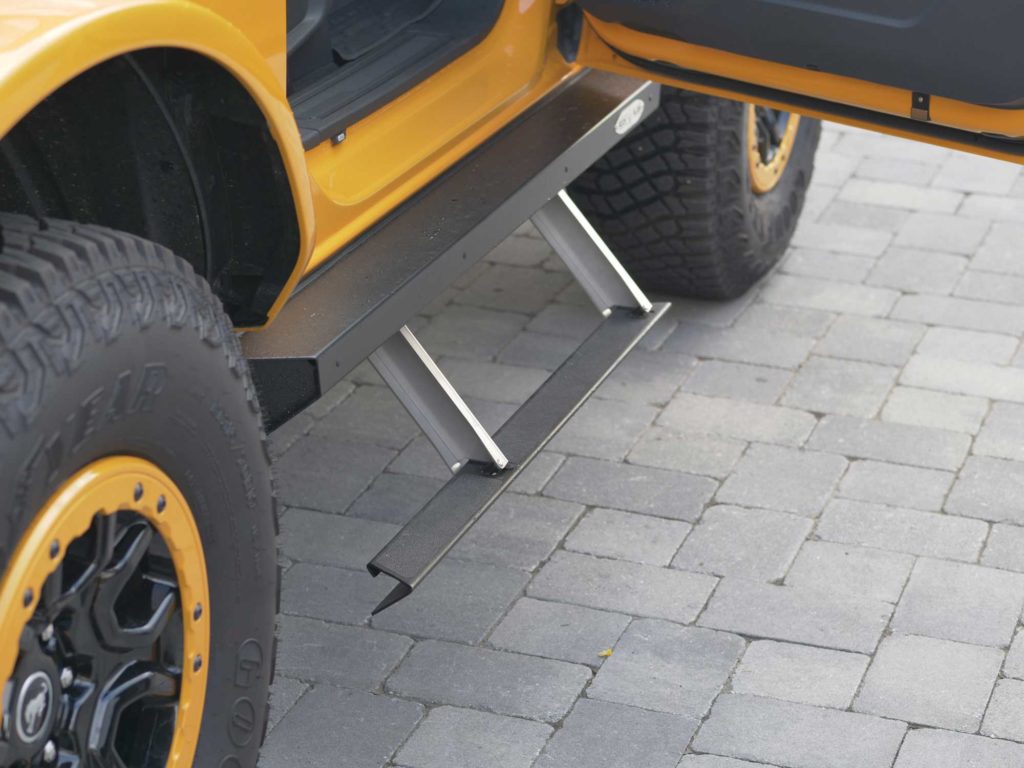 Rock Slide Engineering Power Steps
Being that this Bronco has the Sasquatch package, the added height from the lift and larger tires makes for a big step when getting into the vehicle. To make it easier we installed these power retractable steps from Rock Slide Engineering. These steps retract down when the door opens, and they retract back up when the door closes. What is great about these steps are that they double as rock sliders, so they provide nice protection and are able to withstand the abuse that comes from going over obstacles.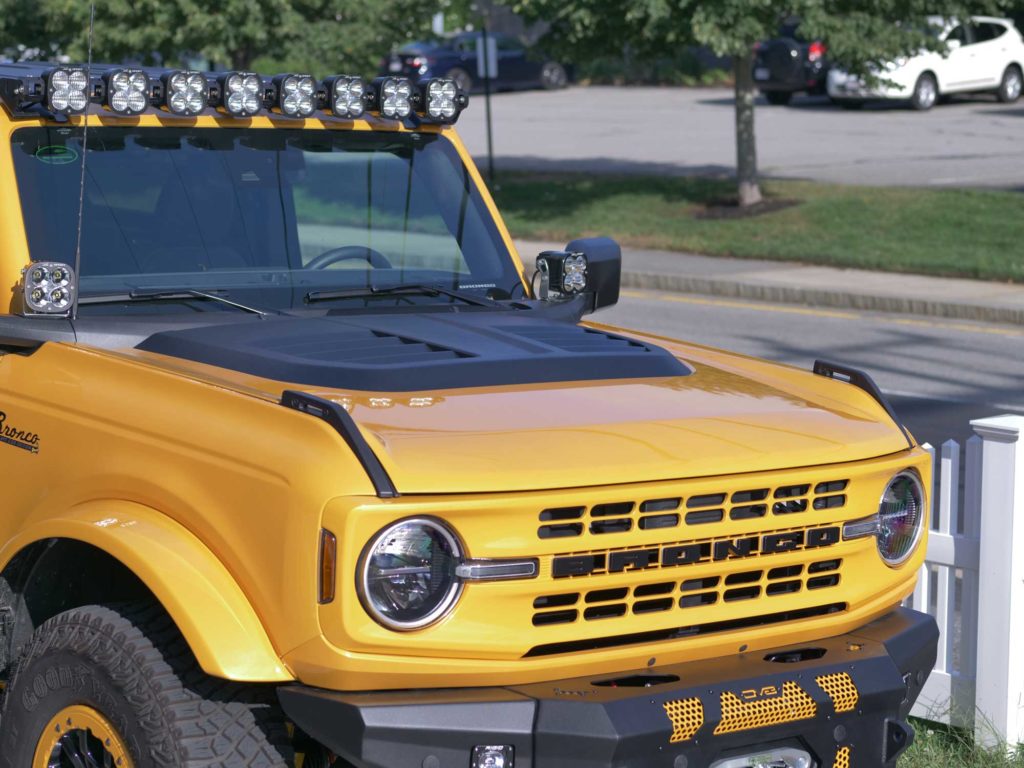 Advanced Fiberglass Heat Extractor Hood
To give this Bronco a custom look we decided to add an aftermarket hood. The one we opted for on this Bronco is one from Advanced Fiberglass Concepts, and it is their heat extractor design. We ultimately decided to paint the base of the hood Cyber Orange to match the rest of the vehicle, and we painted the hood vent area a clean flat black. This overall gives the Bronco a more sporty look, and it further emphasizes the black and orange color scheme seen on the rest of the vehicle.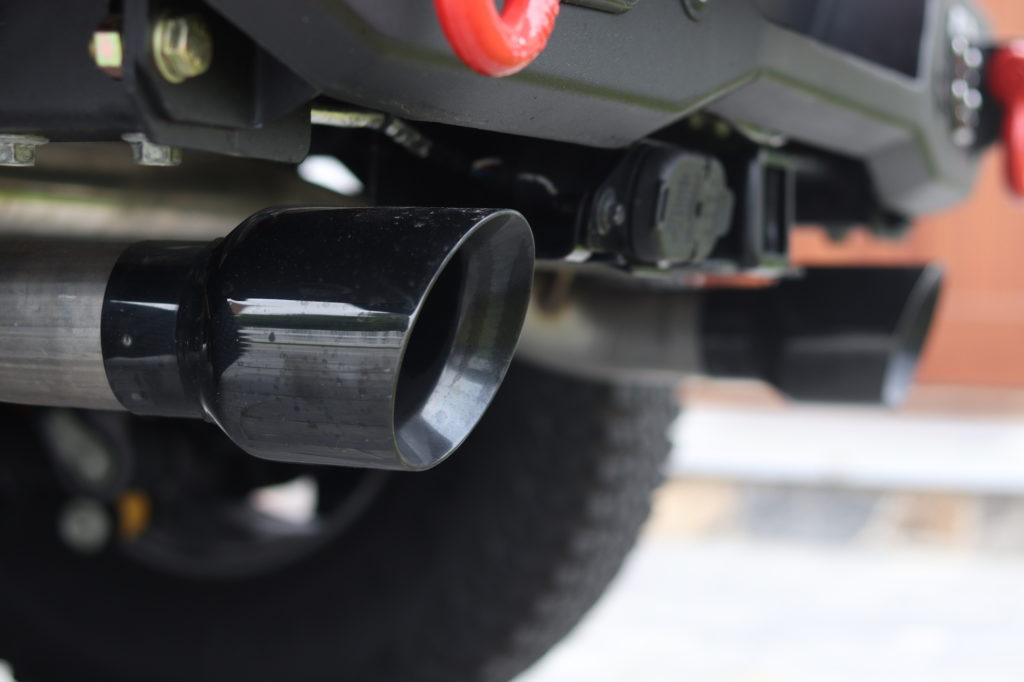 The stock exhaust that comes on the Bronco is quite lame and is difficult to hear. Naturally, we opted for an aftermarket solution and went with AWE's dual exit exhaust system. This system really helps to liven up the vehicle, and AWE did a great job perfecting the sound. It is not obnoxious or drony, but it is the perfect amount of sound to match the sporty aesthetic of this Bronco.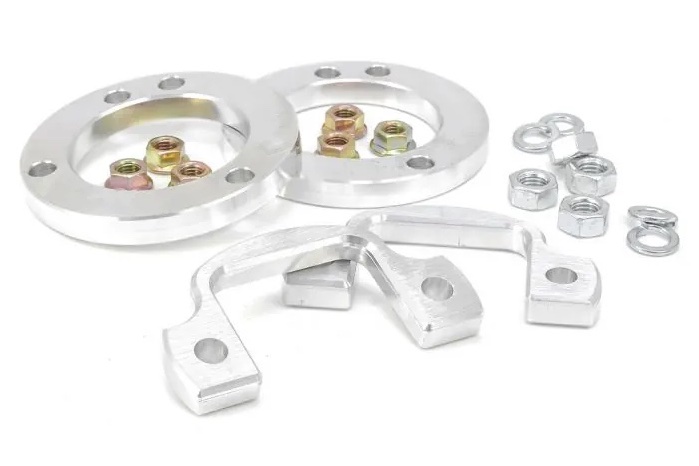 ReadyLIFT 1.25" Leveling Kit
Being that this Bronco is equipped with the Sasquatch package, it already comes lifted from the factory, but we found that a leveling kit was needed when we installed the DV8 front bumper. The heavier than stock bumper weighed down the front giving the Bronco a bit of rake. To counteract that we installed a leveling kit from ReadyLIFT to level out the front end. What is great about this kit is that it has no impact on ride quality, which is exactly what we were going for.
Since this Bronco has the Sasquatch package making it ready to go off-road, we thought it would be a good idea to make this vehicle off-road capable no matter the time of day. This Baja Designs light bar covers the whole width of the vehicle and provides ample light output.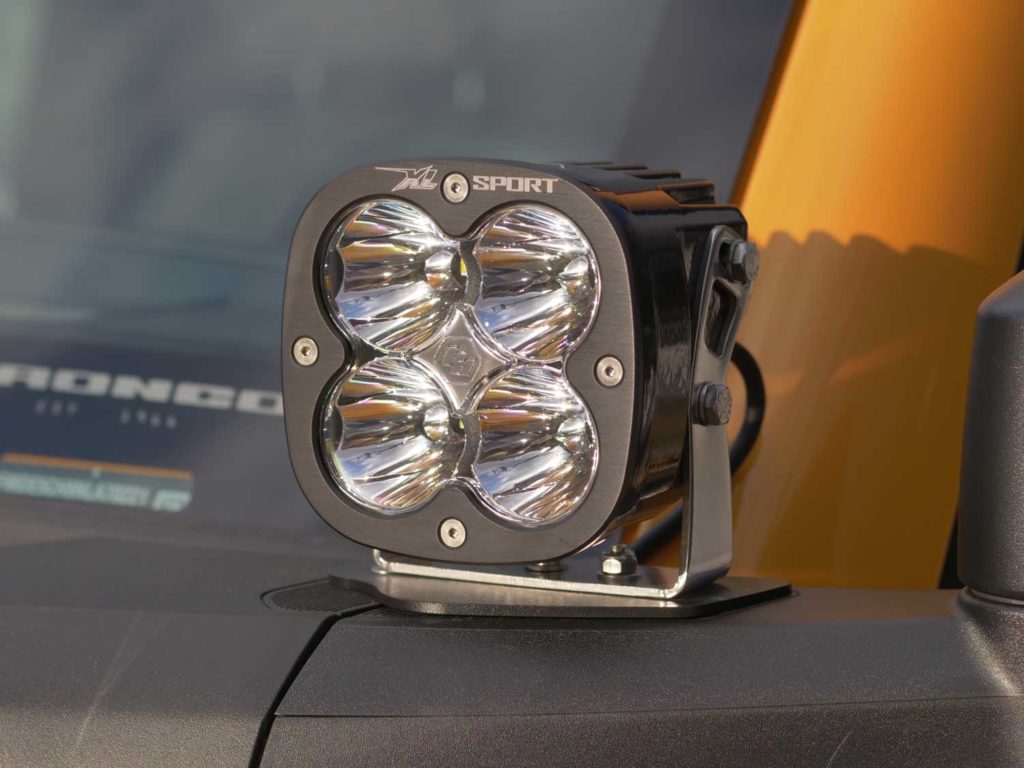 Baja Designs Ditch Mount Lights
To provide more light output and to match the light bar we put on top, we decided to go with a set of ditch mount lights. We angled them out to sit parallel with the Rigid lights that we have in the front bumper.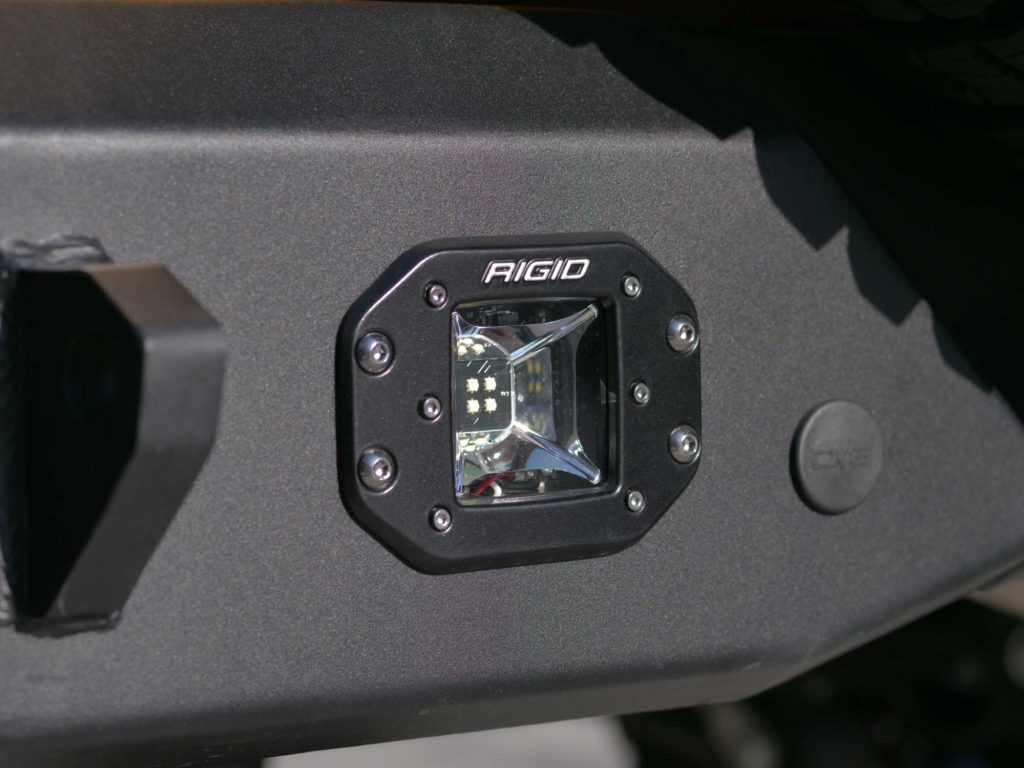 Rigid Radiance Light Pods
For the front and rear bumpers we had spots to put 3″x3″ cube pod lights. We decided to go with Rigid Radiance light pods because they are great quality, and they have a backlight feature. We decided to go with lights with an amber backlight to match the orange color of the Bronco.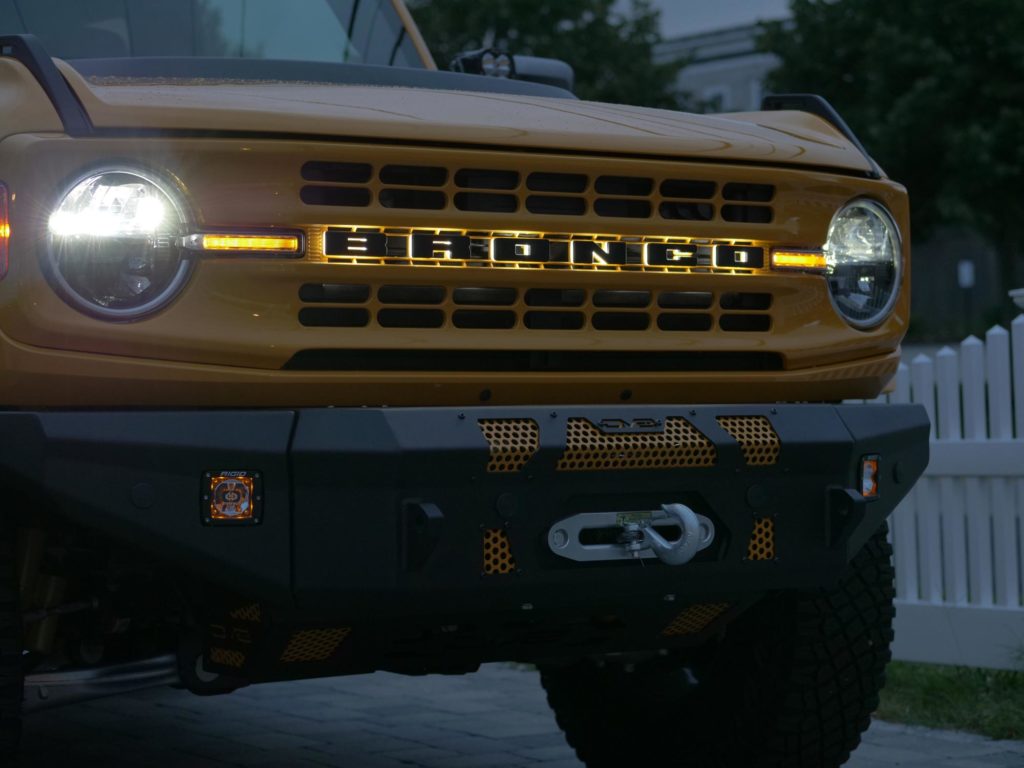 Oracle Illuminated Grille Letters
Another interesting accessory light that we added were the illuminated grille letters from Oracle Lighting. These letters provide a nice halo that gives the front of the Bronco a nice appearance at night as it helps to create a solid stream of light across the front grille that starts at either end with the headlights.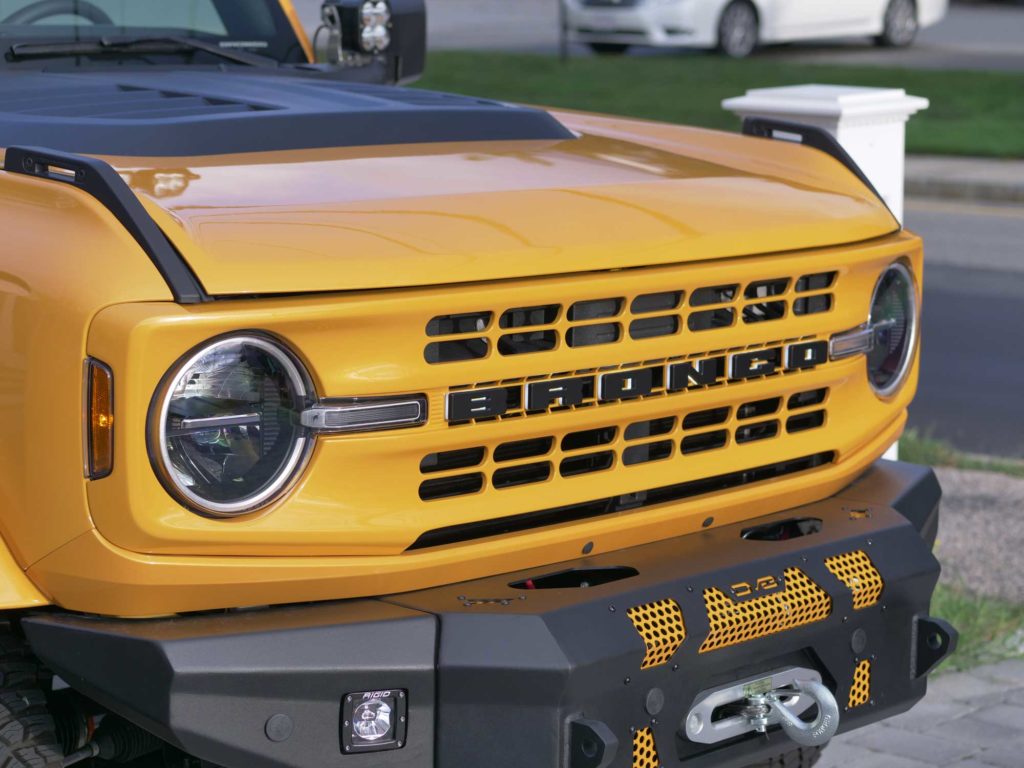 The grille on this Bronco came textured black on this Bronco and to give the vehicle a more cohesive look we decided to color match the grille to be the same color as the rest of the vehicle. We use Glasurit paint, which is a company from Europe that is used on many European cars straight out of the factory including Mercedes, Porsche, and many others.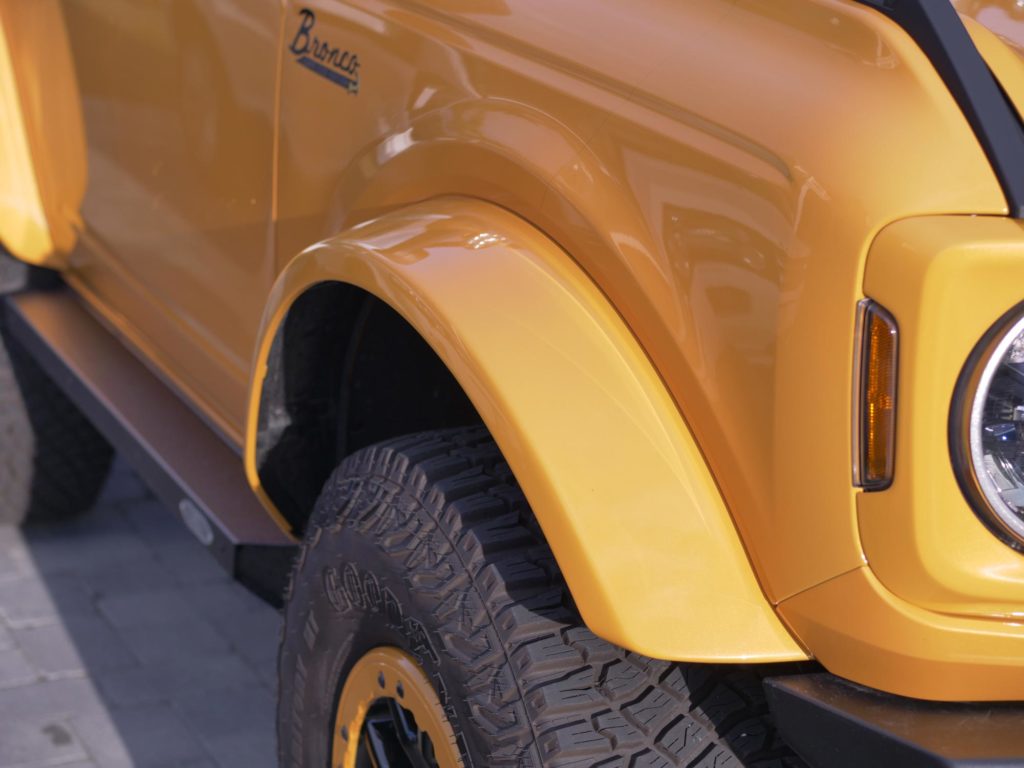 Similar to the grille, the fender flares come textured black and to give the Bronco a more complete look we color matched the flares to the rest of the vehicle. All paint work we did on this vehicle was done in our AFC downdraft bake spray booth in our in house body shop.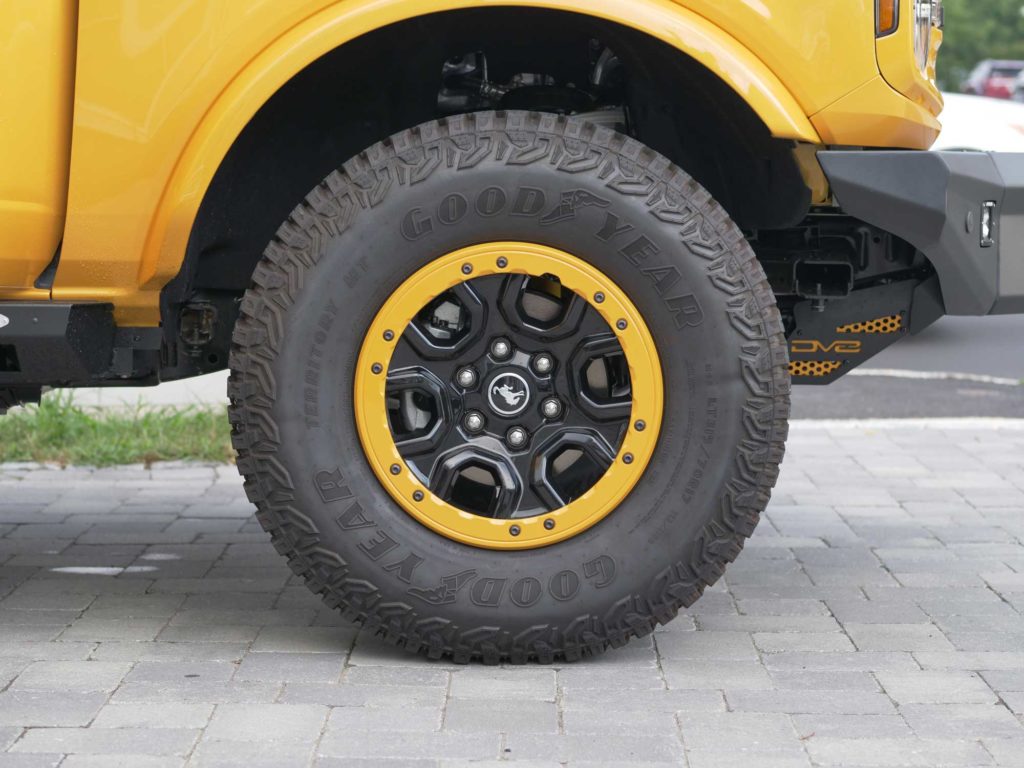 All Sasquatch Broncos come with these beadlock wheels and many, like this one, come silver. We decided to paint match these rings to the rest of the vehicle as it helps to tie in the wheels and tires with the main body of the Bronco. We plan on doing this to all Sasquatch Broncos that we do.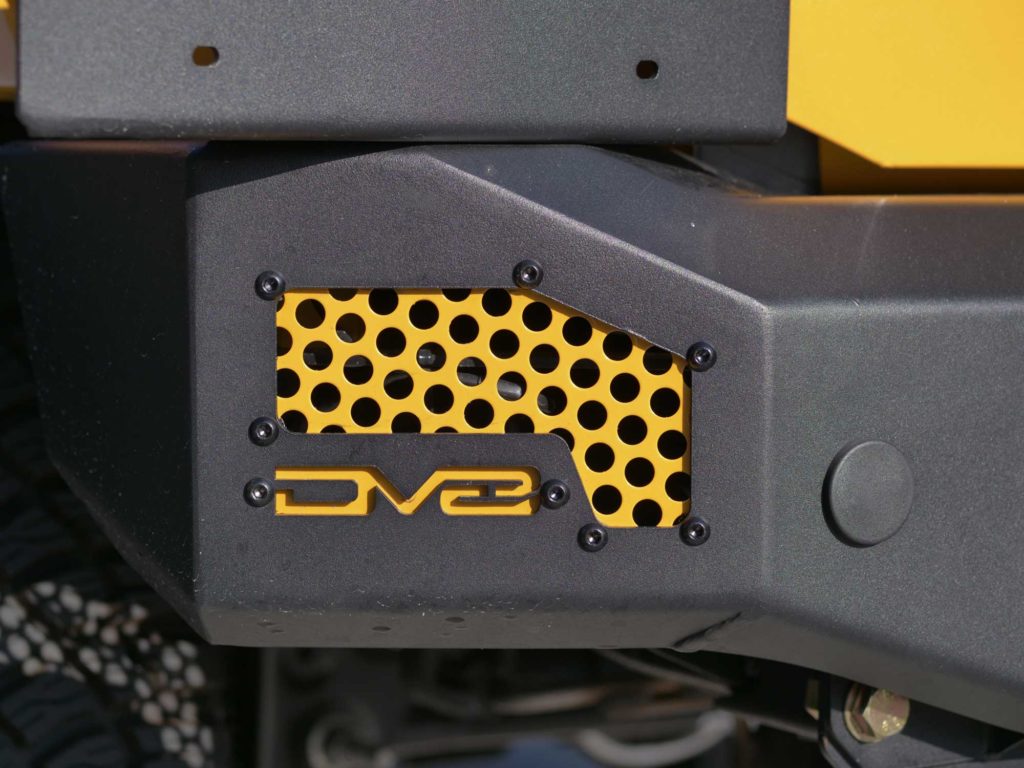 The DV8 bumpers and skid plate we put on this Bronco come with several different grates. They are silver and can be left that way, but we decided to paint them Cyber Orange to continue with the whole orange and black color scheme that is seen on the rest of the vehicle.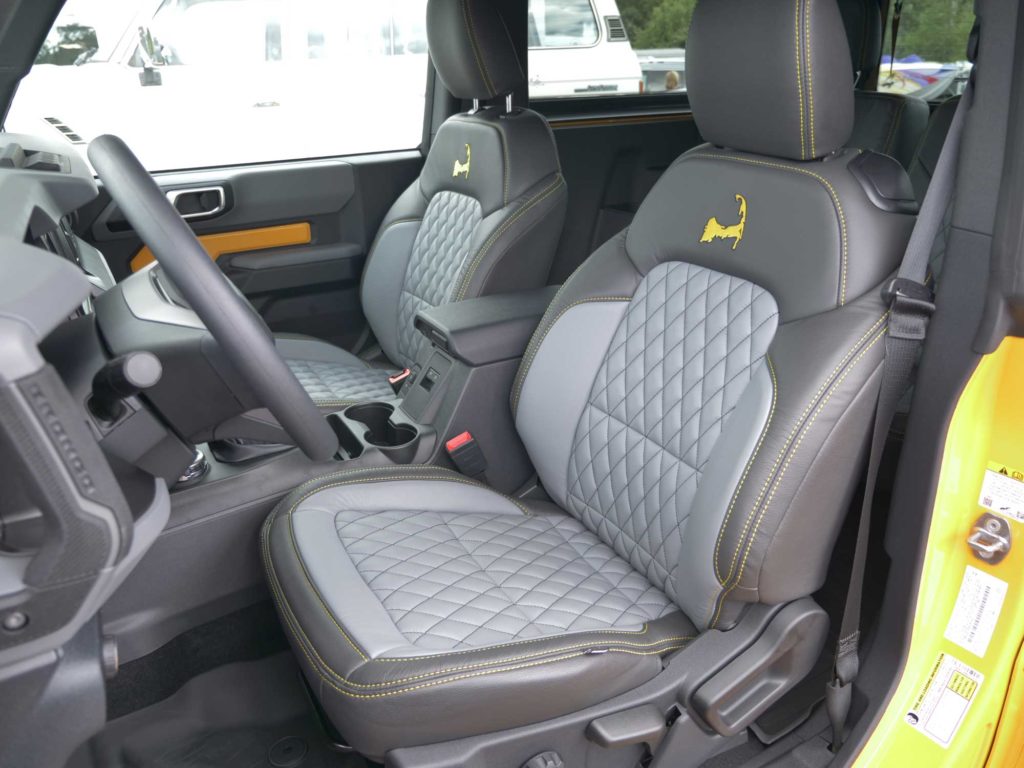 To further give this Bronco a custom look and to tie in the interior with the exterior, we got a set of custom leather seats made up. Being that this is a Cape Cod Edition we got a nice outline of Cape Cod stitched up on the seat.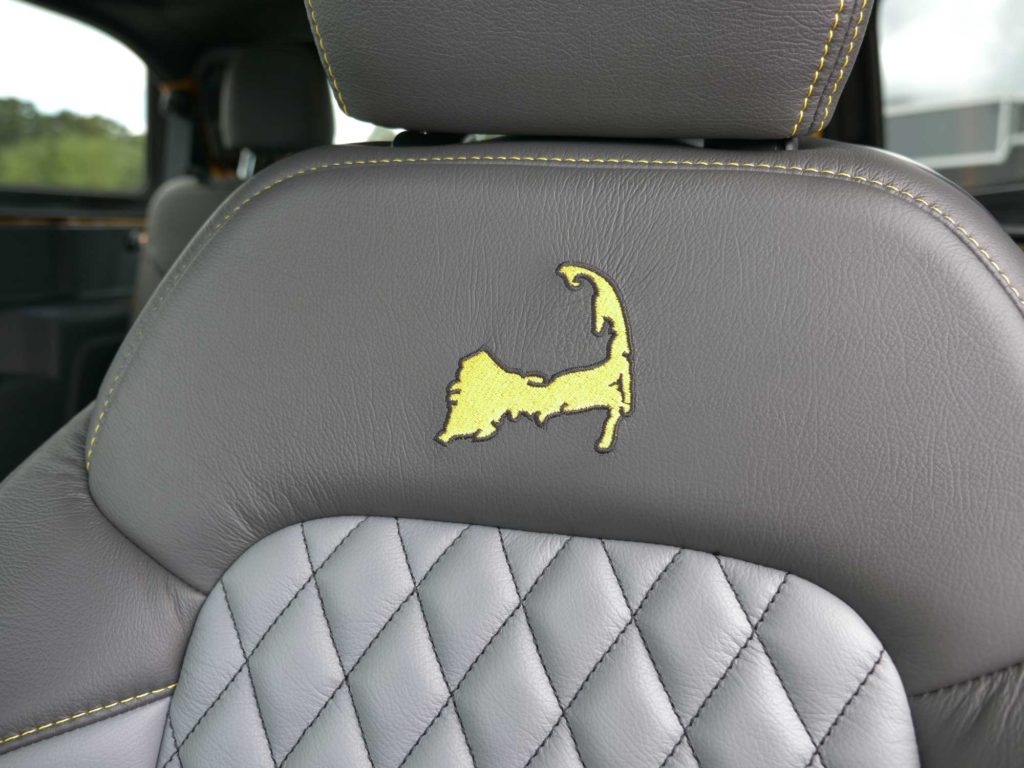 To represent this being a Cape Cod Edition we got a badge made up that sits snugly beneath the old school Bronco badge. We also have that stitched on the leather seats we had made.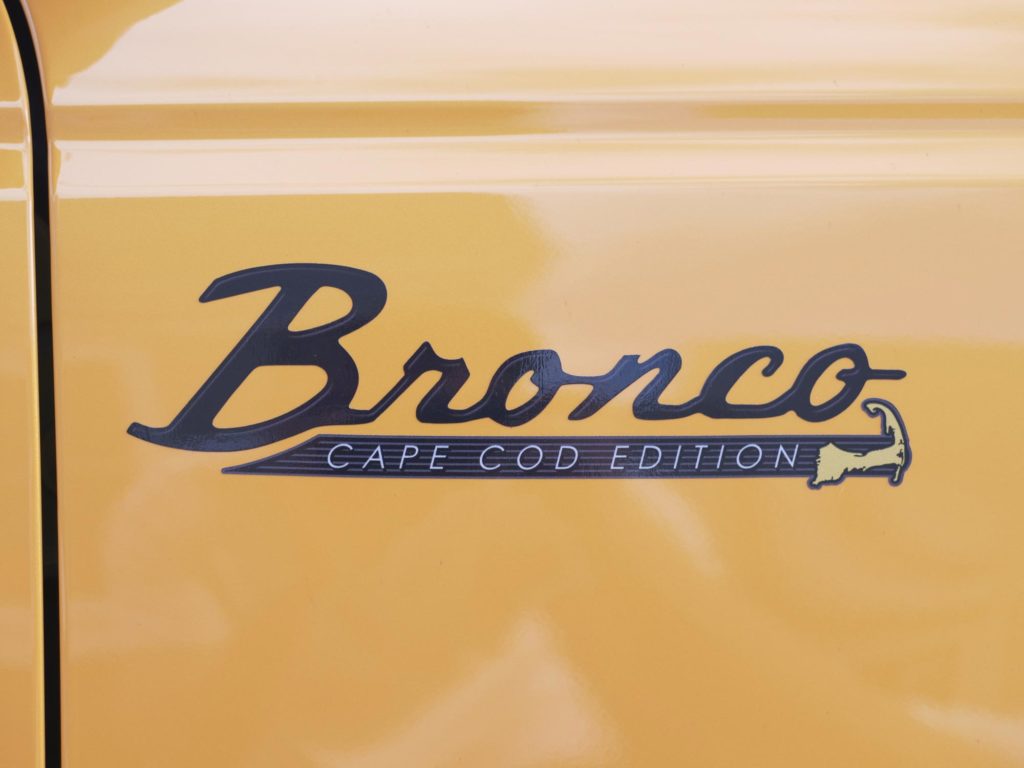 Black Old School Bronco Badge
We did away with the basic Sasquatch badge that came on this Bronco and opted for these old school Bronco badges to give this Bronco a classic look. Our Cape Cod Edition badge tucks in nicely below.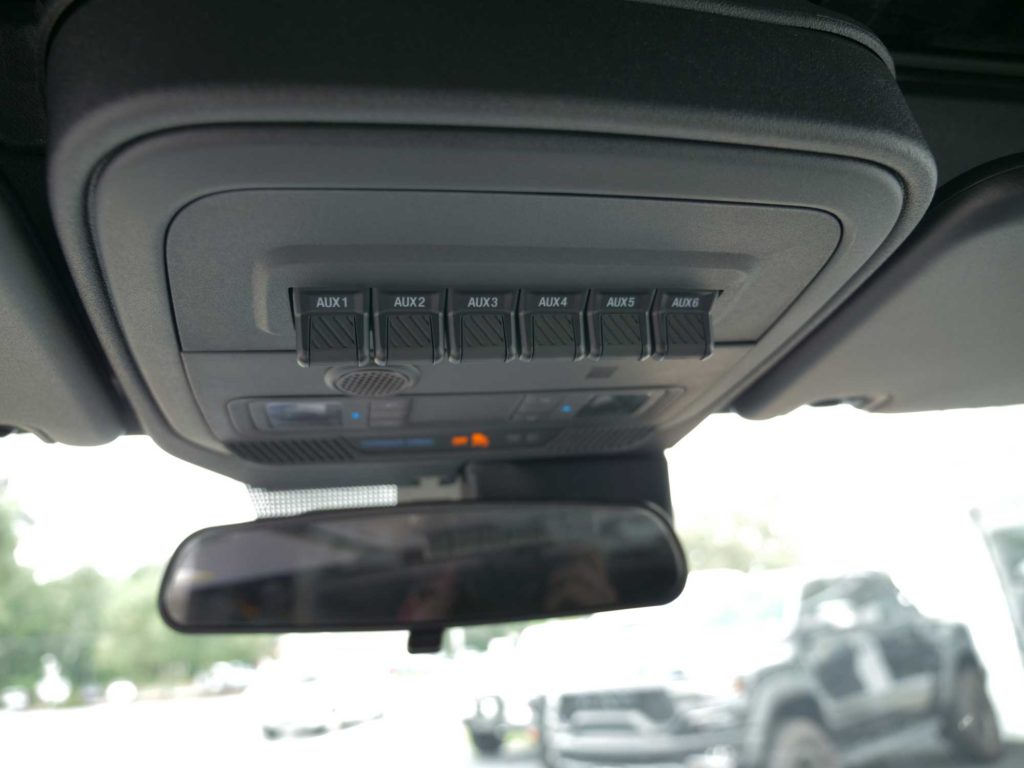 Since this vehicle has a bunch of accessory lights, we needed a lot of switches. Ford offers an auxiliary switch panel as an option, but this Bronco did not come with it, so we decided to install one ourselves.