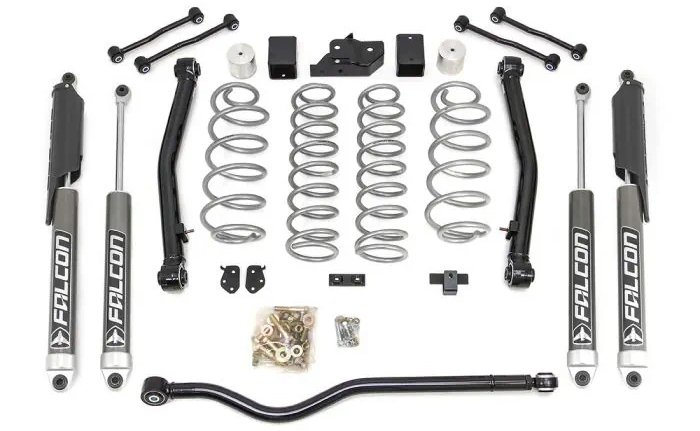 ReadyLIFT 3.5" Coil Lift Kit
We went with this ReadyLIFT 3.5″ coil spring lift kit because in our opinion this is one of the best value lifts for the money. First off it comes with all new coils and Falcon shocks, which will help the Jeep retain its off-road capability and will preserve ride quality as well.
What separates this kit from most other basic lift kits is the inclusion of an adjustable track bar and new lower control arms. The lower control arms help to maintain proper caster angles, which will make sure the vehicle still steers properly. The adjustable track bar helps to keep the front axle centered underneath the vehicle, which will maintain proper steering and suspension angles. For the rear a track bar relocation bracket is used.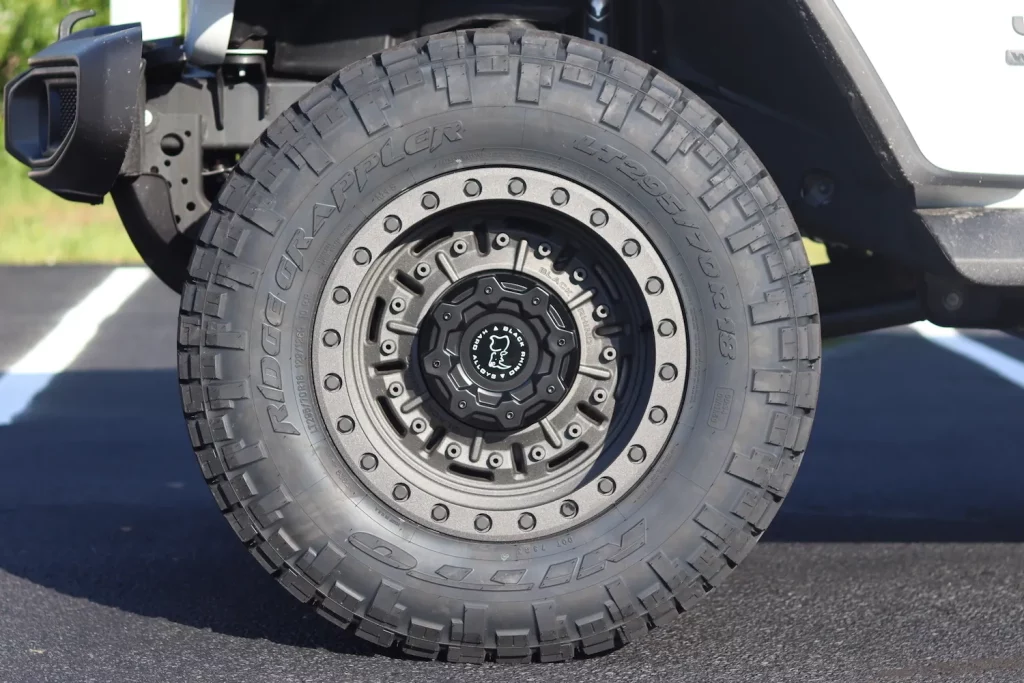 295/70R18 Nitto Ridge Grapplers
As with any lift, including this one, you are able to fit larger tires. The lift recommends 35″ tires, but you could probably fit 37″s with some other modifications. The tires we went with were 295/70R18's, which are slightly smaller than a 35″ tire, but due to a lack of supply of 35's in 18″ wheel sizes we went with the 295/70R18's.
For the tire itself we decided to go with the Nitto Ridge Grappler as we thought that this tire fits the style of how this Jeep will be used. The Ridge Grappler is a hybrid terrain tire that performs well both on and off road. This customer plans on taking his Jeep out on the beach every now and then but will mainly be using it to daily drive, making the Ridge Grappler a great choice for this vehicle.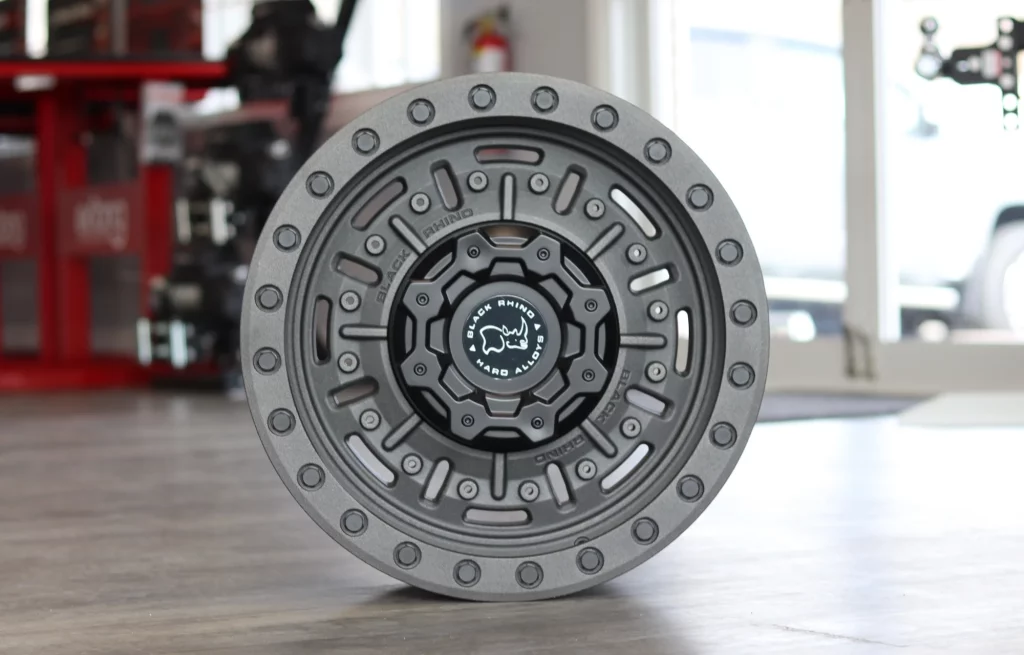 18"x9.5" Black Rhino Abrams (-18mm)
For a set of wheels the customer decided to go with the Black Rhino Abrams after he saw it on display in our showroom. The Abrams comes in a few different finishes, but he ultimately decided to go with the textured matte gunmetal. Black Rhino wheels look great on Jeeps as they exert an off-road appearance and many wheels come in a matte finish like this one.
The customer wanted 18″ wheels, and the Abrams only came in an 18″x9.5″ with a -18mm offset. The negative offset on this wheel did push out the wheel and tire assembly out past the fender about an inch and a half, which we thought looked pretty good, and it may pose a problem when coming to get an inspection, so he also kept his stock wheels and tires.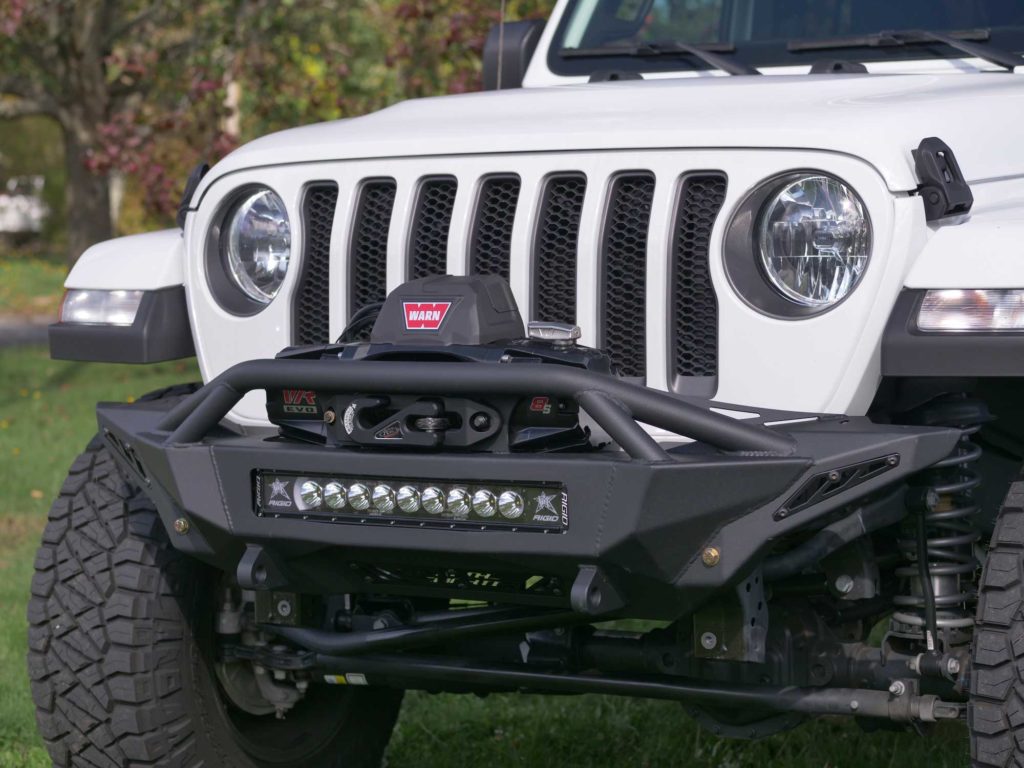 Addictive Desert Designs Stealth Front Bumper
Along with a lift, kit, wheels, and tires, the customer wanted to also add an aftermarket bumper that had spots for a winch as well as some accessory lighting.
We recommended Addictive Desert Designs as they create high quality bumpers with sleek designs, which was exactly what the customer was looking for.
We had space for a 20″ light bar as well as some light pods, though the customer only opted for the light bar. The bumper also had mounting spots for a winch, though an aftermarket fairlead from Addictive Desert Designs was needed for proper fitment.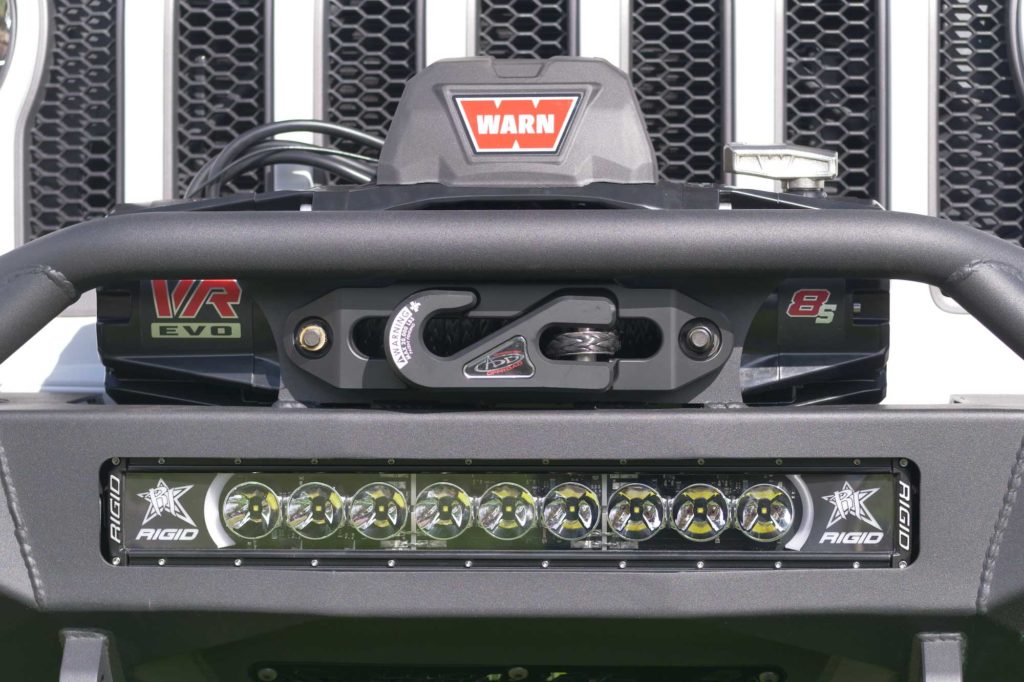 Warn VR EVO 8-S Winch & Addictive Desert Designs Fairlead
For a winch we went with the Warn VR EVO 8-S. We chose this winch for a couple reasons. Firstly, Warn is known as the market leader for creating premium high quality winches.
This winch also has a synthetic cable, which is much better than compared to the standard steel cable. The synthetic cable does not kink and is more durable than the steel one.
This winch has a maximum load of 8,000 pounds, though there are options available for 10,000 and 12,000 pound load capacities. We went with 8,000 as this winch is mainly for looks and will rarely be used.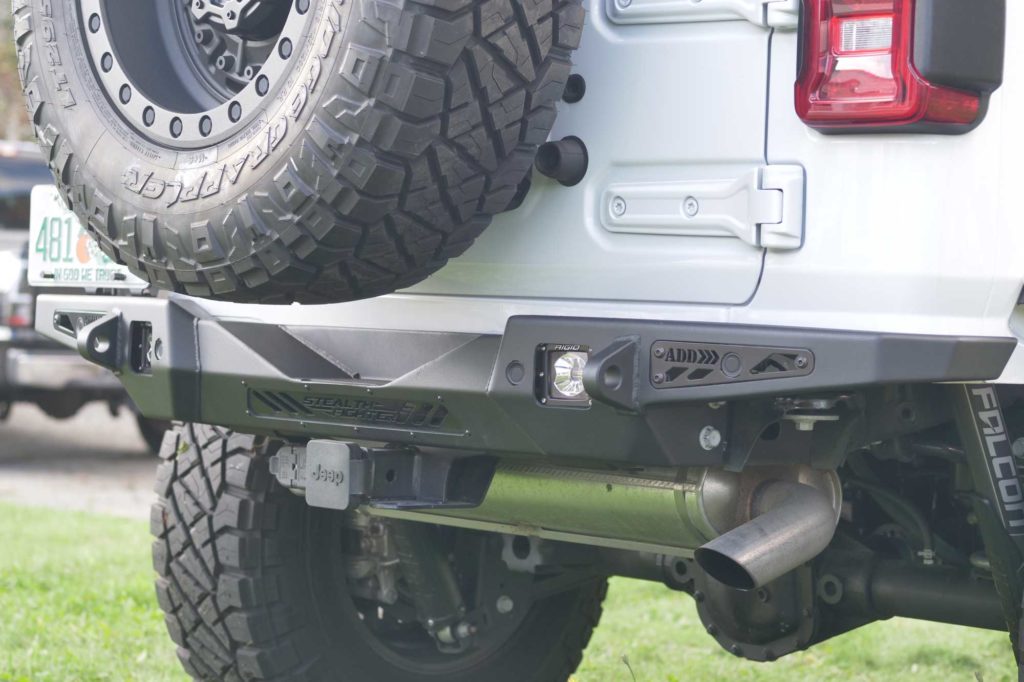 Addictive Desert Designs Stealth Fighter Rear Bumper
To match the Stealth Fighter bumper up front, we went with Addictive Desert Design's Stealth Fighter rear bumper.
Similar to the front bumper, this bumper is high quality with a fierce design offering a high approach angle.
The bumper had space for two light pods, in which we put in a set of Rigid Radiance light pods with an amber backlight to match the light bar up front.
The higher position of this rare bumper required an aftermarket spare tire extension to move the spare tire up to clear the new bumper.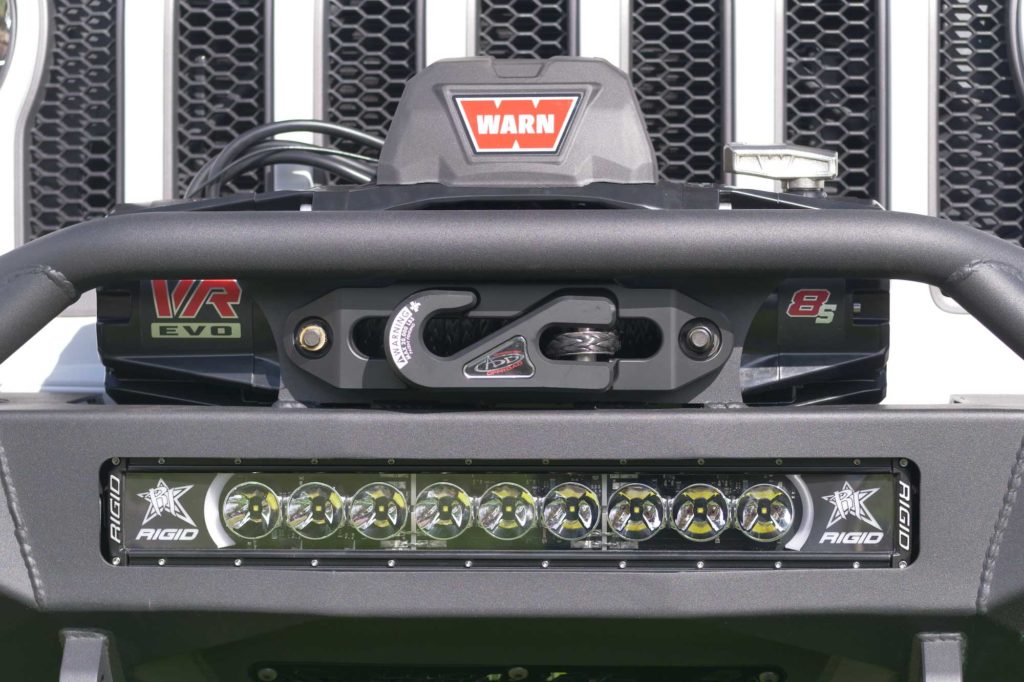 Rigid Radiance Light Bar & Light Pods
For the lights we opted for the Rigid Radiance light series, which we installed a 20″ light bar and a set of light pods.
We went with the Rigid Radiance series because Rigid manufactures high quality lights that are built to last. We went with the Radiance Series as these lights offer a cool backlight feature, which allows you to use the light without blinding people going the other way.
The backlight on these lights are amber, though there are options available in red, blue, or white. Both the main light and backlight can be on at the same time based on how you wire it, or they can be toggled on seperately.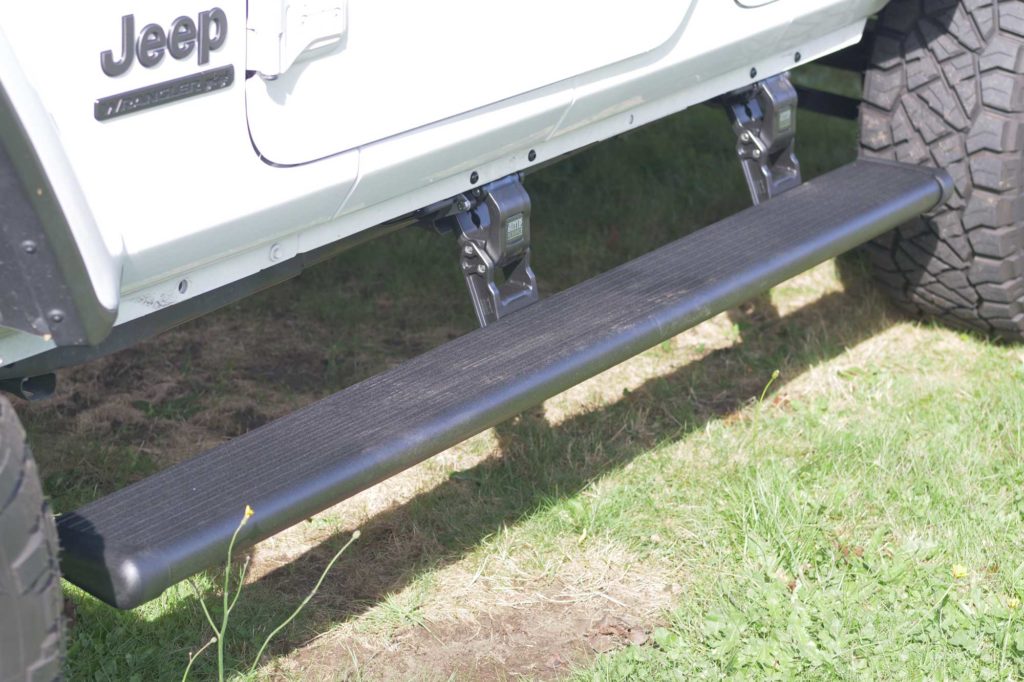 Amp Research Retractable Steps
Being that this vehicle is now lifted with larger tires, it means that it is now a considerably higher step to get in and out of the vehicle.
We went with these retractable steps from Amp Research as this will help make getting into this lifted Jeep a whole lot easier.
Amp Research strictly makes retractable steps and are known for building high quality and dependable steps.
These steps will not offer any offroad protection or are designed to take any abuse. If the customer was looking for that we would upgrade to a set of Rock Slide Engineering power steps.