Fabtech Dirt Logic Lift Kit
For a lift we went with Fabtech's Dirt Logic lift kit that features their 2.5″ coilovers on all four corners for this Bronco. Other components include their uniball upper control arms as well as the strong rear lower links. The bodies of the coilovers are stainless steel, which is great for fighting against rust here on the Cape.
This Bronco was a Sasquatch model, so this kit lifts this Bronco about 2-3″ from where it was before. In total this kit lifts the Bronco's about 4″ from base height, giving you room to fit 37″ tires if you take off the crash bars.
This kit will not only lift your Bronco, but it substantially increases the ride on this Bronco. Fabtech develops suspensions with performance in mind, meaning this kit will give you a more controlled and comfortable ride.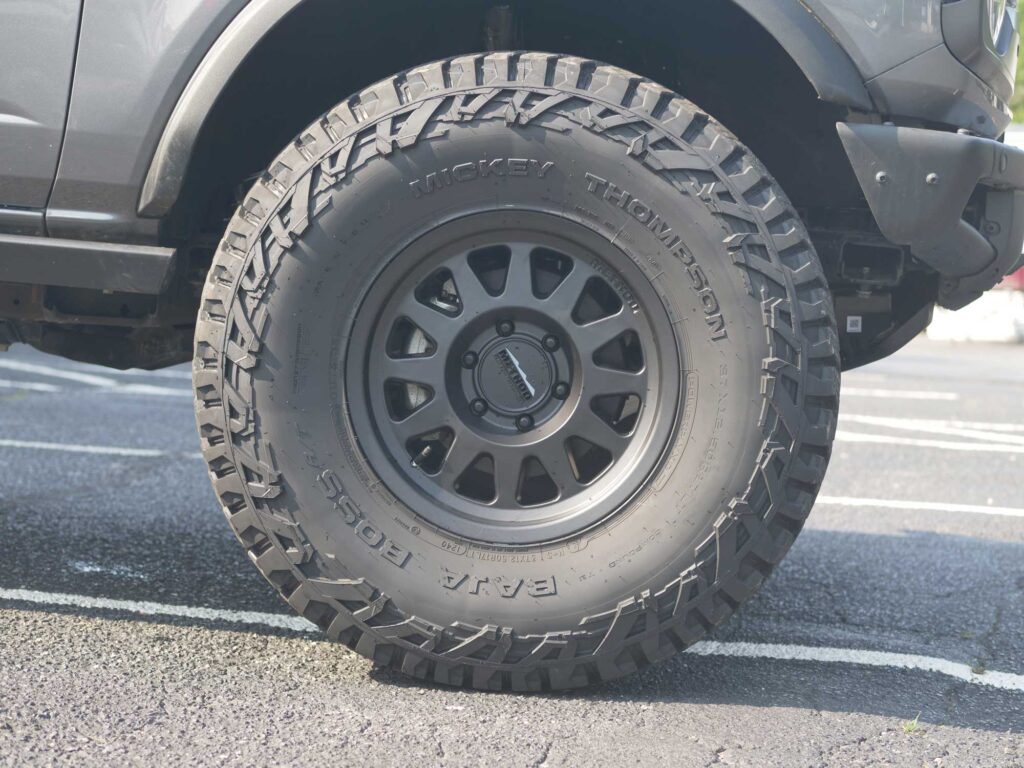 Method 704 17"x8.5" (0mm) & Mickey Thompson Baja Boss A/T 37x12.5x17
For wheels and tires the customer wanted to fit 37″s and pair that with 17″ wheels, which results in giving this Bronco an offroad look with the large amount of sidewall.
The wheel we went with is a Method Race wheel, which are big out in California, and are built with performance in mind. The 0mm offset allows for a little poke and satisfies the backspacing requirement specified by Fabtech for this lift kit.
The black on the wheel goes well with the dark grey exterior of this vehicle. For a tire we went with the Mickey Thompson Baja Boss A/T, and American manufacturer that creates quality tires.