Here is another one of our Ford Bronco builds. This time it was for a customer, who wanted to incorporate many of the same upgrades that our silver Bronco has as well as some of his own ideas to make it his own. Overall, we think the Bronco came out great and take a look below to see what was done to this vehicle.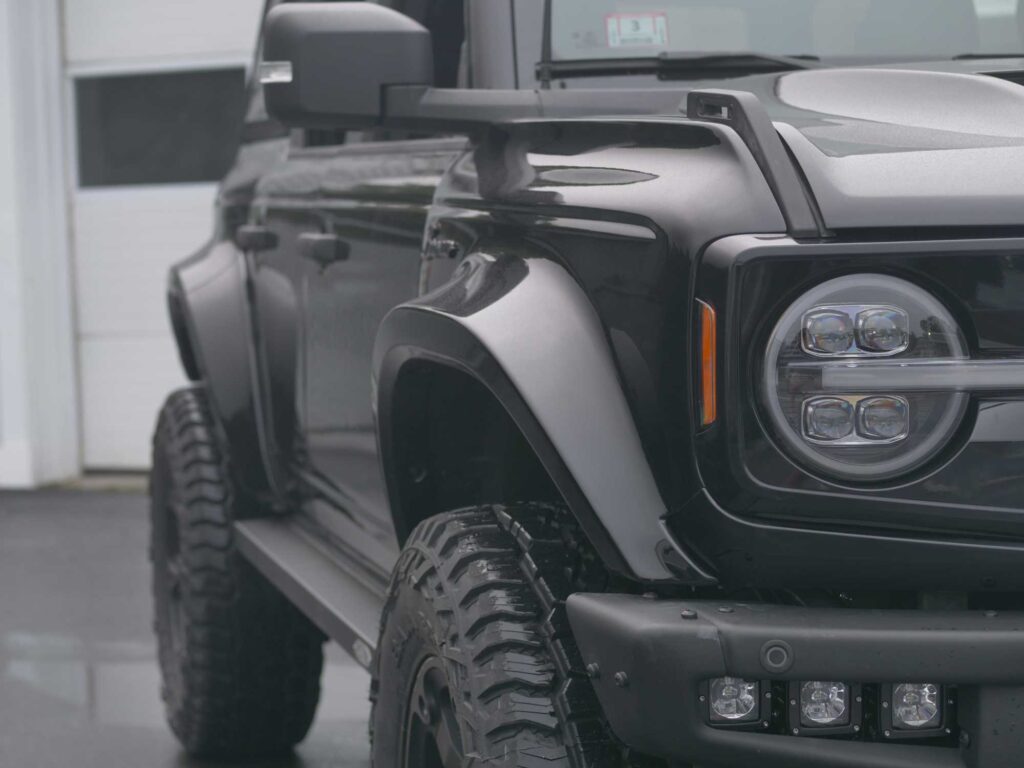 ADV Fiberglass 5" Fender & Quarter Kit
The biggest modification made to this Bronco was the incorporation of Advanced Fiberglass Concept's 5″ fender and quarter kit.
These fenders give the vehicle great lines and help to give it a bit more curve as the Bronco is a bit of a boxy design. It take a bit to get them to fit as they are fiberglass, but with time and effort you can the body lines to match up.
On top of that, they are a bit to prep them for paint as well. We use Glasurit paint here, which is a high quality automotive paint used on many European vehicles like Mercedes, resulting in a better than factory paint job.
The result is a Bronco with beautiful body lines that looks different than any other Bronco out on the road.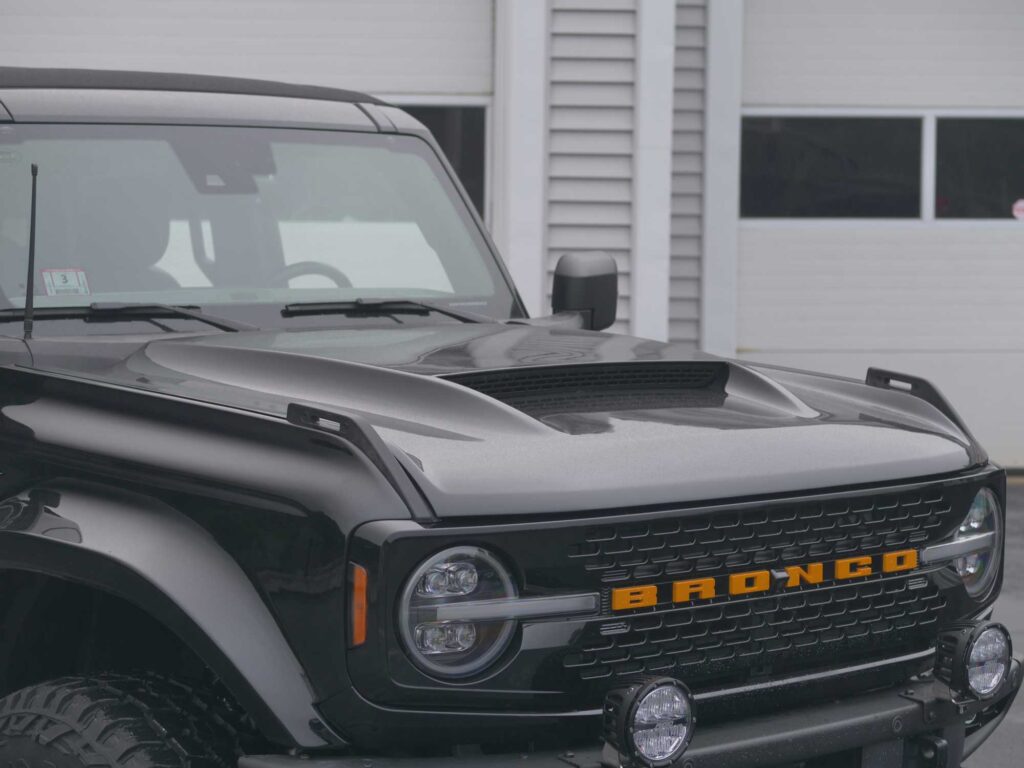 ADV Fiberglass Ram Air Hood
Another fiberglass body components from ADV that we incorporated on this build is their Ram Air hood.
This hood goes so well with the lines of the fenders and quarters, and in our opinion it is a must with ADV's fender and quarter kit. It gives the vehicle a much more complete look as it ties in both sides of the vehicle so well.
Being that this hood is fiberglass it takes a bit of work to get it ready to accept paint, but when you do it looks awesome. With the hood you also get the addition of a metal grate for the air intake part of the hood.
Once this hood is all painted and installed, it gives the vehicle a much more sportier and aggressive appearance.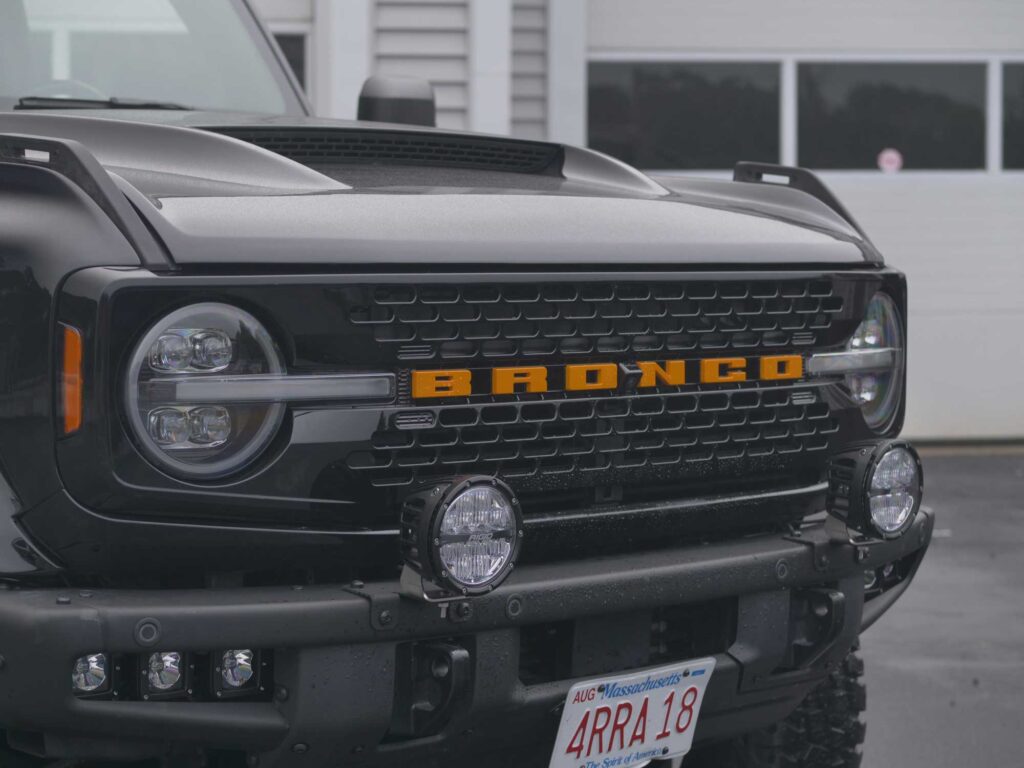 Another body modification that we like to do on the Bronco's that was made to this one was paint matching the grille to be the same color and texture as the rest of the vehicle.
Before this vehicle was textured black, and we find that paint matching the grilles to the rest of the vehicle helps to give the front end a much more complete look.
One other add-on that we did to the grille was swap out the original white Bronco letters for some orange ones. This will pair well with the amber headlights we also installed on this Bronco.
Fabtech Dirt Logic Coilover Lift
For a lift we went with Fabtech's Dirt Logic coilover lift kit. This lifts this Bronco 3″ in total and comes with Fabtech's stainless steel coilovers that feature a 2.5″ shock body.
This kit also comes with uniball upper control arms as well as a set of rear lower links.
Not only does this kit lift your Bronco, but it gives you a much more comfortable and controlled ride. It reduces body roll considerably and eats up the bumps.
This kit makes room for 35″ tires, and you can also fit 37″s with a little bit of modifications.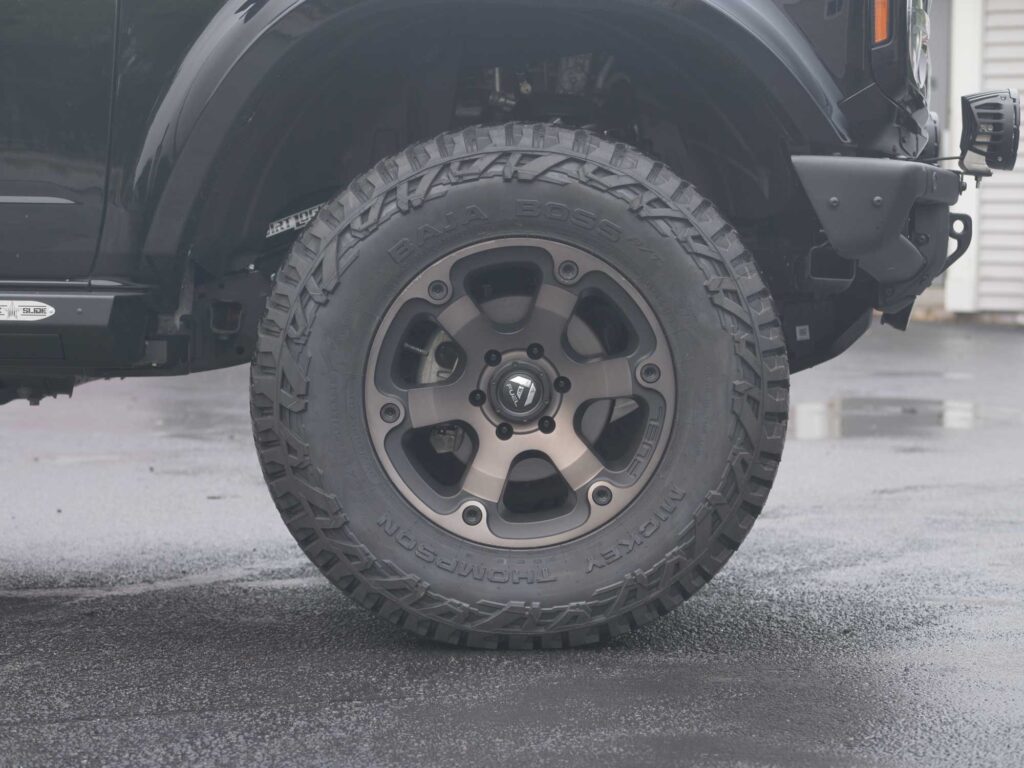 Mickey Thompson Baja Boss A/T & Fuel Offroad Beast
For tires, the customer opted to try out a set of 35″ Mickey Thompson Baja Boss A/T. These are a versatile all-terrain tire that will ride well on the road that will also be good offroad and in wet conditions.
We paired the Baja Boss with the Fuel Offroad Beast in the following size: 18″x9″ with a +1mm offset.

This offset results in a tiny bit of poke past the fender, which in my opinion looks good. It also pushes the wheel out enough, so there is no rubbing of any kind on the inside suspension.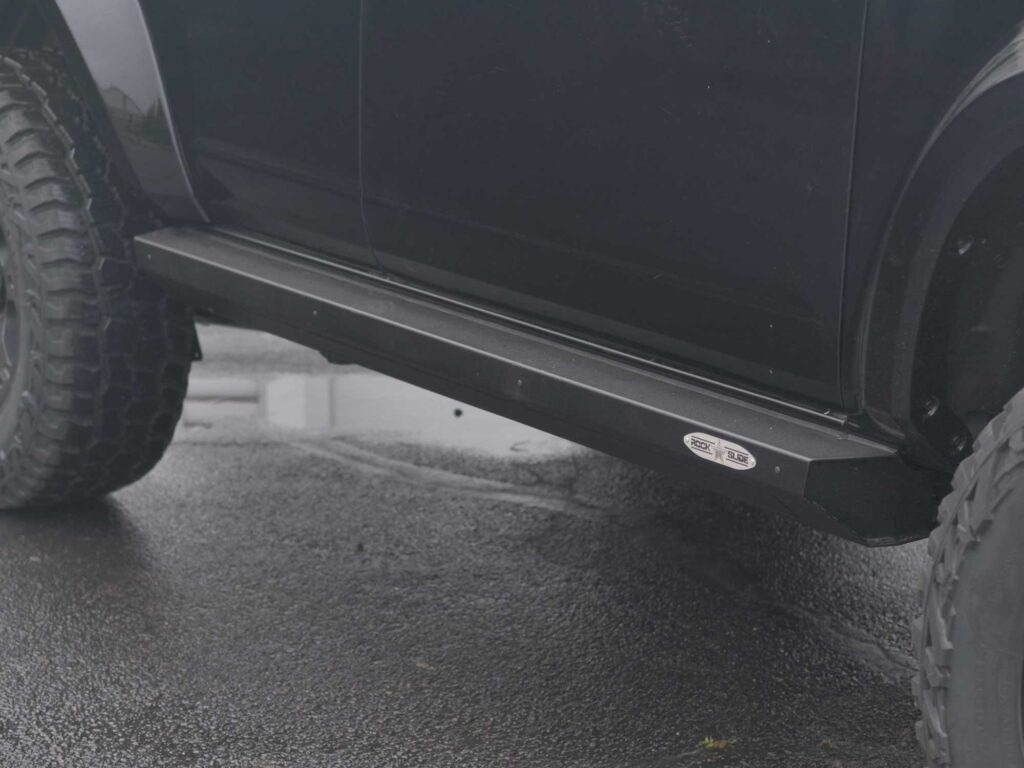 Rock Slide Engineering Retractable Steps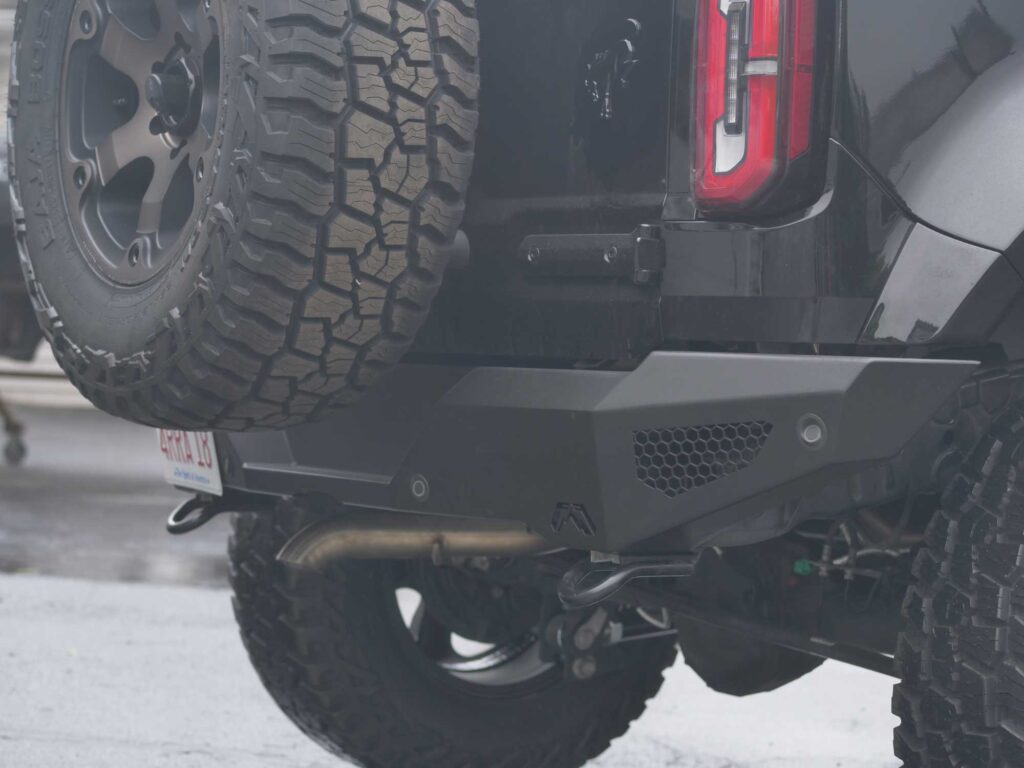 Fab Fours Premium Rear Bumper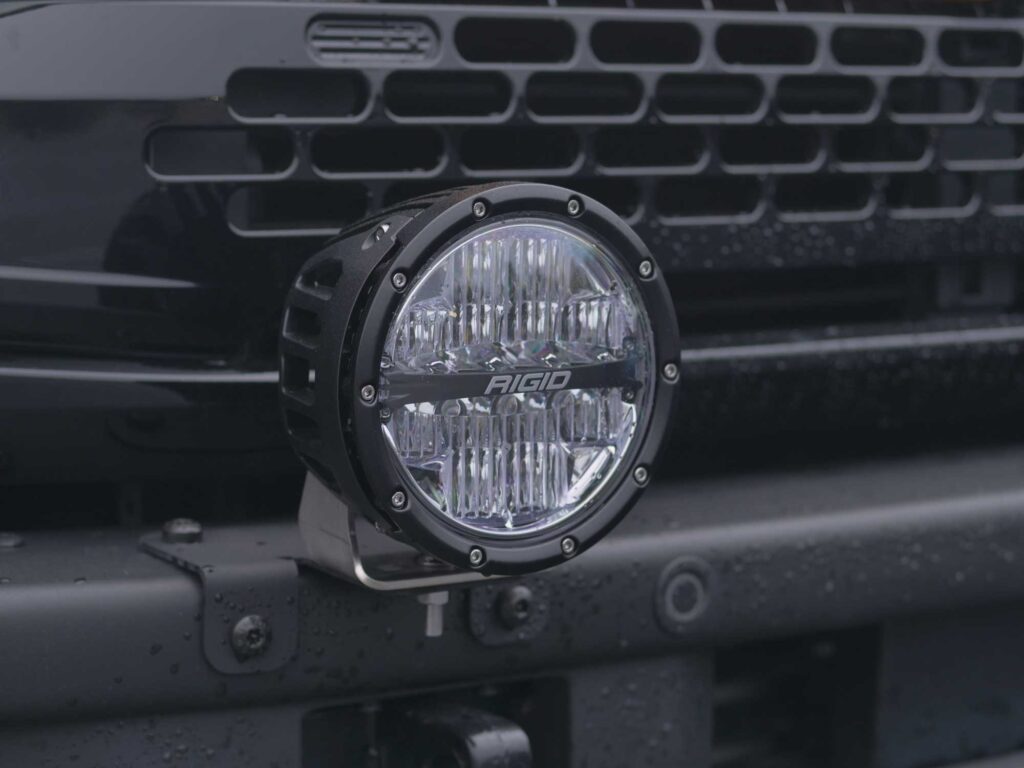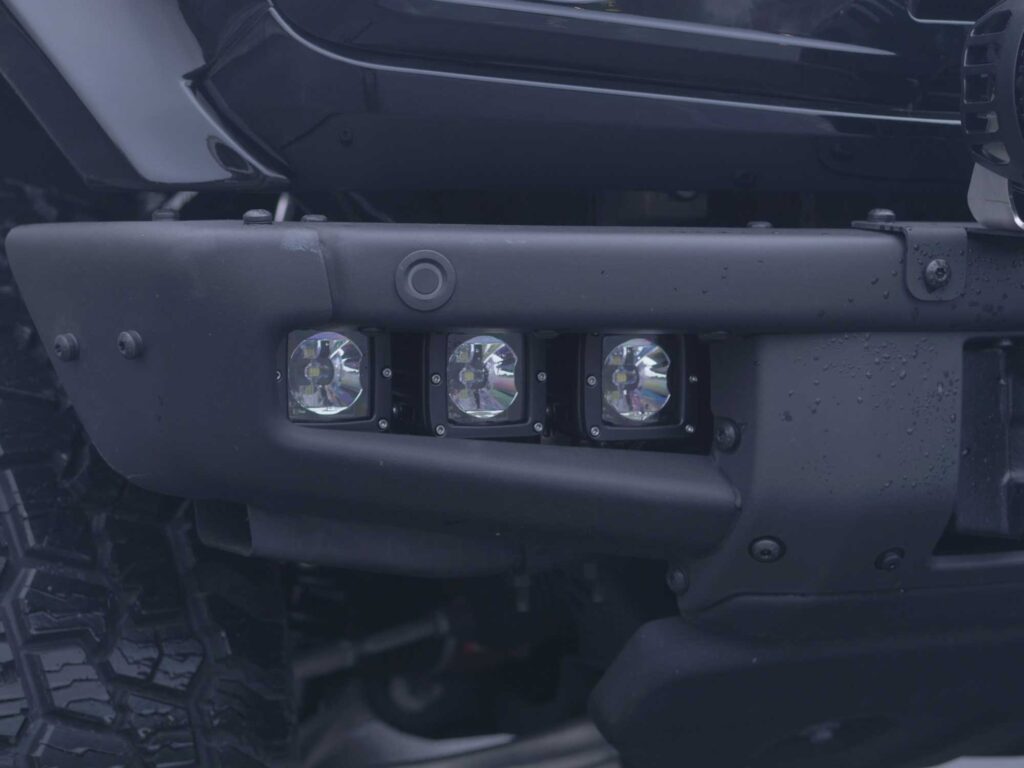 Rigid Radiance Light Pods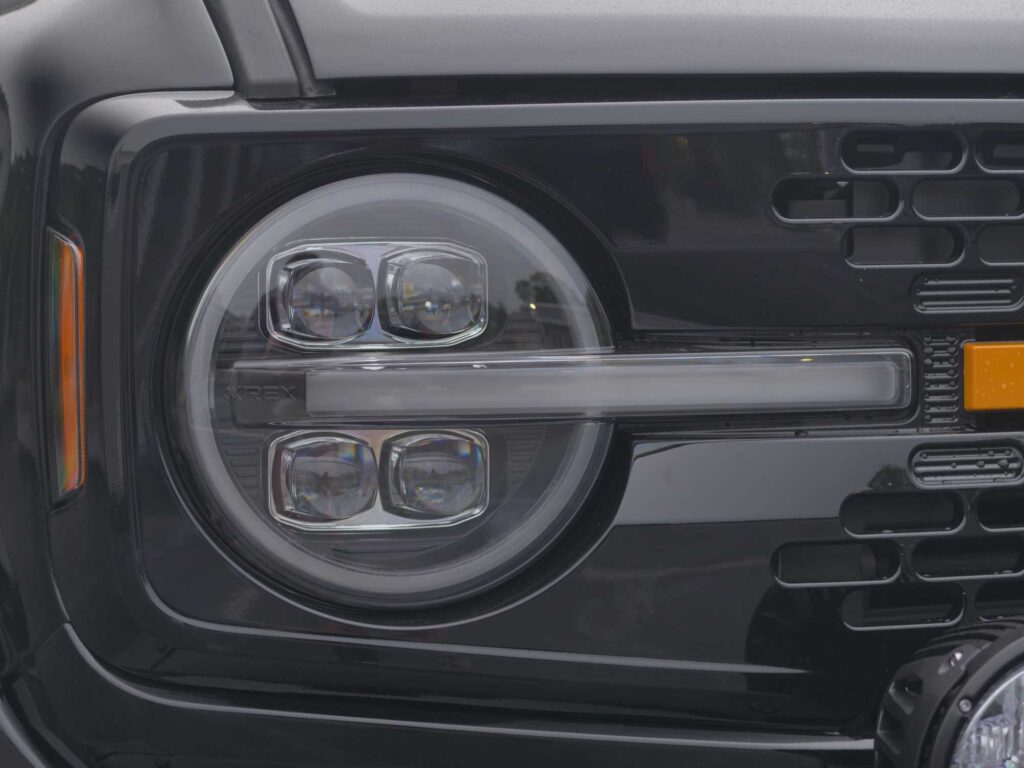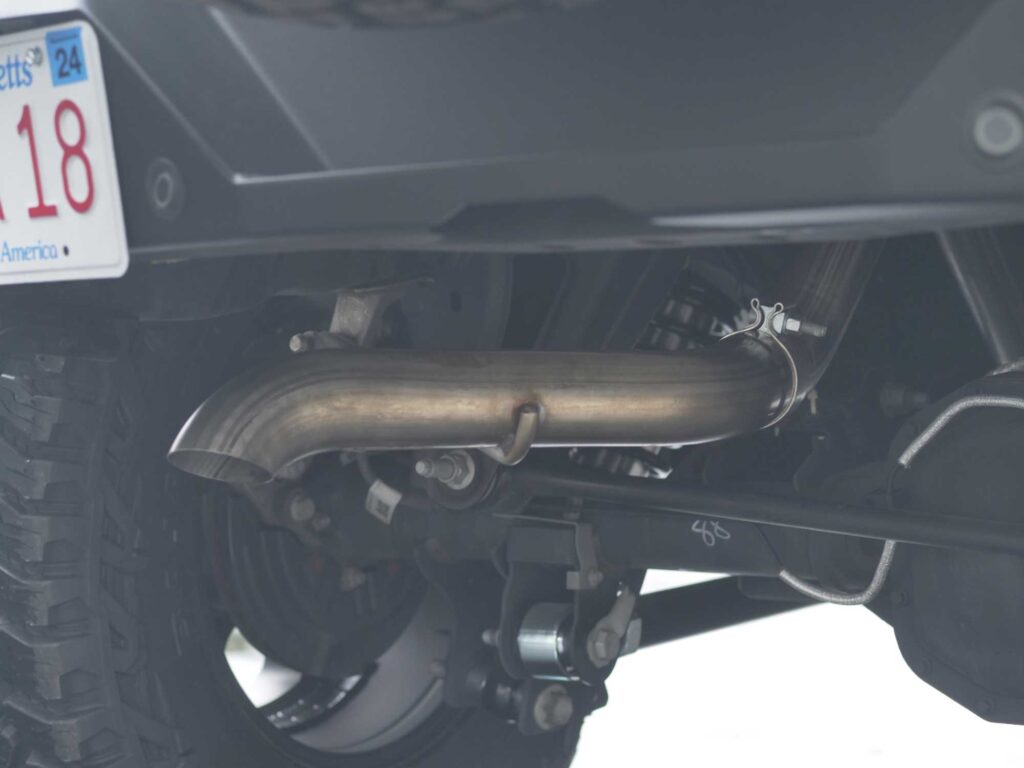 K&N Intake & Corsa Catback Exhaust