Custom Matte Silver Ford Bronco
Offroad & Accessory Lights
This vehicle came stock off the factory floor just like any other Bronco. It is a 2021 Ford Bronco Outer Banks with the Lux Package, and it is non-Sasquatch. We got this vehicle with just a couple of thousand of miles on it, so it was basically brand new. Our goal with this was to completely transform this Bronco and make it into something completely different, and we wanted to make a vehicle that not only looked good but performed well too. With so many aftermarket parts and products coming out for the Bronco we had many different avenues to venture down to make a badass vehicle. We took some of the best products on the market and brought them into one vehicle. 
Lift Kit, Wheels, & Tires
The first thing we did was lift the vehicle. There are a few different options when it comes to lifting your Bronco, but we ultimately decided to go with the best kit currently out on the market, which is Fabtech's Dirt Logic Coilover Lift Kit
This kit also made room for larger tires, in which we went with the Nitto Trail Grappler in a 37×12.5×18 and paired that with the Fuel Offroad Covert finished in a matte black with a size of 18″x9″ and +20mm offset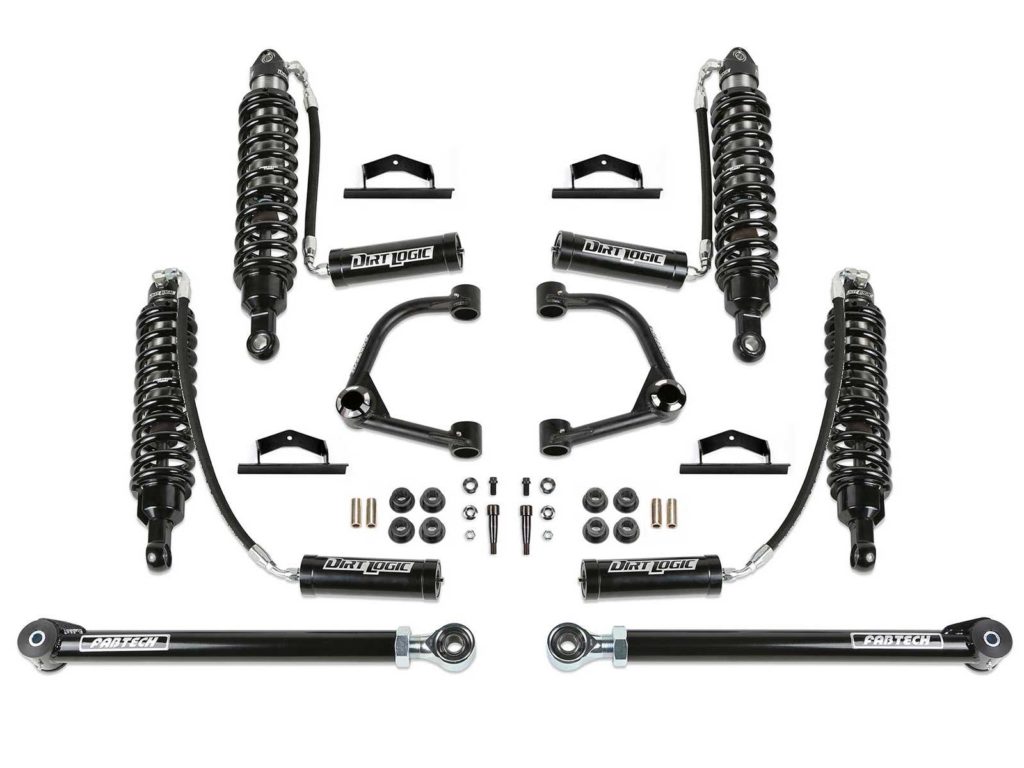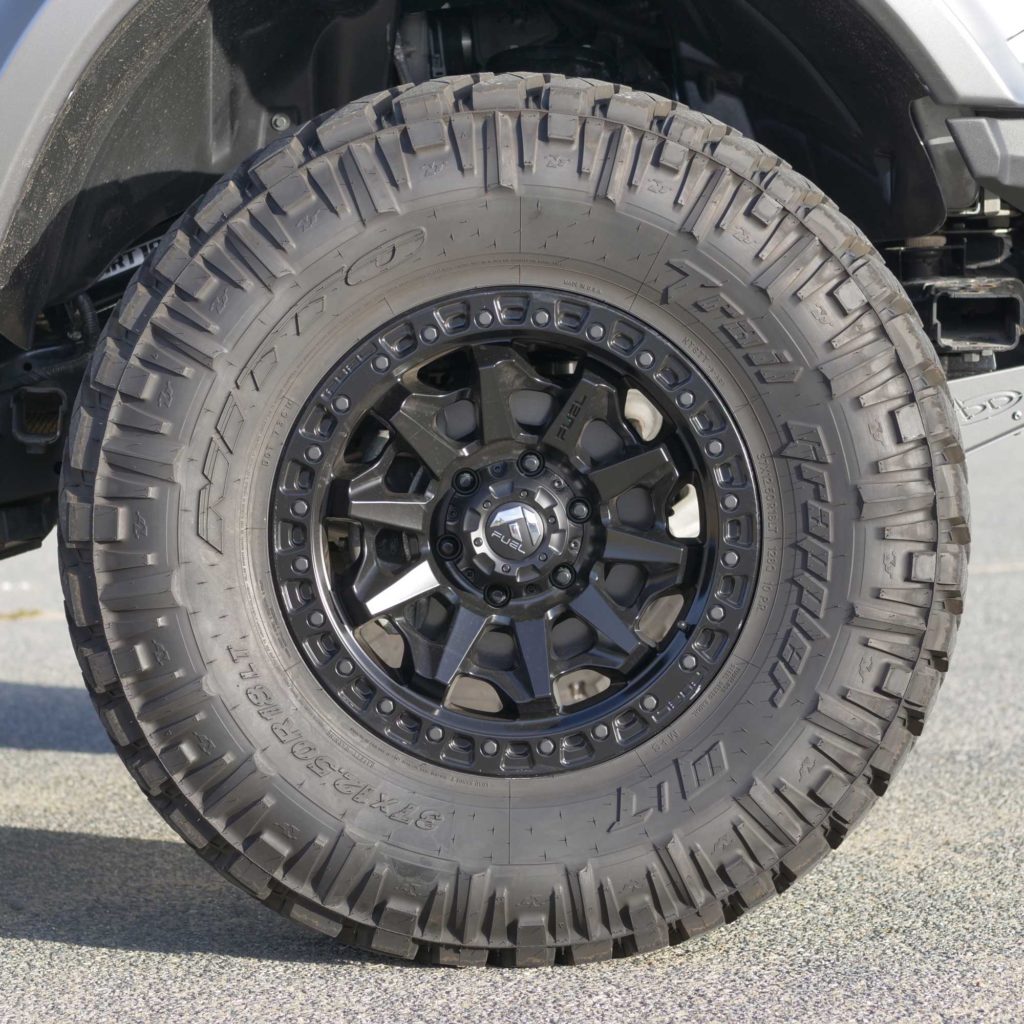 Whipple Stage 1 Performance Kit
This Bronco is equipped with the 2.7L V6 Ecoboost, which pushes out 330hp from the factory giving this vehicle a decent amount of power. However, we wanted more. We thought this would be the perfect upgrade for this Bronco as we did want it to be performance oriented, and it would also help to move the 37″ tires we had installed on this vehicle.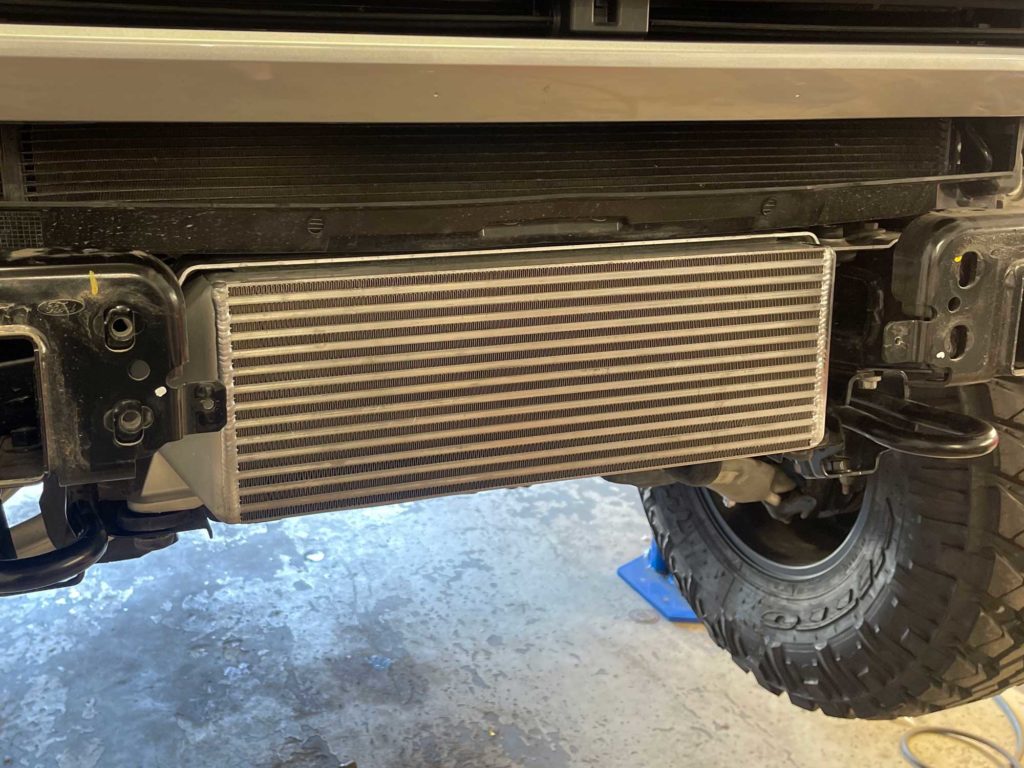 Advanced Fiberglass Concepts 5" Fender/Quarter Kit & Ram Air Hood
Now that we were beefing up the performance of the vehicle, we also wanted to the body of the vehicle to reflect that. This provided a perfect opportunity to use Advanced Fiberglass Concepts new 5″ fender and quarter kit. This kit allows for more tire coverage and more fender well space as well as give this Bronco a more sporty look. Their kit uses fiberglass body panels that incorporate the fender and flare in one panel.
We also installed their Ram Air hood, which is also made of fiberglass. We love the lines of this hood and it pairs well with their fenders and quarters. We had to first put the fenders, quarters, and hood on first to ensure proper fitment. These pieces do fit pretty well out of the box but modifications are needed to get proper lines but that is expected. We fitted everything on with all the bumpers to ensure everything lines up well, and then it was off to paint.
Custom Glasurit Matte Silver Paint Job
Now it was time to paint this vehicle, but we did not want to go with the exact paint job that the vehicle came with. We wanted to go with something a little bit different, so we opted to paint this Bronco a matte silver.
All of the paint and body work done to this vehicle was done in house in our own body shop, which is Hyannis Collision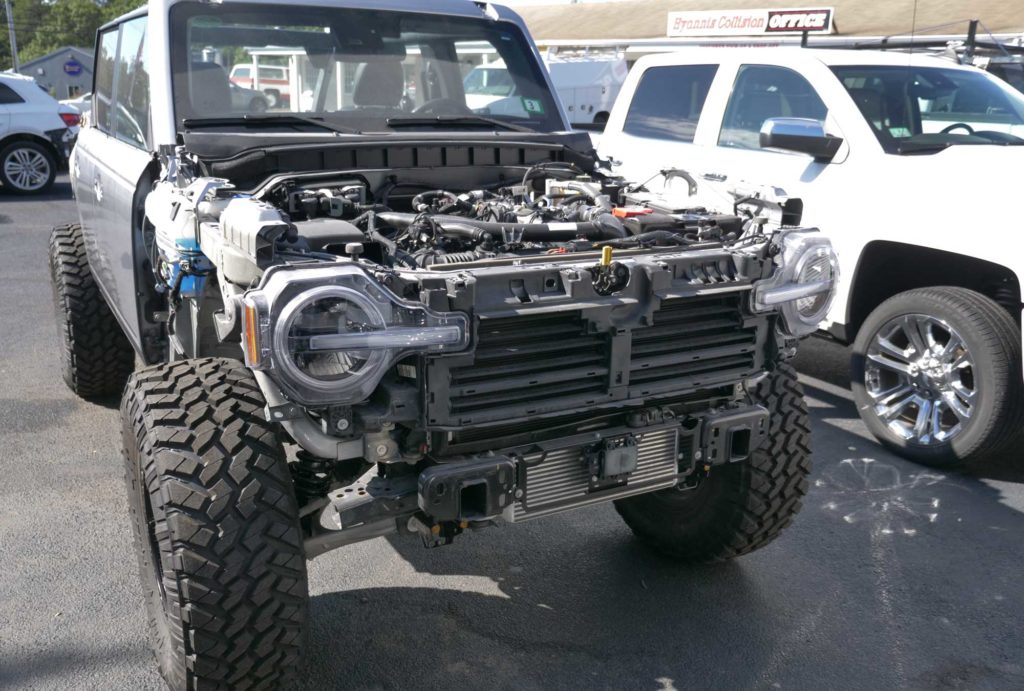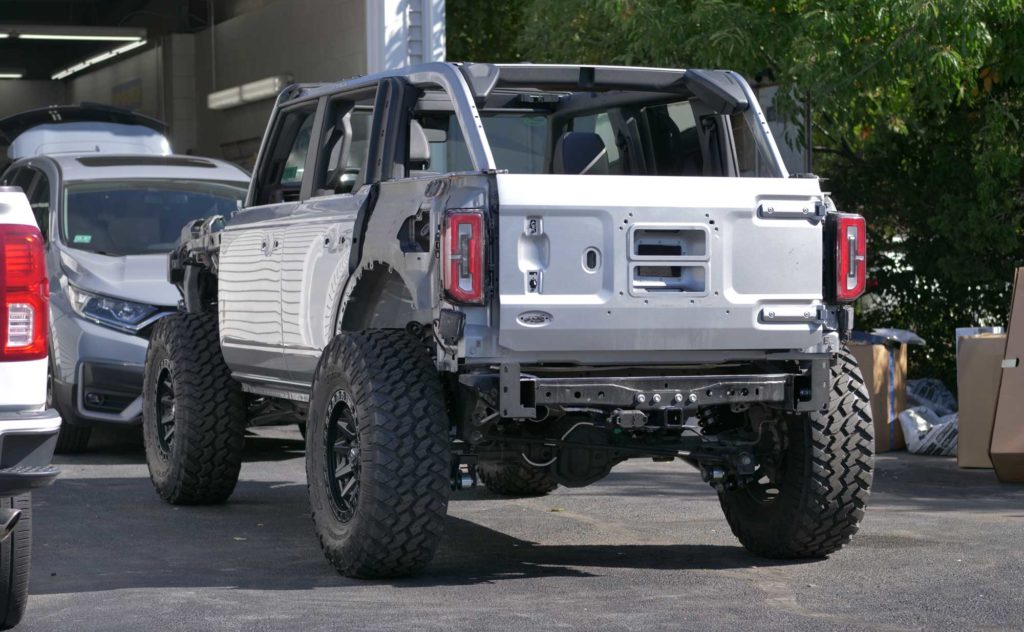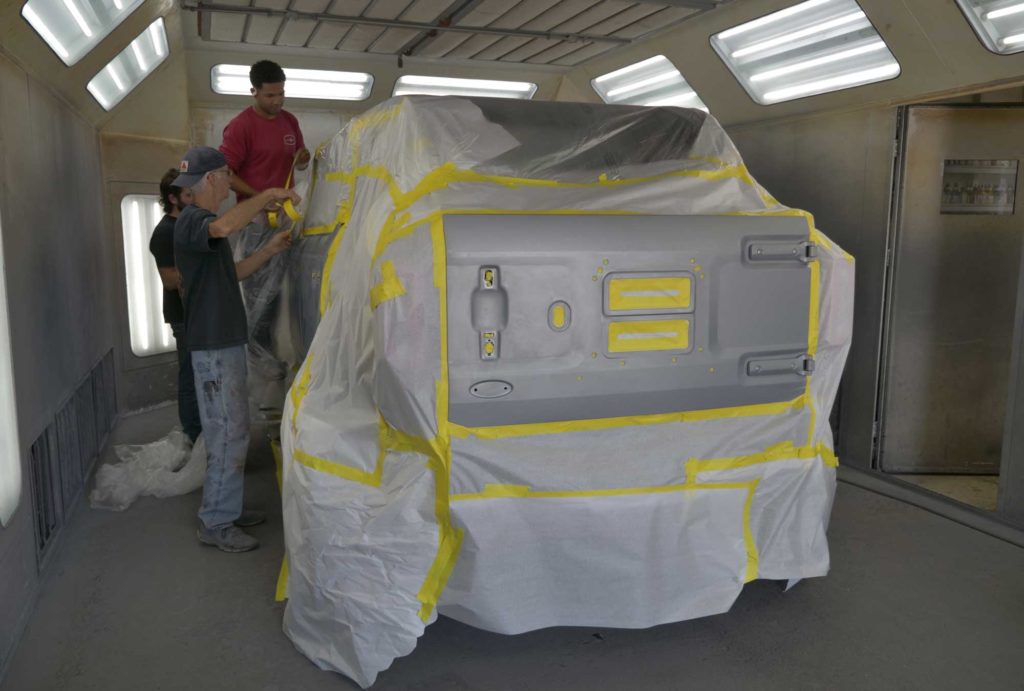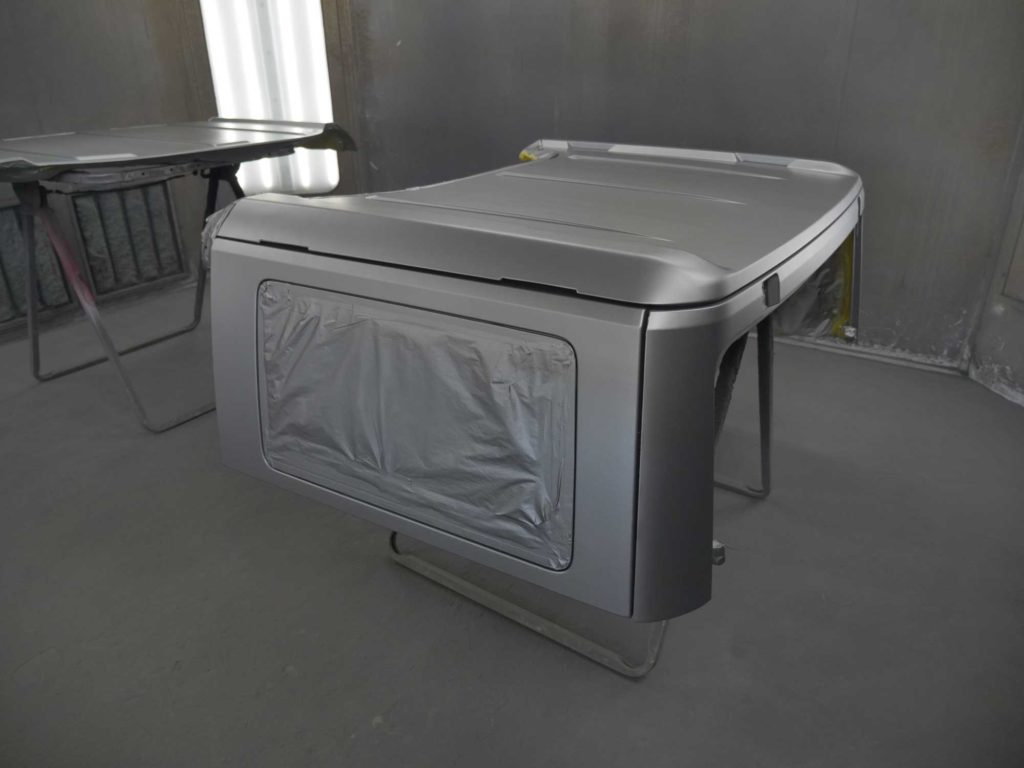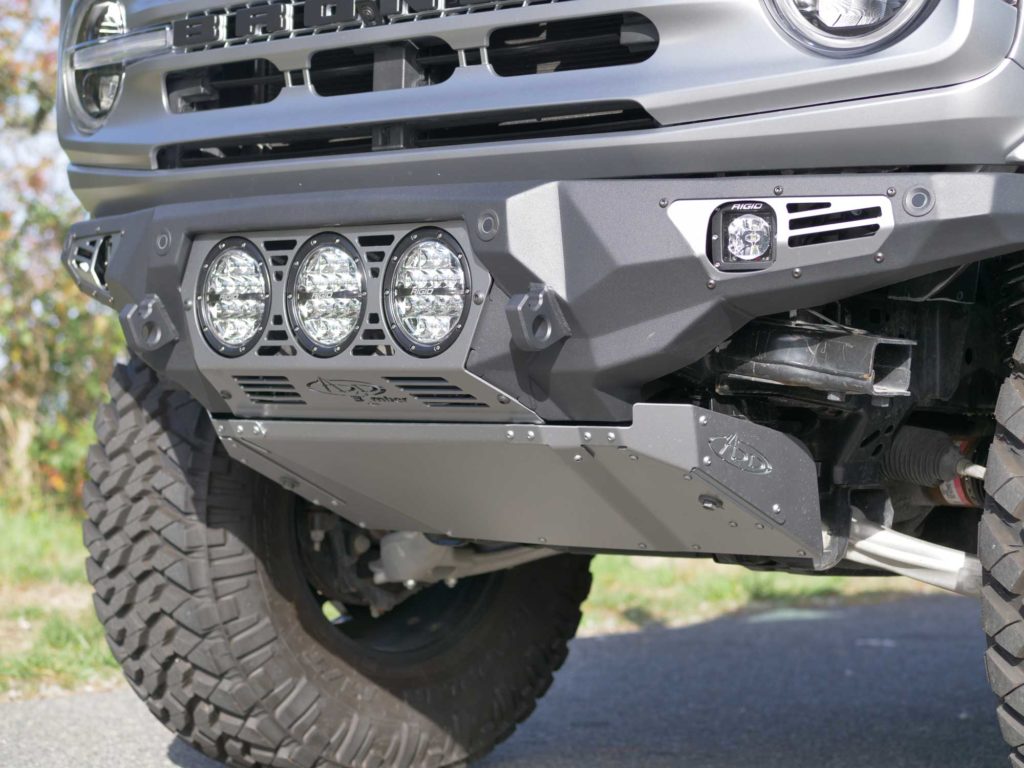 Addictive Desert Designs Bomber Front Bumper & Skid Plate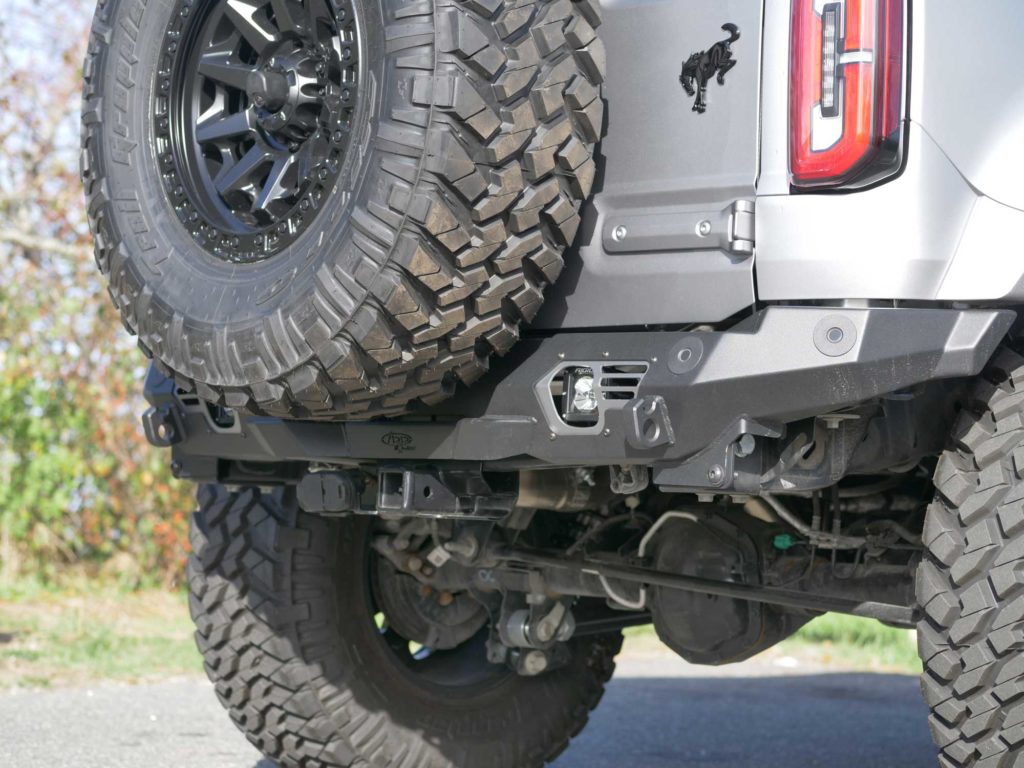 Addictive Desert Designs Bomber Rear Bumper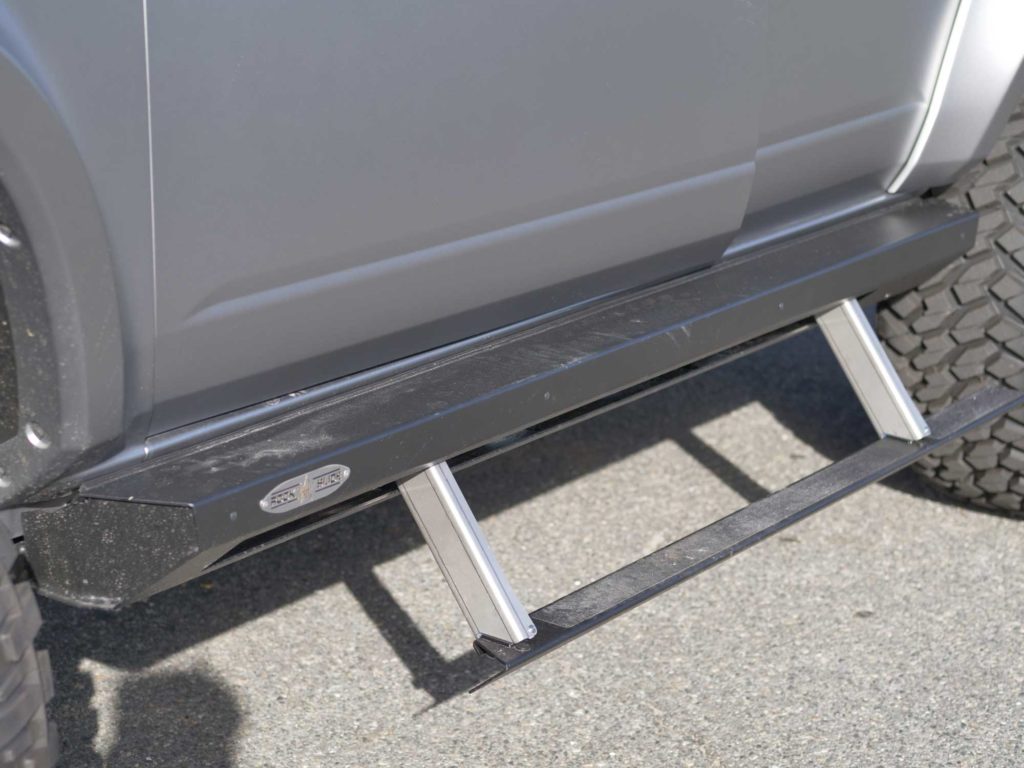 Rock Slide Engineering Retractable Power Steps
Offroad & Accessory Lighting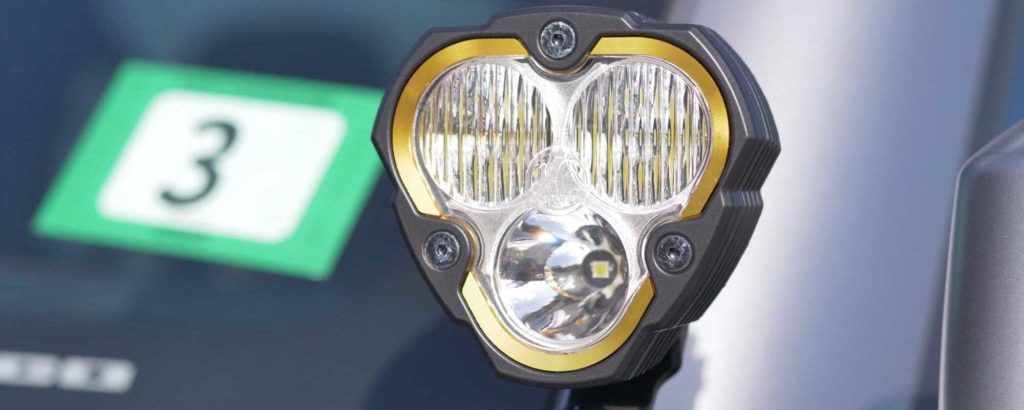 KC HiLites Ditch Mount Lights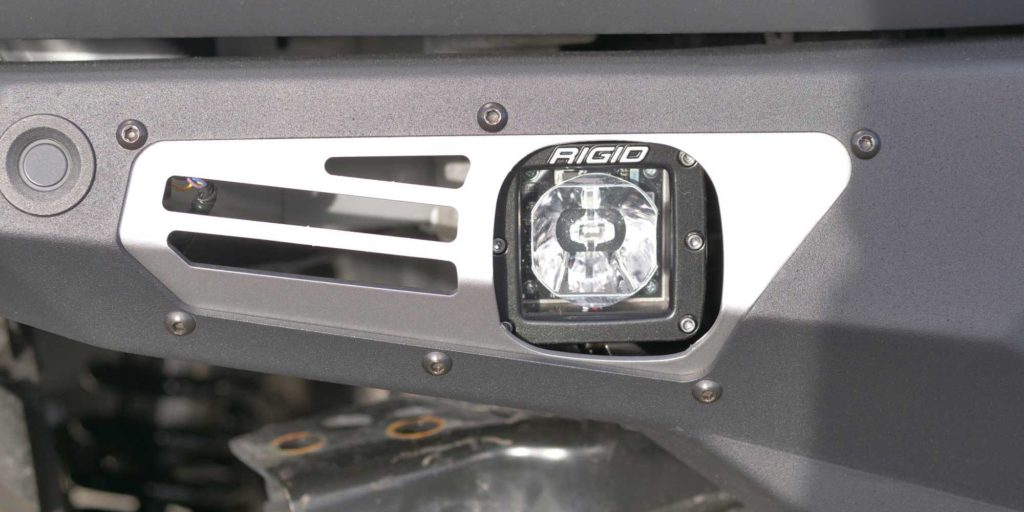 Rigid Radiance Light Pods
Oracle Illuminated Grille Letters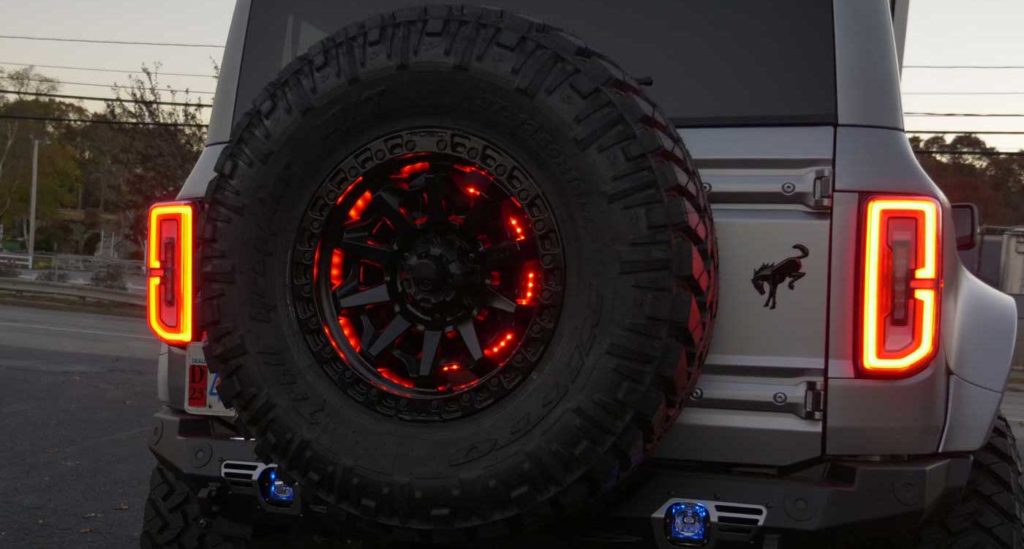 Oracle Wheel Third Brake Light
This vehicle came equipped with the highest interior trim package, which is the Lux package. This high end trim package pairs well with the greatly improved modifications to this vehicle. Here are just some of the features included in the Lux Package.
We mainly focus on exterior and performance modifications, but we wanted to put our touch on something in the interior, so we added in these custom leather seats.
Another area of badging we included on this Bronco was switching out the Outer Banks sticker for an old school cursive Bronco badge. We love incorporating these badges on our builds as we think it gives these Broncos a nice classy look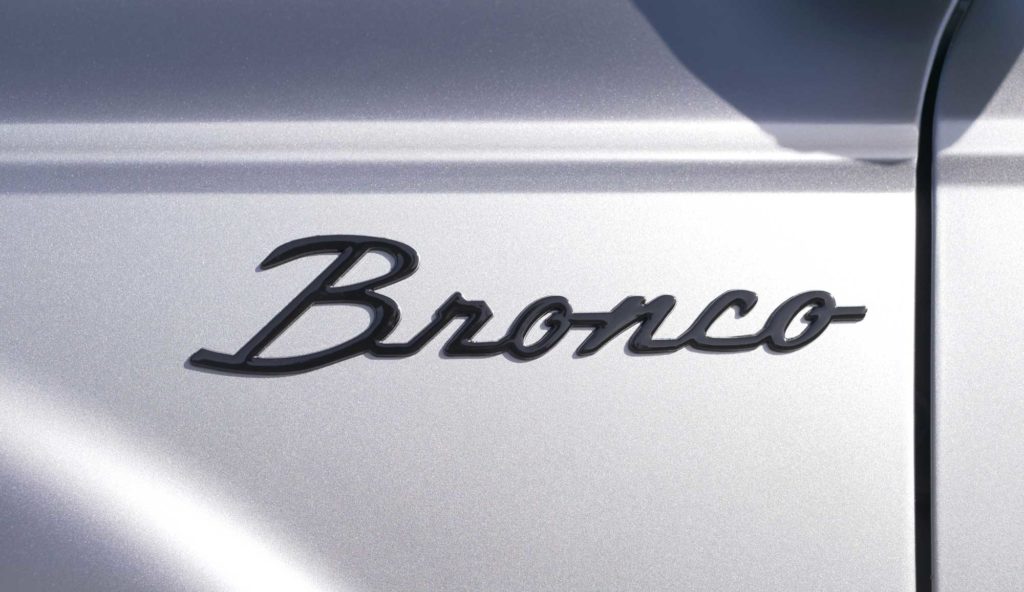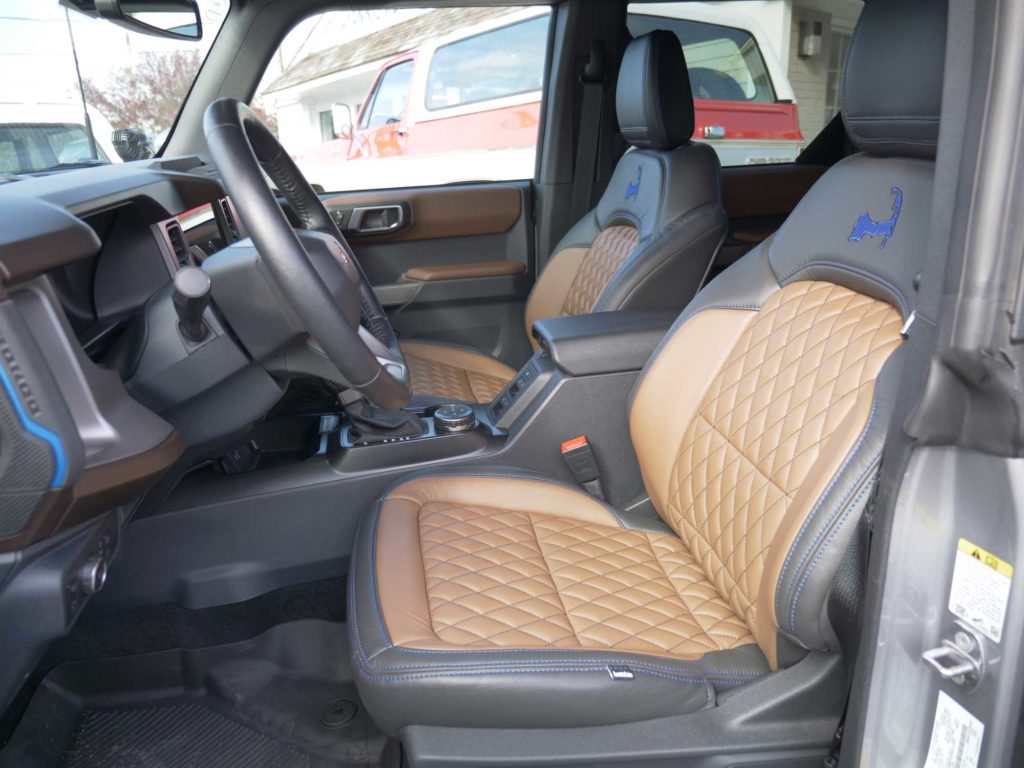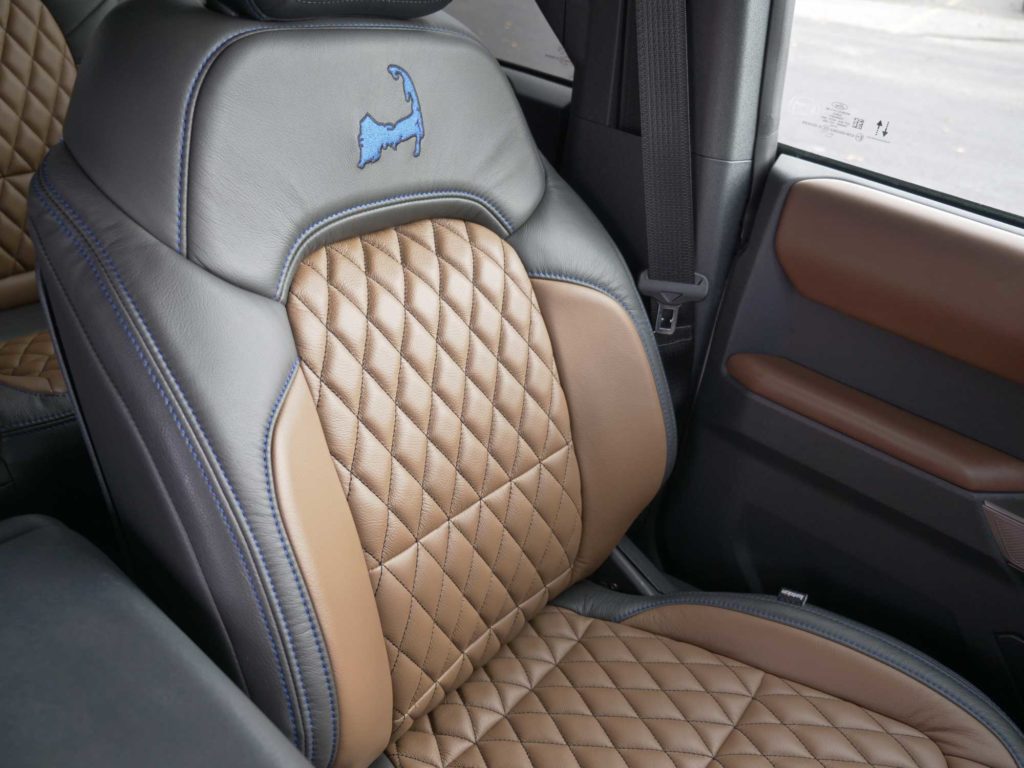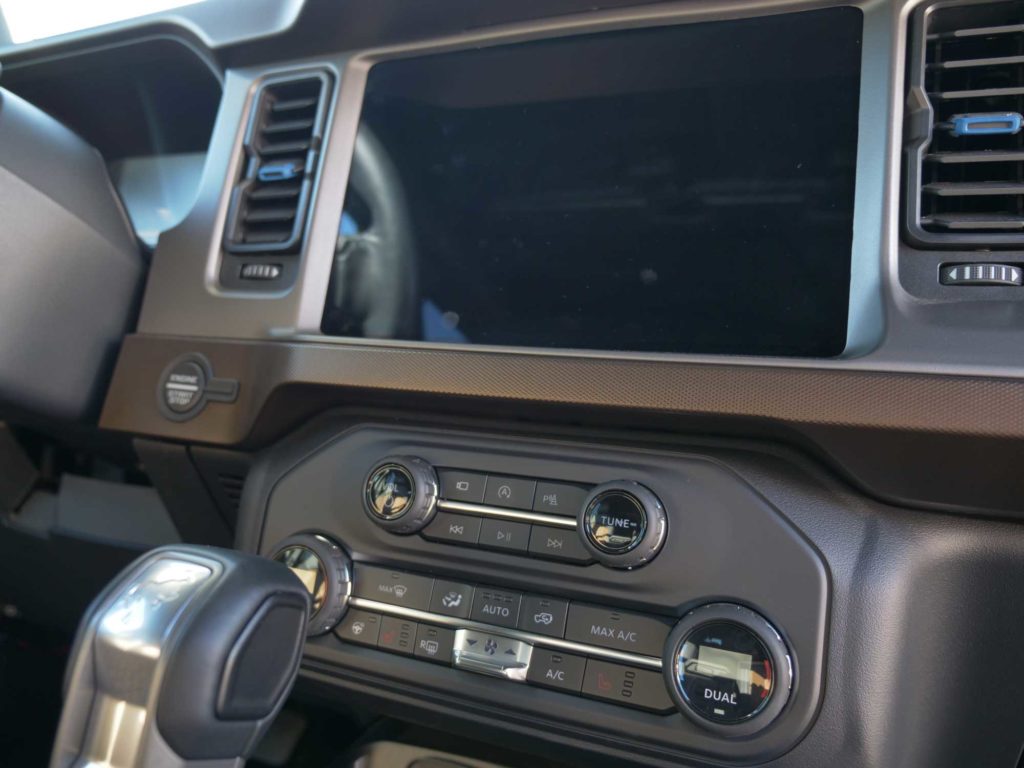 That essentially covers everything that we did to this Bronco to make it what it is. Overall, we are very happy with how it came out, and we had a ton of fun building it. It was cool to see how this Bronco transformed from a basic Bronco to a custom performance oriented 4×4 that is designed to dominate whatever terrain it finds itself on.
If you are interested in buying a Bronco or a vehicle in general that is unique and different from anything else on the road then this is the vehicle for you. It will guide your through the beaches of the Cape, the city streets of Boston, and the offroad trails of New Hampshire; this Bronco will bring you to wherever your heart desires.
Also, If you already have a Bronco, we can complete any of these modifications we did to this Bronco to yours as well.