– The Lift: 2.5″ Icon Leveling Kit & 4″ ReadyLIFT Block
– Wheels & Tires: 20″x9″ Fuel Off-Road Triggers (+1mm) & 37″x12.5″x20″ Mickey Thompson Baja Boss A/T's
– Performance Package: Intercooler, Intake, Tune
– Exhaust: Borla S-Type Mid Section Exhaust System
– Lights: KC HiLites Roof Rack w/ 57″ Pro6 Gravity LED Light Bar & Morimoto XB LED Headlights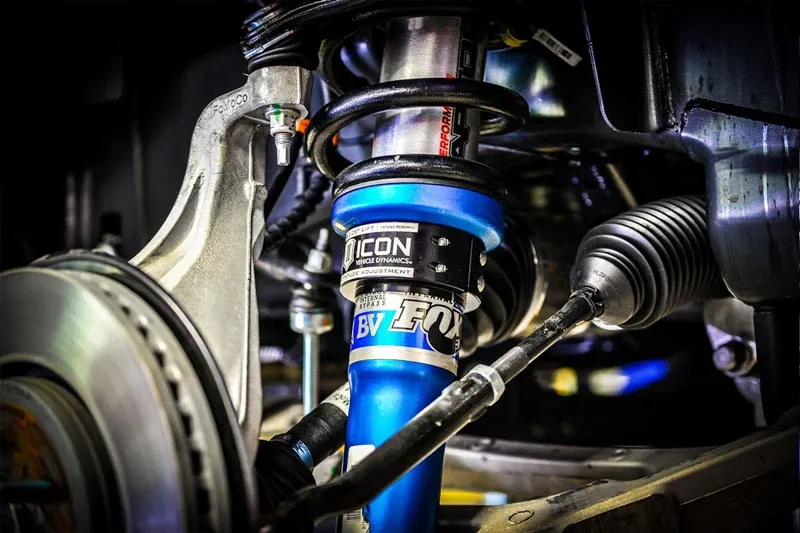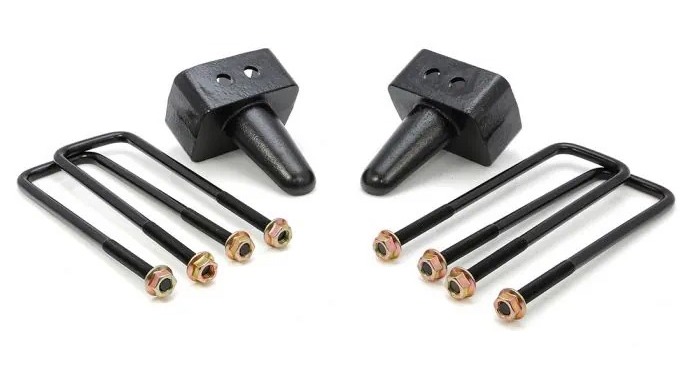 Icon 2.25" Leveling Kit & 4" ReadyLIFT Block
The goal for this job was to be able to fit 37″ tires on this Raptor and being that it already had 35's, we only had to lift the truck a couple of inches. Since it is a Raptor, it does come with an advanced suspension system, and we wanted to make sure that whatever option we went with, it would not sacrifice ride quality or put components in certain angles that would lead to premature wear.
We were going to go with some Eibach springs up front, but that would only lift the truck up 1.7″ and thought we needed a bit more clearance to fit 37's. Because of this we went with a 2.25″ Icon spring collar perch up front. This sits right below the shock body and adds preload to the shock helping to lift the vehicle up, and it keeps the shock in the proper ride zone so ride quality is not negatively impacted.
The collar works in conjuction with a top load shim, which allows you to adjust the amount of lift that you want. You can have as little as .5″ of lift all the way up to 2.25″, which is what we opted for in this situation.
For the rear we went with a 4″ ReadyLIFT block, which provides 2 more inches of lift as the stock block is 2″.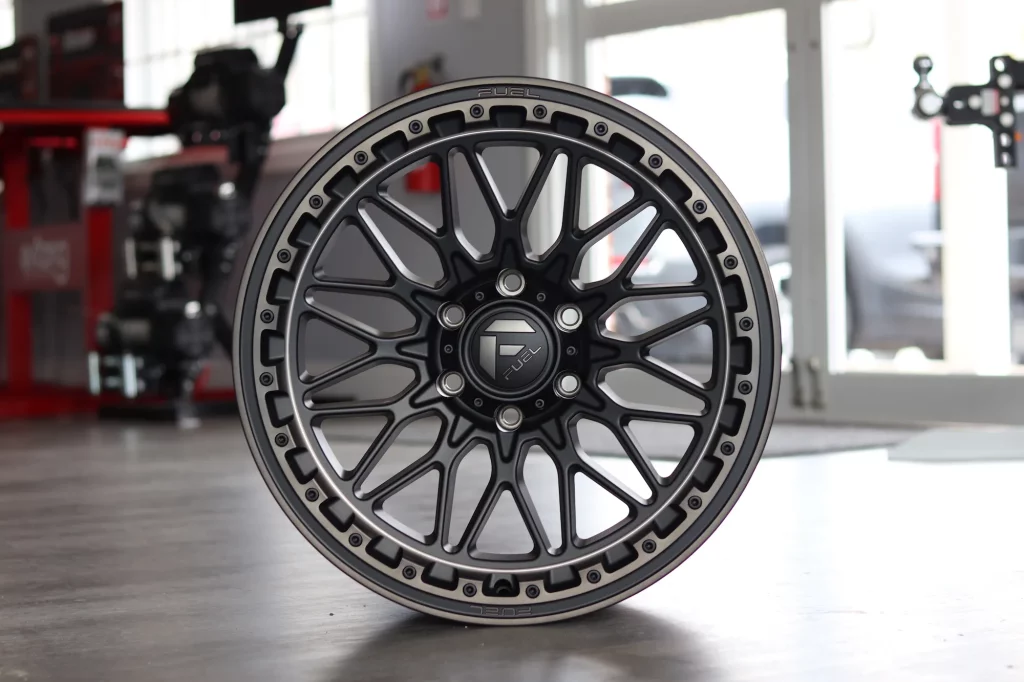 20"x9" Fuel Off-Road Triggers (+1mm)
The customer decided to go with the Fuel Off-Road Trigger, which is the same wheel we went with for our Ram TRX build. The finish for this wheel is a matte black with a double dark tint. This finish is one of our personal favorites as it is mainly dark, so it does not stick out too much, but the shades of gold and bronze help give this wheel a distinguishable look.
This wheel only comes with one offset configuration when you opt for the 20″ wheel. That offset is +1mm, which was exactly what we were going for. This helped push the wheels and tires out enough to give it a more stout stance, but it did not do it so much that it extruded the wheels and tires out past the fender.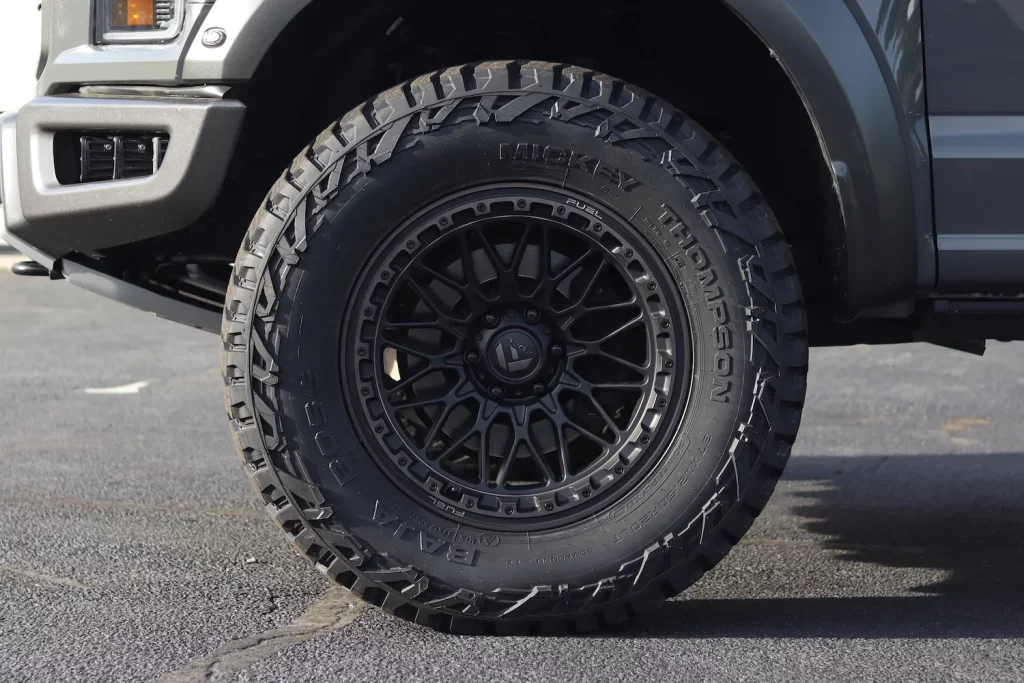 37"x12.5"x20" Mickey Thompson Baja Boss M/T's
When it came to our tire selection, we wanted something with an aggressive looking tread that would also ride well on the road, and the Mickey Thompson Baja Boss A/T fit the bill. It is more of a hybrid terrain tire in its tread, but its long lasting 50,000 mile treadwear warranty is what gives it that categorization of an all-terrain tire.
We went with a 12.5″ wide tire as we had to be cognizant of the fact that if we went with a 13.5″ wide tire, it would be too wide and would cause too much rubbing. With the 12.5 wide tire there was trimming required, but once that was done there was virtually no rubbing. We mainly had rubbing when backing up at full lock.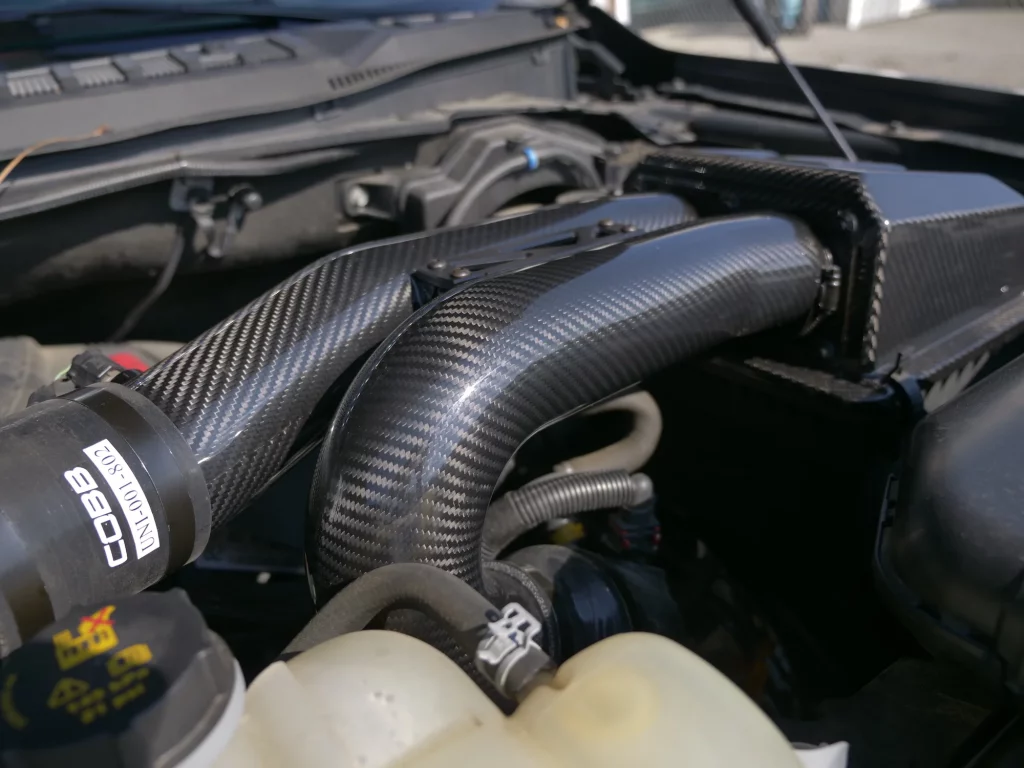 Performance Kit: Intercooler, Intake, Tune
The 3.5L EcoBoost that is found in the Ford Raptor is a great engine that provides a good amount of torque and power, but the way it comes straight from the factory does not necessarily match the performance and capabilities one would think the Raptor would have. What we did to solve this problem was adding a performance kit made especially for the high output 3.5L Ecoboost that is found in the Raptor. This kit includes a much larger front mounted intercooler, new intake system, and a tune. The intercooler and new intake system allows for a lot more air to enter the engine allowing for more power to be created. The tune alters the transmission shift points, fuel delivery, and pedal control. This all results in a vehicle that is much more responsive giving you more instant power and a truck that performs as well as it looks.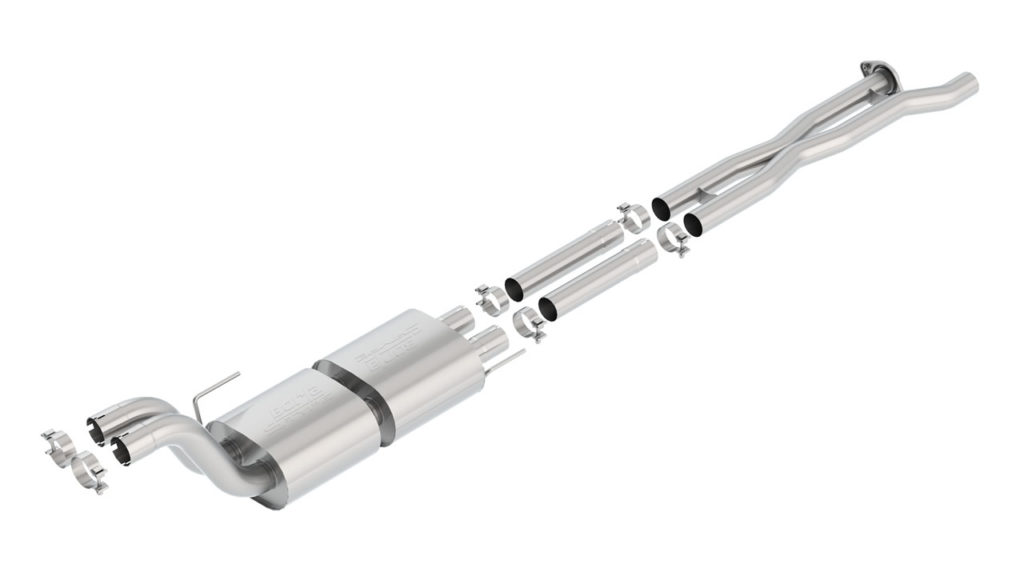 Borla Mid Section Exhaust System
Now that the Raptor has been modified for more performance, the final touch needed was to match the sound with the performance. To do that, the customer opted for an aftermarket exhaust. With so many different options for the Raptor, it can be difficult to choose, but the customer ultimately opted for an exhaust system from Borla.
This system was the S-Type system, which is their medium sound level system, which provides a nice crisp sound that is not obnoxious. Installation is simple, and the result is a Raptor that sounds as good as it looks.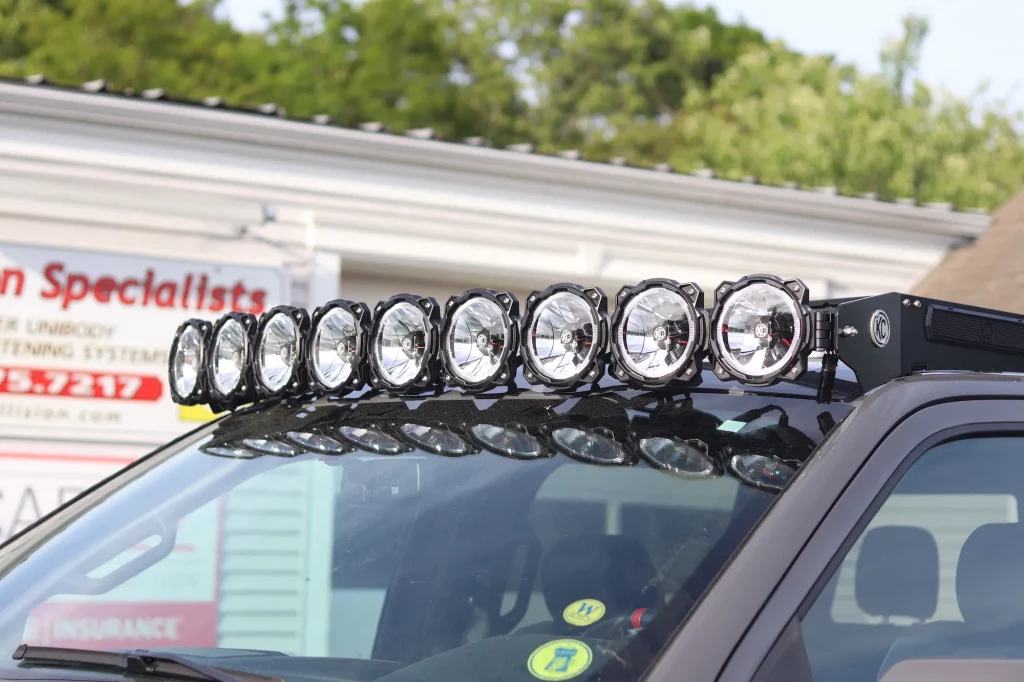 KC HiLites Roof Rack & Light Bar
When the customer came into the showroom they saw the Rhino-Rack Pioneer Platform with the backbone mounting system and wanted that for his truck. The problem was that Rhino-Rack did not make that system for the Ford Raptor.
Instead, we did some more research and found something that probably fit what the customer was looking for better anyways. This was a KC HiLites roof rack & light bar system. The roof rack matched the body lines of the top of the cab perfect giving it a clean flush look. The light bar in the front mounted directly to the rack system, and it helped to accentuate the off-road look this truck has.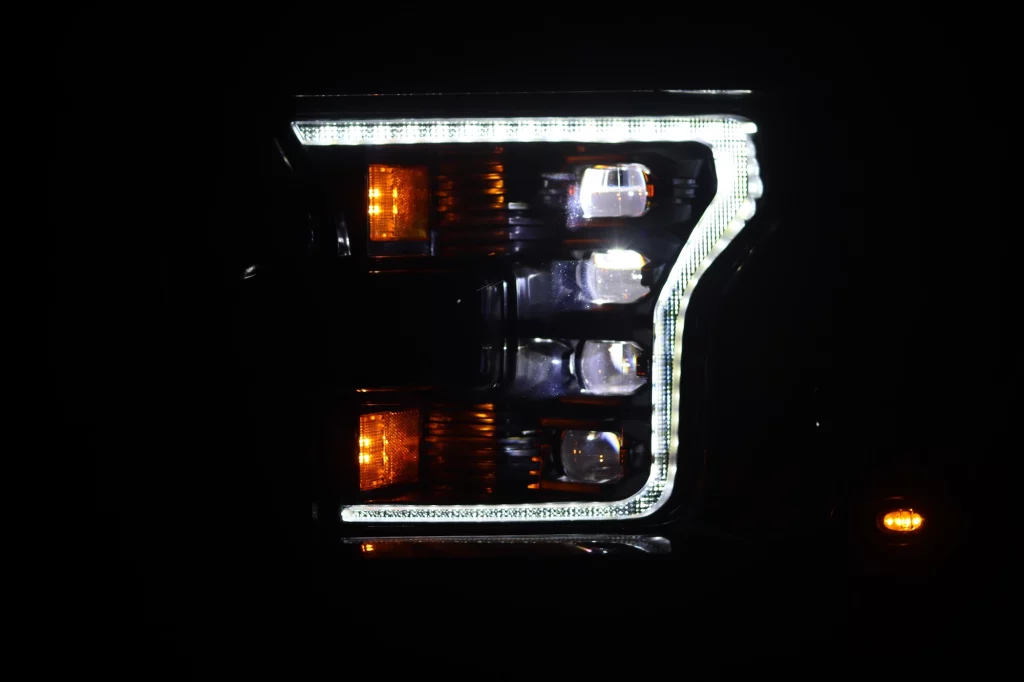 Morimoto XB LED Headlights
Another item the customer opted for when looking around in our showroom was the Morimoto LED headlights. The Morimoto headlights not only look improve the look of your vehicle, but they also improve your light output making it safer to drive your vehicle. The Morimoto LED headlights help to provide about 200% more light output..
The lights also come with a nice sequential turn signal feature. When you put on your blinker, a solid beam of light flows from the inside to the outside. These headlights are the best on the market and are backed by a limited 5 year warranty, which is 3 years more than the next best competitor, which is Alpha Rex.