We helped to breathe back some life in this early model Jeep JL. Take a look down below to see what we added.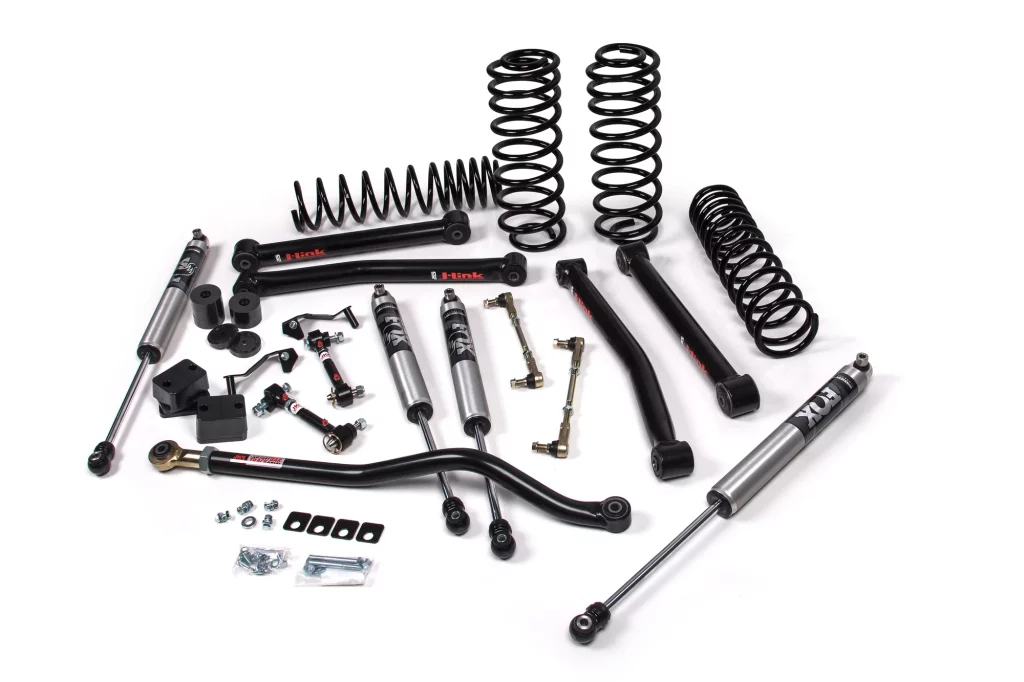 2.5" JKS J-Konnect Lift Kit
JKS creates some of the best lift kits on the market today and are perfect for how many people use their Jeeps, which is mainly on road time with either occasional or minimal offroad trips.
JKS's kit is great as it includes dual rate coil springs that help to provide a nice soft ride on road and superior performance offroad. The customer also went with Fox Performance series shocks, which help create a comfortable and controlled ride.
What we like about this kit is that it includes a heavy duty track bar and control arms to help correct suspension angles as well as add strength to the suspension.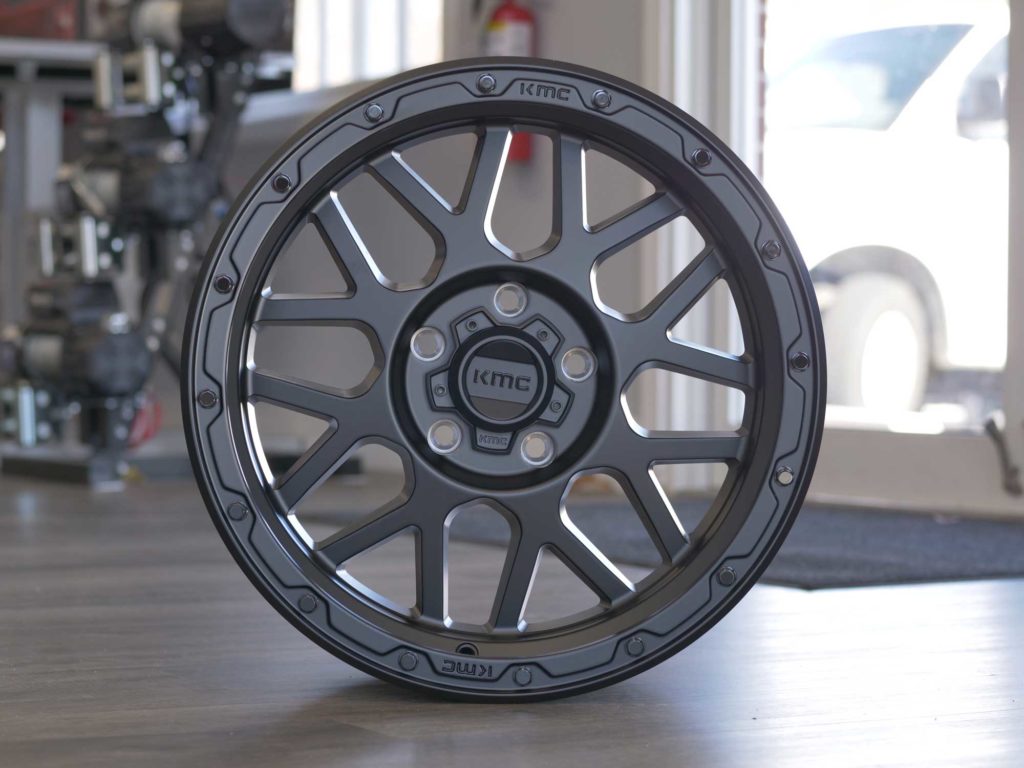 18"x8.5" (0mm) KMC Grenade Offroad
For wheels the customer was looking for a nice simple black design to match his black Jeep. KMC is the obvious choice in this case as their wheels feature simple yet attractive designs with many coming in black.
When lifting a Jeep and putting on larger tires you do need to push the wheel and tire out a bit to avoid any clearance issues on the inside. With that being the case we went with a 0mm offset to satisfying the requirement of having at most 5″ of backspacing.
18″ wheel is a good wheel size to go with as it allows for the Jeep to retain that offroad look but does not have too much sidewall.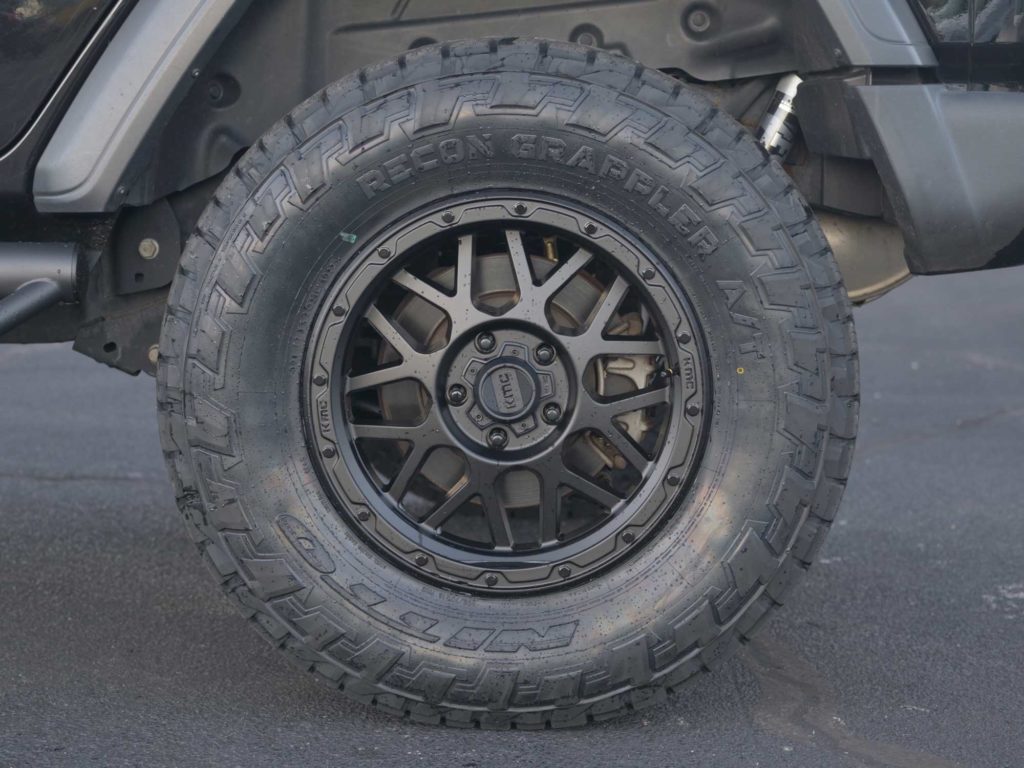 295/70R18 Nitto Recon Grappler
Next up was tires, and the customer was looking for a nice all terrain tire that would drive well on the road and would be something that had an attractive sidewall and tread design
In that case we went with the Nitto Recon Grappler. We go with the Recon Grappler a lot as we love the smooth and quiet ride quality it offers, which pairs well with its sidewall and tread pattern.
We went with a 295/70R18 as this would give us a slightly narrower tire at just above 11.5″ as this would keep the wheel and tire in as much as possible. This also gave us the option to go with a standard load tire, which will help enhance ride quality as well as reduce the cost.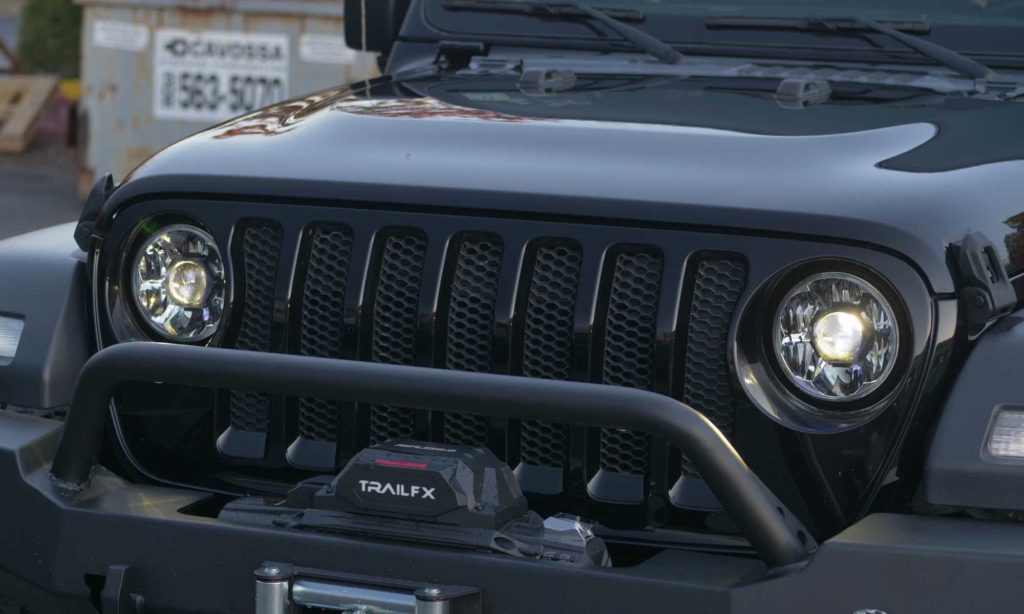 KC HiLites Gravity LED Pro Headlights
One common complaint with some Jeeps is that their headlights are abysmal. Jeeps that come from the factory with halogen headlights have a serious lack of light output at night.
It is easy to identify this by looking to see if your lights have a warm yellow light output. The good news is that there are many aftermarket options out there.
KC HiLites makes a killer set of headlights, which is no surprise as they have been known for making some of the best offroad lights on the market for over 50 years.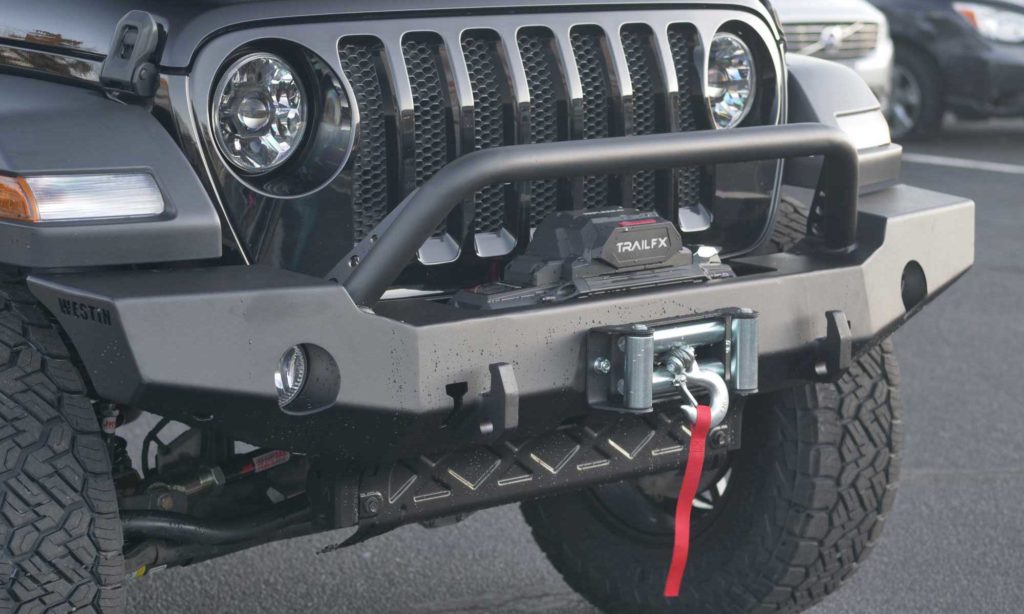 Westin W2J Full Width Bumper
The customer was also looking to ditch their stock bumper for something that offered a bit more front end protection and had a place to mount a winch.
Westin makes all sorts of different bumpers, side steps, and even their own line of winches called Superwinch. For the price, they make pretty good bumpers.
This bumper helped to give this Jeep a more rugged and offroad look, and it even had spaces to fit the factory fog lights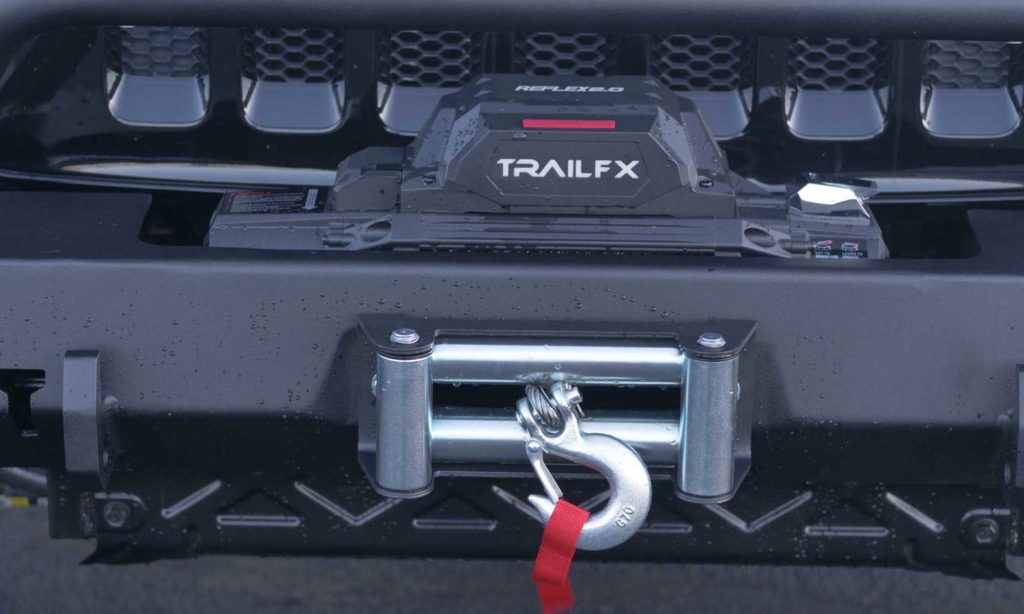 TrailFX Reflex 2.0 9,500 lb. Winch
Being that this bumper had a place to mount a winch, it seemed like a good to add one
The customer was not anticipating on using this winch too much but just wanted it more for looks and to complete the whole look of the bumper up front as it would have looked a little weird without the winch there.
This winch is rated for up to 9,500 pounds and it features a steel cable, which can be identified with the more traditional fairlead that sits in the middle of the bumper.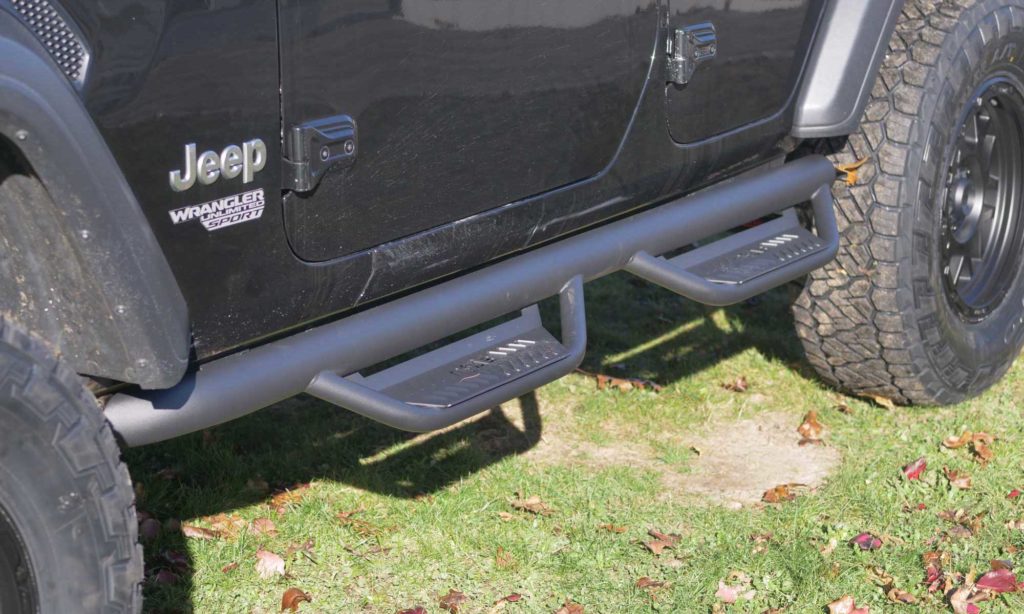 The customer was also looking to replace his current side steps he bought from Amazon that were already starting to rust.
We decided to go with a set of N-Fab Podium steps, which provide designated stepping areas to get into the vehicle, and they sit nice and tight against the rocker giving these steps a minimalistic look.
These steps are backed by a 5 year warranty and are protected by a tough black powder coat, so they should last much longer than the customer's previous steps.