2016 Chevrolet Silverado 1500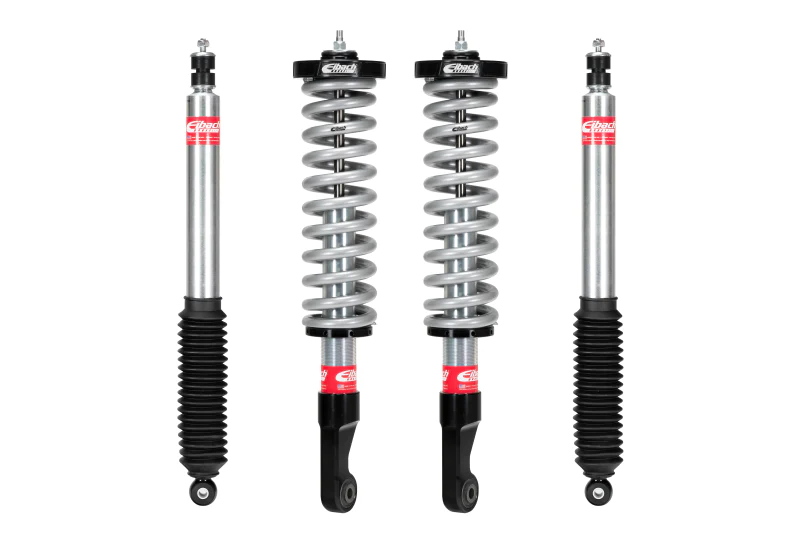 Eibach Pro Truck Lift Stage 2
For the suspension we installed Eibach's Pro Truck Stage 2 Lift Kit. This kit consists of Eibach's 2.0 Pro Truck Coilovers up front and their Sport shocks in the rear. The combination of these coilovers and shocks results in a ride that is much more comfortable and controlled than stock
This kit is preset to level the truck out of the box, but these coilovers are adjustable so they can be lowered or raised. The owner actually opted to raise it an inch from its preset level for a total of 3″ of lift.
This setup was exactly what the owner wanted as he wanted to slightly lift his truck while replacing all the shocks. We love Eibach's Pro Truck Lift Kits and are our favorite upgrade for the money.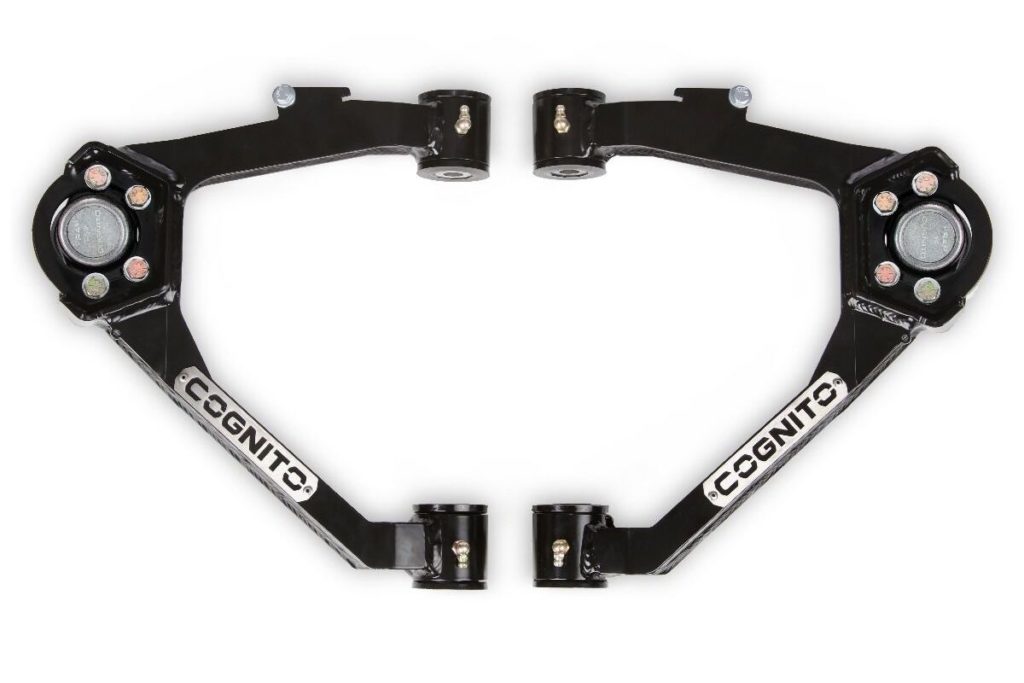 Cognito Upper Control Arms
Though adding aftermarket upper control arms was not neccessary for this truck and lift, it is always good to incorporate aftermarket upper control arms.
Many aftermarket upper control arms, like these ones from Cognito, are specifically designed for lifted vehicles as they will allow the suspension to cycle properly without premature wearing of the ball joints
Cognito is known for making high quality suspension lift kits and other components for American trucks with a main focus on both Chevy and GMC vehicles. They also make uniball upper control arms, but ball joint upper control arms are better suited for most street used vehicles.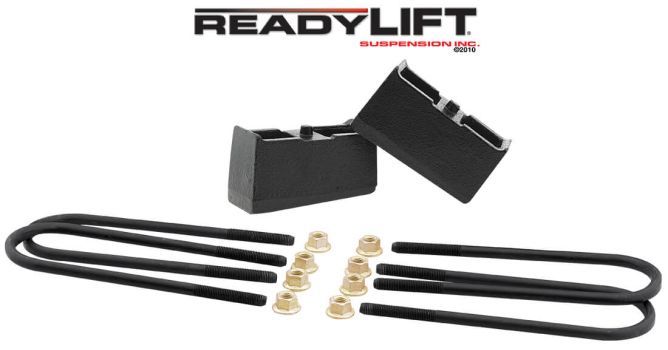 The owner did not want to have a complete level stance, so what he did was incorporate a taller block in the back of his vehicle.
The stock block for this Silverado was 1.25″, so a block of 3″ was needed to get the intended lifted stance.
We went with a ReadyLIFT one as ReadyLIFT makes high quality components. This blocks is made of cast iron and comes with all new U-bolts to ensure that everything fits properly.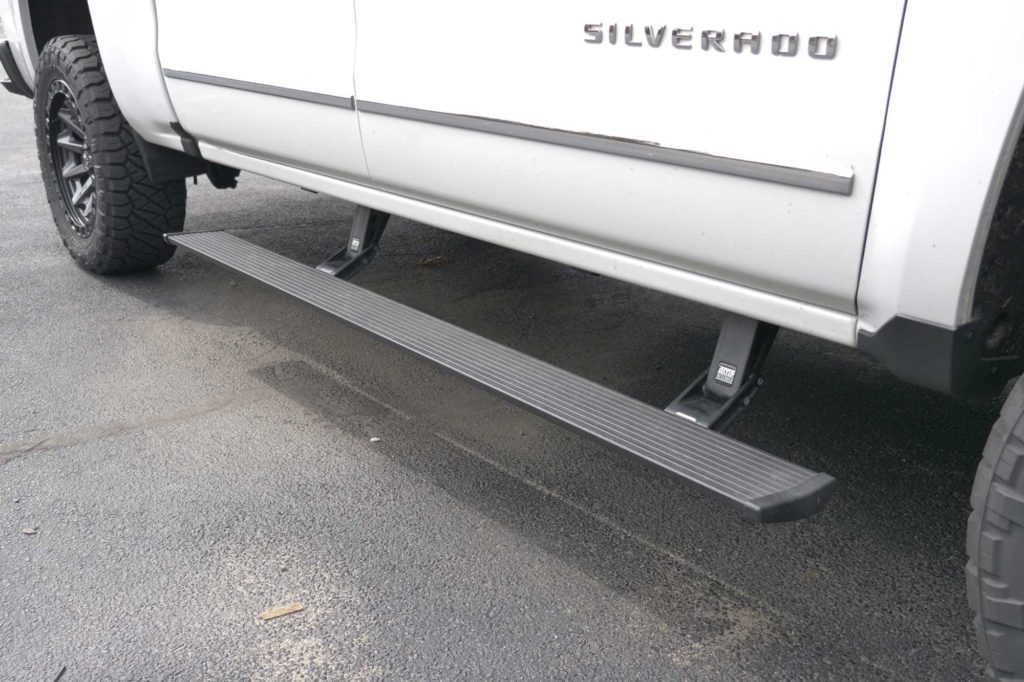 Another addition the owner made was installing a set of Amp Research's power retractable PowerStep. These steps retract down when you open the door and retract back up when the door closes.
The customer wanted these steps because with the new lift he needed a step that would come down lower than his current running boards, and he liked the fact that these steps were out of site when not in use.
Not only do you get the added functionality of a lower step, but you get the nice sleek look along the rocker that comes when the steps are retracted back up. These steps also come with a set of LED lights that light up the running boards at night.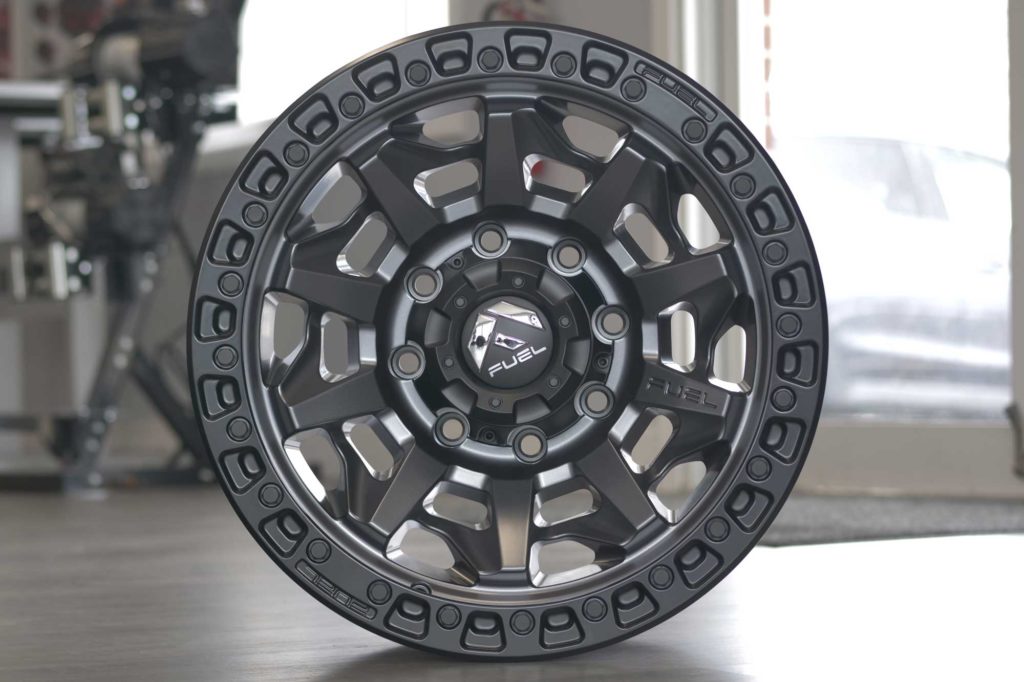 Fuel Offroad Covert 20"x9" (+1mm)
For wheels the customer wanted to get something different than his stock chrome wheels, but he did not want something completely all black.
That is what made this Fuel Offroad Covert a perfect choice. The finish on this wheel is a matte gunmetal with a black beadring. So, it is still a darker finish but is not completely all black, which goes well with the white exterior of the truck.
For the offset, we went with +1mm as this helped to get the edge of the wheel and tire to be sitting flush with the outer edge of the fender. This makes it possible for him to past inspection, while still giving the truck a more stout look.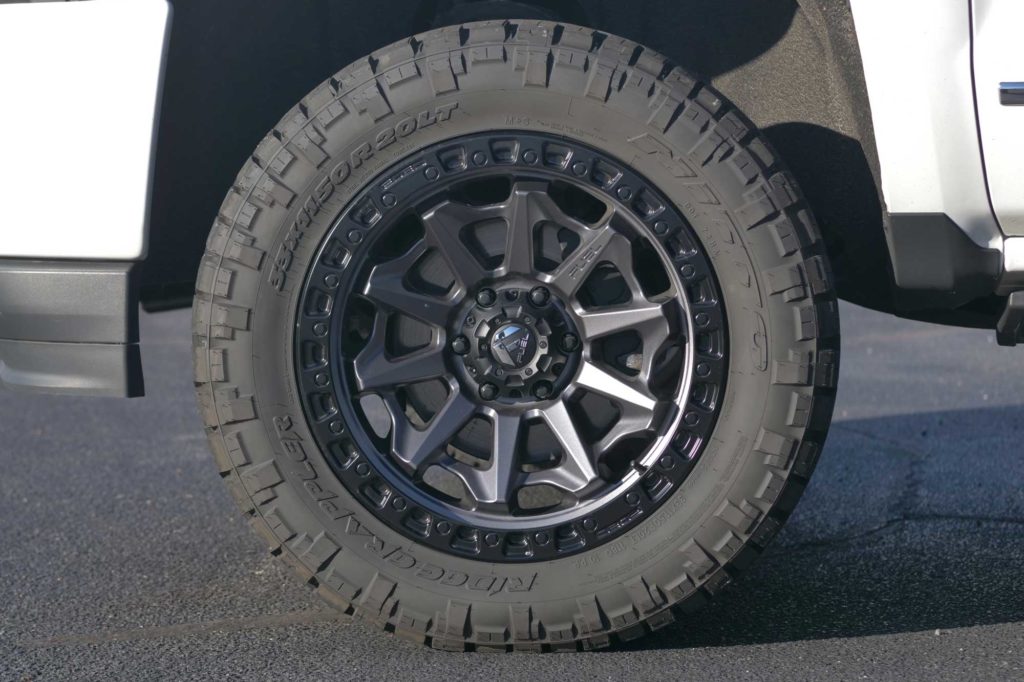 Nitto Ridge Grappler 33"x11.5"x20"
This this truck was lifted a few of inches, which make more room for some larger tires. Previously the customer had 32″ tires, but we now had room to incorporate some 33″ tires.
We decided to go with the Nitto Ridge Grappler as he wanted something that would ride well on the road but also had somewhat of an aggressive look. These tires also feature a dual sidewall allowing you to pick the side that will face the outside of your truck.
The Ridge Grappler has been one of the best selling tires for the last few years, and it is no surprise as they both ride great and look awesome.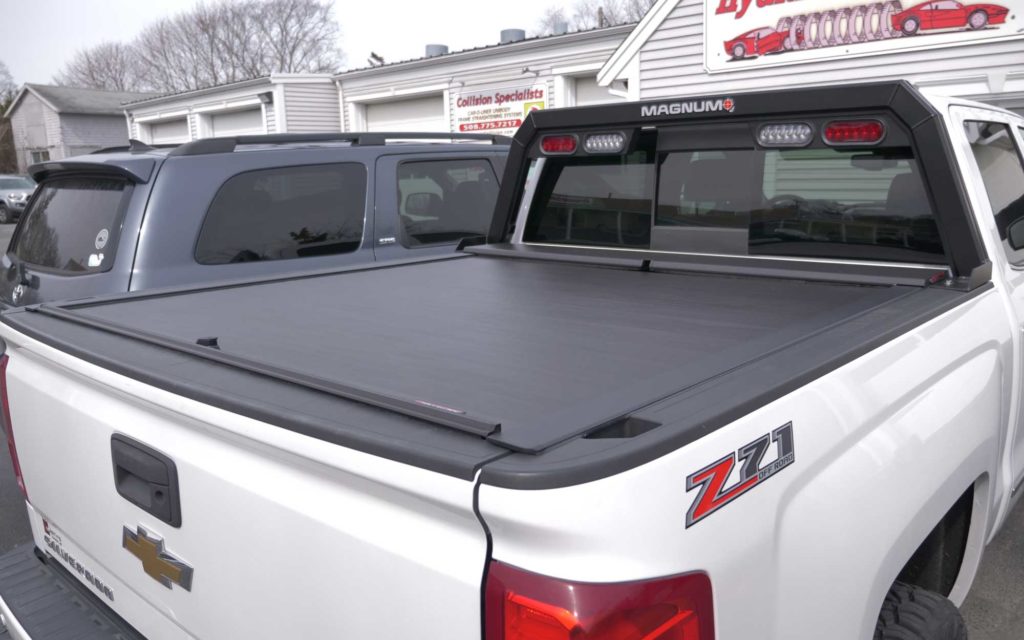 Roll-n-Lock A-Series Retractable Cover
The customer was also looking to switch out their basic soft tri-fold cover he had for a bit more permanent and premium option. He ultimately decided to go with the retractable A-Series from Roll-n-Lock.
The cover works pretty simple, turn the lock and give a little push and the cover will retract back. The cover features two locking positions in the middle allowing you to keep it partially open.
The A-Series also features a durable powder coated aluminum top that not only looks good but rolls nicely as well. The cover also comes with keys so you can lock the cover and as long as your tailgate locks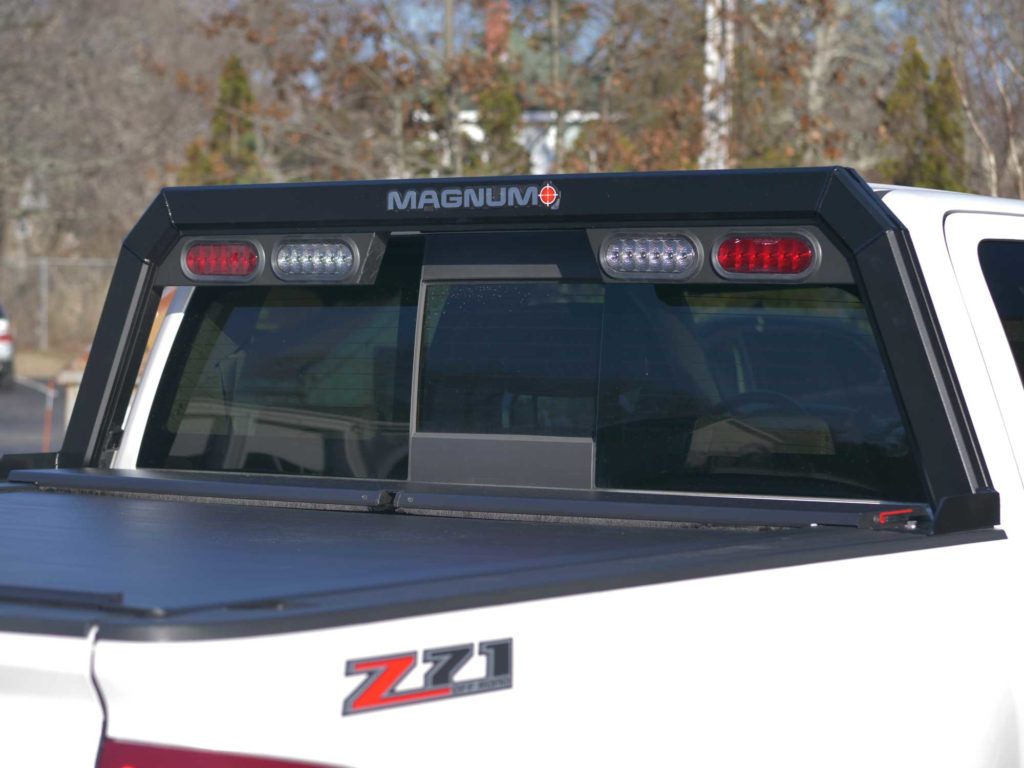 Magnum High Visibility Rack
The customer also wanted to add a headache rack to help give the truck a bit more rugged look as well as add a black accent to the cab of the truck that would match well with the tires and the black bead ring on the wheels.
There are a few different configurations you can get. He wanted the high visibility rack as it would be the one that would least obstruct his vision. He also wanted to incorporate lights on his that worked in conjunction with the brake and reverse lights.
Lastly, he wanted the low profile version as it would sit level with the top of the cab giving it a nice sleek look. What is nice about these Magnum racks is that they work with most in between the rail tonneau covers. Slight modification was needed to make it fit with the Roll-n-Lock cover, but in the end they fit perfectly together and looks great.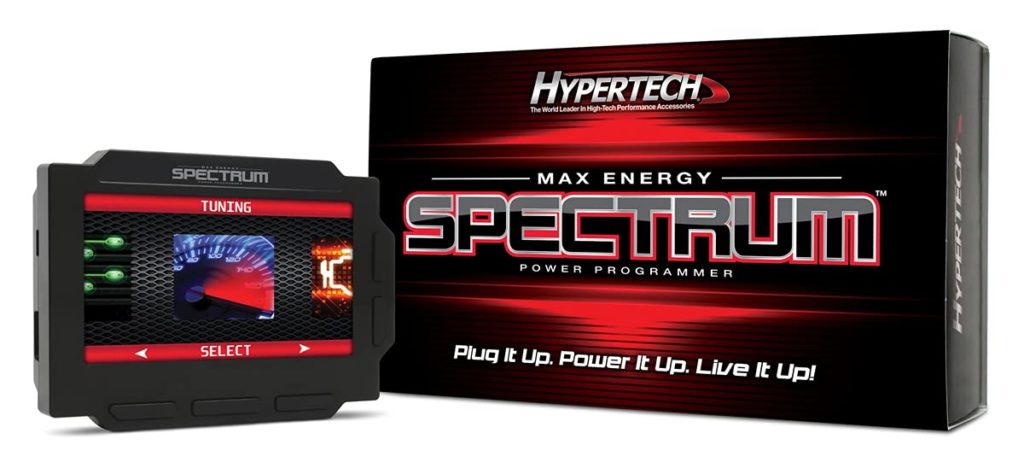 Hypertech Power Programmer
This was actually the first mod he made to his truck. This a power programmer that gives you more control and adjustment over how the engine performs.
He specifically wanted it to deactivate the displacement on demand, so the engine will be running in V8 mode with all 8 cylinders operating all the time.
This programmer also allows you to change the speedometer to accommodate larger tires, remove the speed limiter, change shift points and firmness.