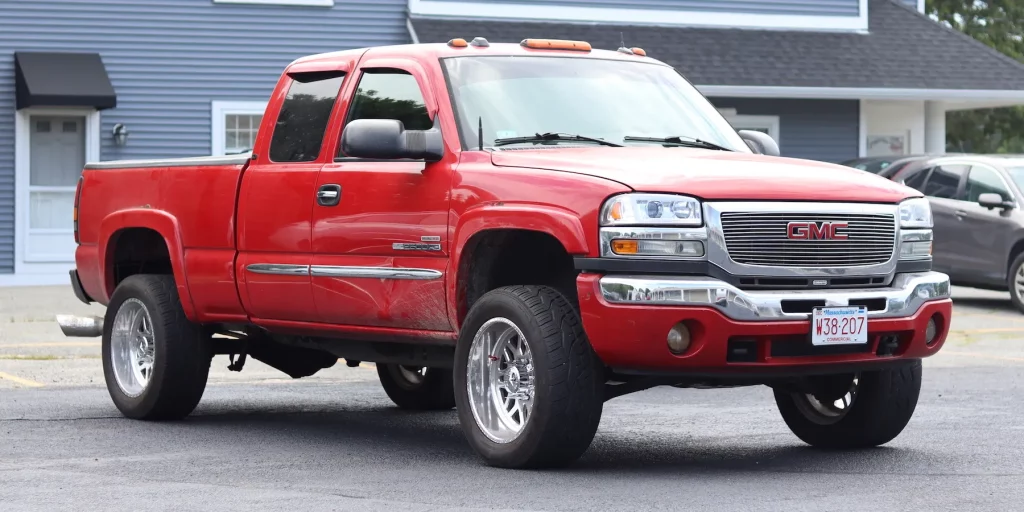 – 20″x10″ American Force BO2 Trax SS (-25mm)
– 305/50r20 Nitto NT420V
– Cognito Leveling Kit w/ Fox Shocks
– Alignment & Gorilla Automotive Lug Nuts
What are American Forces?
When it comes to truck wheels, it does not get any better than American Force. American Forces are forged aluminum wheels that are made custom to order for each and every set of wheels they make giving the customer the ability to get exactly what they are looking for.
Forged aluminum means these wheels are made from a single block of aluminum and are machined down into their final product. This makes the wheel stronger and lighter compared to regular cast aluminum wheels that are made by pouring hot aluminum into wheel molds.
American Forces come in custom finishes but the most popular one is a nice shiny polished aluminum. Most of their wheels offerings come in the following sizes: 20″, 22″, 24″, and 26″ with a multitude of widths ranging from 9″ all the way up to 14″ that come with different offsets. This means you can get a wheel that satisfies the look you are going for.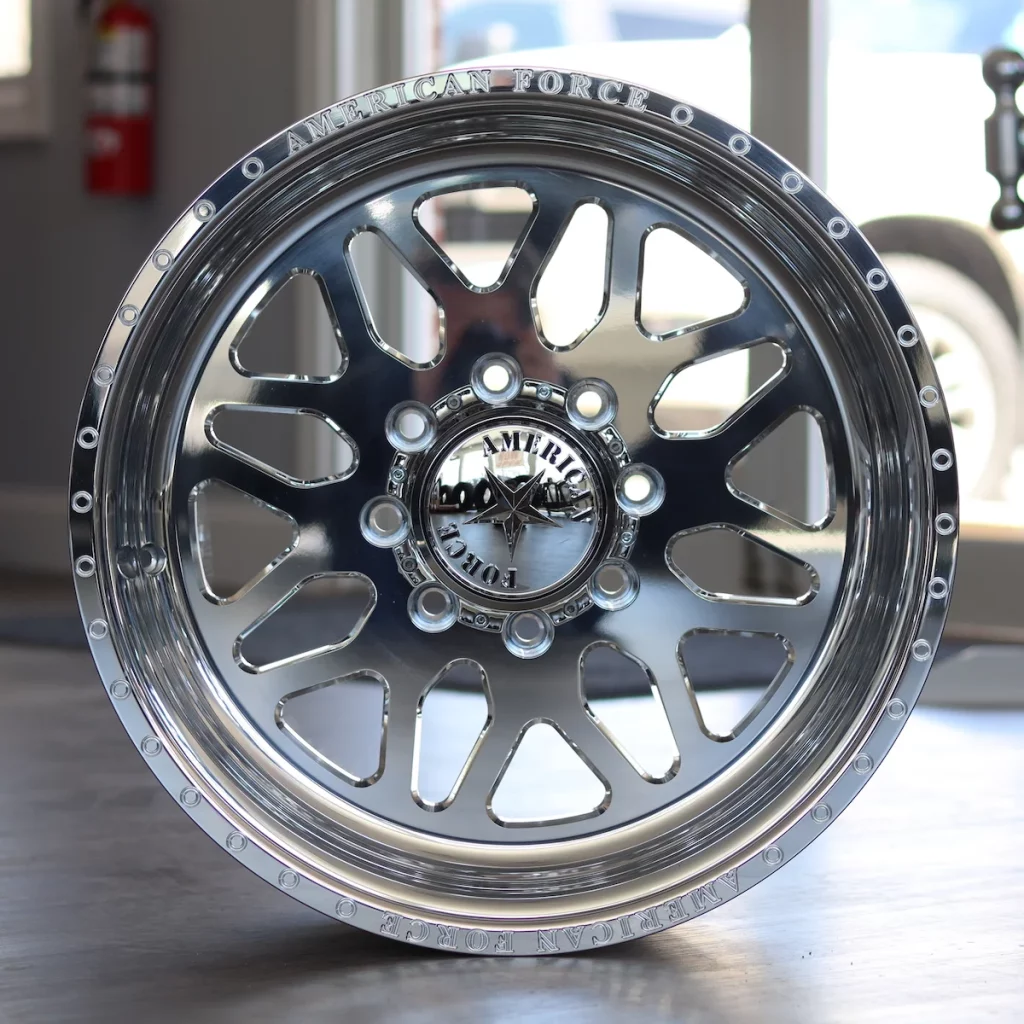 The particular wheel we went with for this vehicle is the American Force BO2 Trax SS. The wheel is 20″ in diameter by 10″ wide with an offset of -25mm. The negative offset will push the wheel and tire out a bit giving the truck a nice stout stance.
For tires we opted for the Nitto NT420V. For a size we decided to go with a 305/50R20 as this would be wide enough to fully take the wheel. The customer also wanted a lower sidewall than his previous set of wheels and tires, but he did not want the sidewall to be too low, so an aspect ratio of 50 was perfect. Trimming and removal of the front mud flaps were needed to avoid rubbing. 
A couple of small touches that were added were red valve stems to match the truck. The customer also ordered chrome spiked lug nuts, but they were on backorder, so the customer also got a set of regular chrome lug nuts to hold him over in the meantime.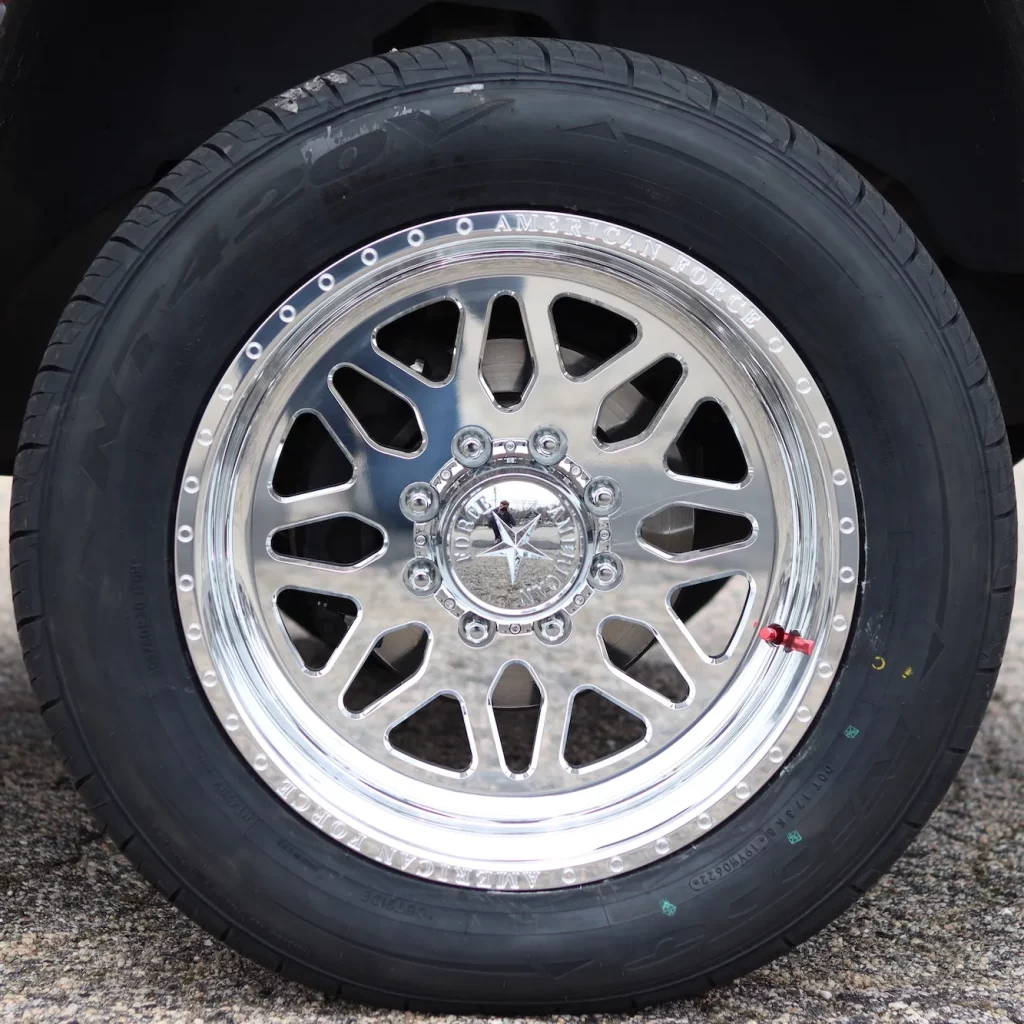 Along with the wheels and tires the customer wanted to level out his vehicle as well as replace the ball joints, upper control arms, and shocks. This kit from Cognito was perfect as it fit everything that he was looking for. The kit comes with all new beefy upper control arms, ball joints, torsion keys, as well as a set of 4 new Fox shocks.
This all resulted in a ride that not only looked good but rode well too. The customer also opted for some beefy tie rods that are also manufactured from Cognito. Overall, this setup was great as it was high quality and checked all the boxes for the customer.