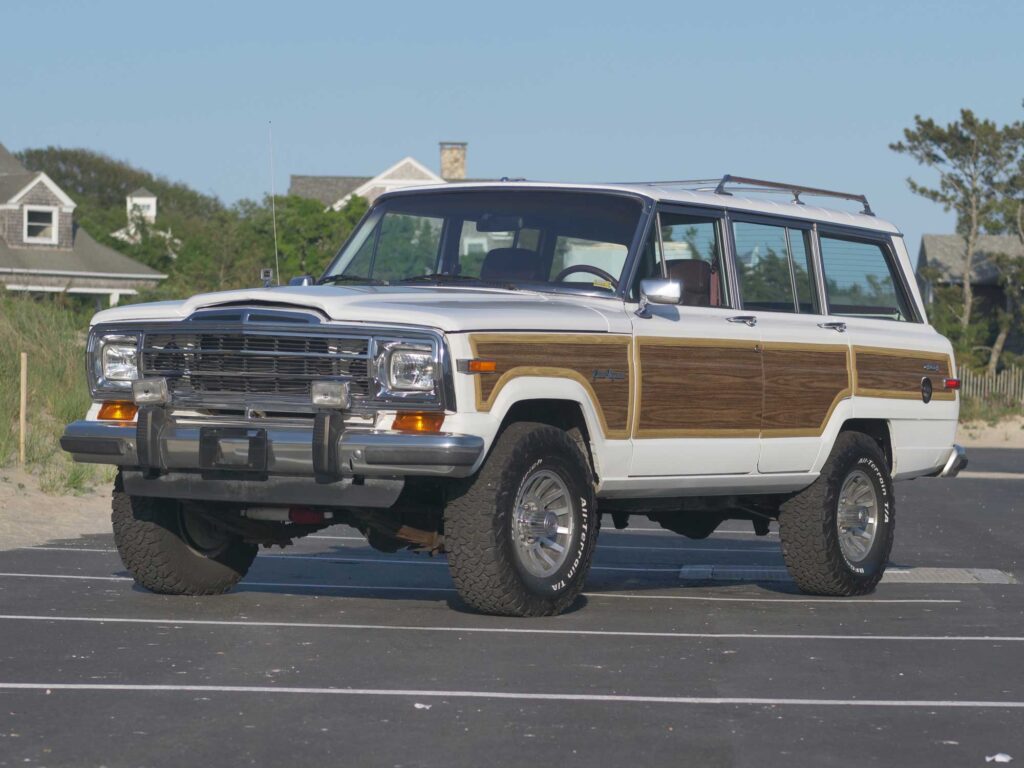 The Jeep Grand Wagoneer is an instantly recognizable vehicle with its easy to spot out wood grain moldings, and its distinguishable front end. Production of this vehicle lasted for 30 years with the Wagoneer being produced from 1963-1993. These were popular vehicles, and for people from this era, you most likely either had one or knew someone that had one.
This specific example has spent the grand majority of its life out west in Washington and Oregon, which is why this vehicle is so clean and features no rust. Along with this, the vehicle's Carfax reports no accidents or damage. Both of these aspects help to explain why this Grand Wagoneer still sports its original faux wood grain and moldings and wears its original paint except for its hood that has been repainted.
The vehicle has been outfitted with a new 360 cubic inch V8 that is outfitted with a Holley fuel injection system giving this Grand Wagoneer more reliable performance and a bit more pep in its step. Other engine features include an MSD ignition, Edelbrock intake manifold and valve covers, and ceramic coated headers. These all lead to a Magnaflow exhaust system that gives this Grand Wagoneer a nice hot rod sound. This engine is basically new with only 500 miles on it since installation. Power is sent to a 3-speed automatic transmission making this vehicle a nice cruiser.
This beast is stopped through the help of front disc brakes and rear drum brakes that host stainless steel brake lines. Moving to the suspension this Grand Wagoneer is lifted 2.5″ from its stock ride height, which made room to fit 31″ BF Goodrich KO2 A/T tires featuring raised white letters giving this vehicle an even more classic look. For shocks this Jeep has Bilstein absorbers giving the vehicle a nice controlled ride.
The inside of this Grand Wagoneer hosts many modern features making this vehicle a nice cruising around vehicle. The interior is in good shape and is finished in a beautiful cranberry that pairs well with the white exterior of the vehicle. Modern amenities include air conditioning, power windows and locks, as well as a power rear window.
Overall, this Grand Wagoneer is perfect for someone looking for a great cruising around vehicle. Its fuel injected engine gives you more modern performance and power and its spacious interior makes for a comfortable driving experience. For more information, please give us a call at 508-775-3276 or email us at contact@hyannisautoaccessories.com.