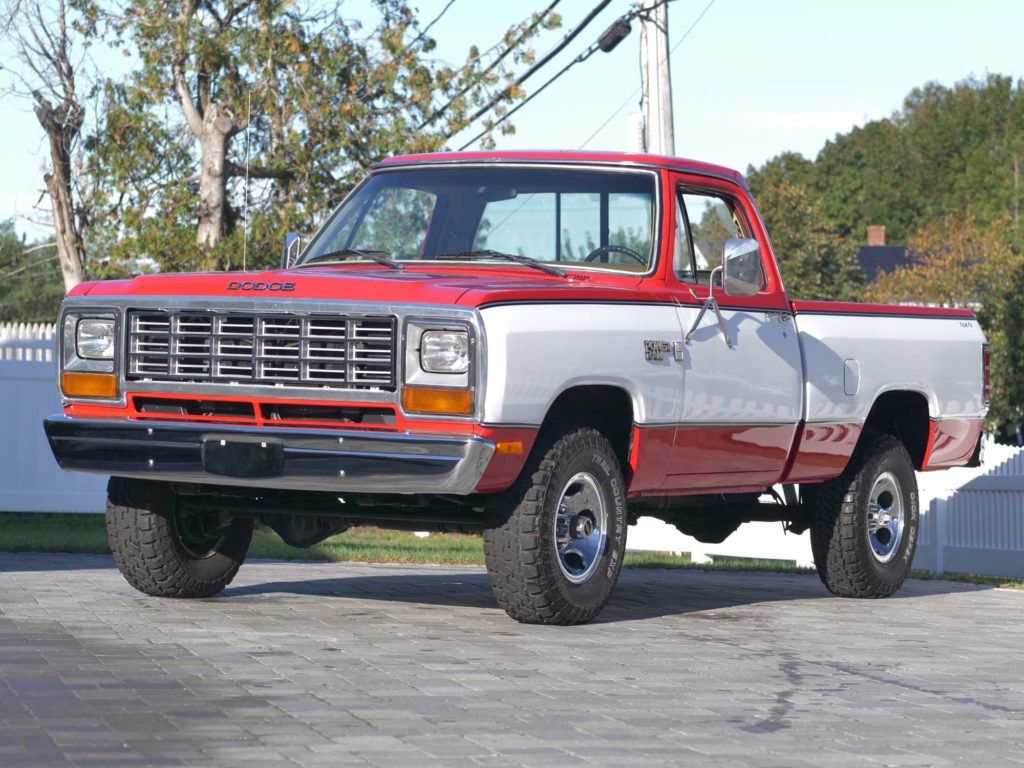 Since the early decades of the 1900's Dodge has been engineering and manufacturing trucks for the American people, but it was not until 1981 did Dodge release their Ram pickup truck series that people know and love today. The first-generation Dodge Ram trucks were manufactured from 1981 to 1993 and are known for the boxy and utilitarian design. This 1985 Ram pickup truck is one of the cleanest examples you will find from this generation of Dodge trucks.
The Ram Power Wagon is a hard to find and desirable vehicle for a couple of reasons. Being that this vehicle is originally from Arizona, it is rust free. Secondly, it came from the factory equipped with a short bed and full 4WD functionality. This truck is also powered by its original powertrain as it sports its original 318 cubic inch V8 engine that is mated to an automatic transmission. The 4WD shifter sits in the middle of the floor in the cab making it easy to shift into the functional 4WD system. This vehicle shows about 82,000 miles, but total mileage is unknown. The exterior is in great shape and has a very dashing appearance as its bright red and white two-tone color scheme is separated by black and gray pinstripes that can be seen around the entirety of the vehicle.
Moving to the suspension, this truck has been upgraded with a Rancho suspension and sits on 31″ Dick Cepek all-terrain tires and 15″ chrome Ram wheels. The vehicle features both power steering and power brakes with disc brakes up front. All these features result in a ride that is both comfortable and safe for a classic truck like this one. The interior of this single cab truck is in very good condition and features no rips or tears. You will be cooled down by the factory air conditioning system and will be switching through the different stations through its modern radio.
If you are in the market for a classic pickup truck that will make you feel like you are back in the 1980's then this is the truck for you. Its stock appearance, original powertrain, and super clean body and frame is what makes this vehicle look like it recently came off the showroom floor. For more information please give us a call at 508-775-3276 or send us an email at contact@hyannisautoaccessories.com.