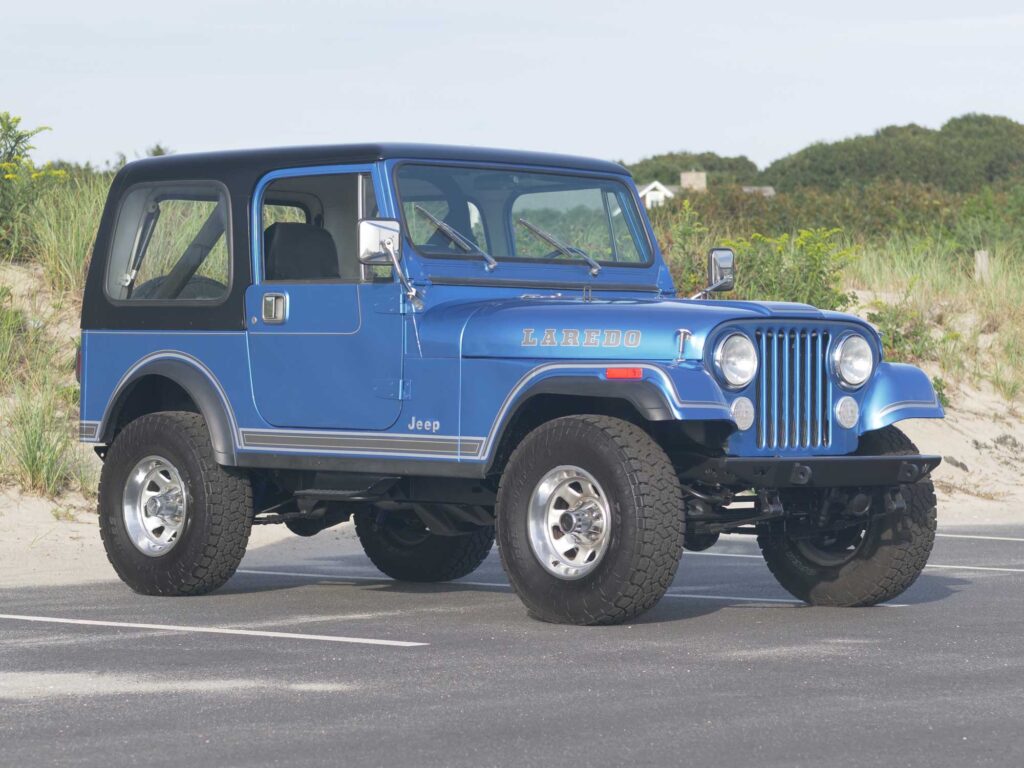 There may be no other more recognizable front end than the Jeep. Originally built for World War II, the Jeep has always been built with ruggedness in mind to go over any terrain. Over the decades there have been many generations, but the overall boxy look has mainly stayed the same. This rings true for the Civilian Jeeps or more commonly known as CJ's. The CJ-7 was produced from 1976-1986, and it is a good mix between the iconic Jeep look and the overall rounded and curvy design of the cars from the '70's.
This 1984 example is representative of that design and is in beautiful condition. Hailing from the west, this vehicle has spent most of its life in California and Nevada, which can help explain why this vehicle is so clean. Along with that, this vehicle has been comprehensively restored. Finished in a beautiful blue this color pairs well with the Laredo decals that run along the body of the vehicle. This Jeep also comes with a removable black hardtop that has also been refurbished.
This CJ is powered by a fuel injected 4.2L inline 6-cylinder engine that drives power to a 5-speed manual Borg-Warner T5 transmission. This vehicle sits at stock ride height and wears factory CJ-7 wheels that are wrapped around by 31″ Toyo Open Country all-terrain tires. A matching spare wheel and tire sits on the tailgate. This vehicle's stock condition makes it easy to drive and the fuel injected engine paired with the 5-speed manual tranmission gives you a simple and reliable yet fun driving experience.
Moving to the interior, one will see a pair of front bucket seats separated by a locking center console. Sitting in front of the gear and transfer case shifter are a few different gauges. On the floor are a pair of Bestop floor mats, and out back is a nice bench seat for two. This simple interior is commonplace among Jeeps from this era.
This vehicle is perfect for someone who is looking to buy a stock Jeep CJ in excellent condition. Its beautiful blue exterior pairs well with the Laredo badging that fit the body lines of this CJ well, and its stock condition makes this Jeep fun and simple to drive. For more pictures and information please give us a call at 508-775-327 or email us at contact@hyannisautoaccessories.com.