1981 Toyota FJ40 Land Cruiser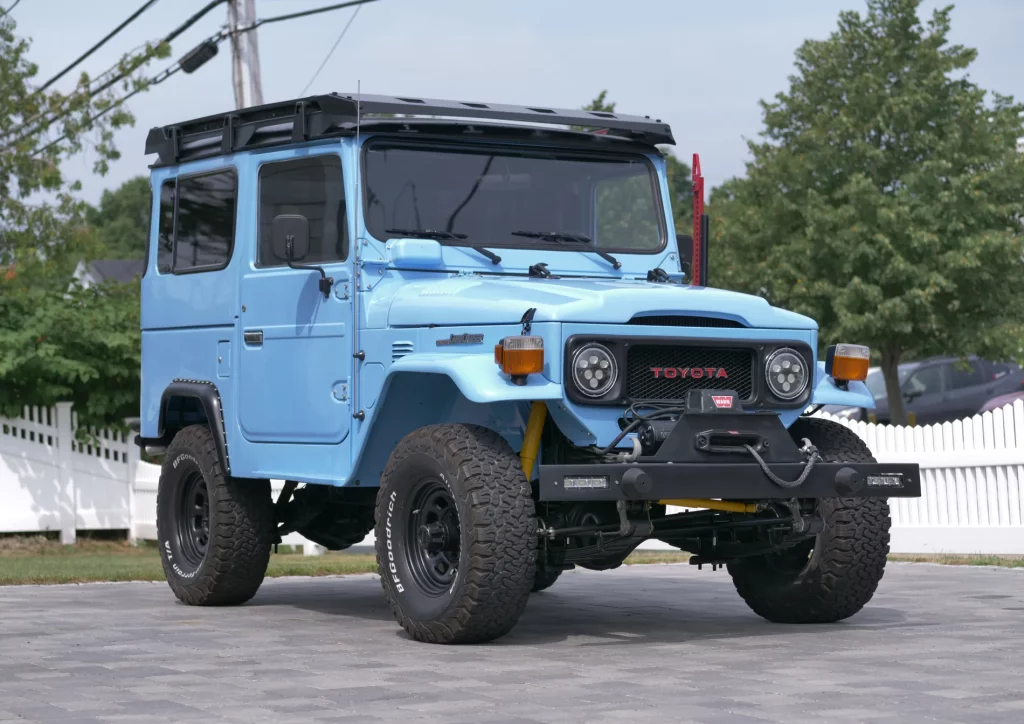 The Land Cruiser has been a staple in Toyota's lineup since the 1950's when the first Land Cruiser was built as a military vehicle to compete against the Willys Jeep. The Land Cruiser's ruggedness and Toyota's reputation for dependability is what has made it such a sought after vehicle for both adventurers and collectors alike. The same goes for this 1981 example.

This vehicle is a 1981 Toyota FJ40 Land Cruiser finished in a beautiful bright blue that has recently gone under a complete frame off restoration. This vehicle is powered by its original 6-cylinder engine, which is mated to a 4-speed manual transmission. Along with this, this FJ40 features many different features that make this vehicle off-road capable. Suspension wise, the vehicle has been outfitted with new ARB Old Man Emu leaf springs. This makes for a comfortable ride when moving on down the road over the new 31×10.5×15 BF Goodrich KO2 All-Terrain tires. These tires house 15" black steel wheels that feature manual locking hubs for the front axle. Up front is a simple black bumper that holds a Warn winch as well as a couple of rectangular LED lights. Seen on the driver's side is a red trail jack. The red accents well with the painted red Toyota logo on the grille as well as the red Warn logo on the winch. Other features seen on this vehicle are modern LED round headlights providing ample light output. Up top is a roof rack that accentuates the off-road nature of this vehicle, and it also features the words "FJ40" and "Toyota" painted in red.
The undercarriage of this vehicle is quite clean and features no rust. Moving to the back one can see the spare tire carrier and the pull up hatchback style door that is typically found on many earlier FJ40's. These doors open to the rear cargo area that houses two foldable bench seats that sit opposite to each other, and they still feature the wrapping from when the seats were restored. Moving up to the front one can see the two bucket seats, which also have been restored. Sitting in between the two seats is the gear shifter, transfer case shifter, parking brake, cup holders, and center console. Along with this the vehicle features a backup camera. Moving to the driver's seat, one can look behind the steering wheel to see the different gauges. The odometer that reads a bit over 114,000 miles sits snug within the speedometer. Below this are gauges for the oil, fuel, temperature, as well as the battery.
This 1981 Toyota FJ40 Land Cruiser is surely a special vehicle as it is a clean example that features no rust, and it is outfitted with both classic and modern amenities allowing this vehicle to go over most terrain. What is great about this vehicle is that you can use it however you want. Whether that means using it as an off-road vehicle, keeping it as a collector's item, or making it that Sunday drive vehicle, you cannot go wrong either way.