The customer has owned this badass CJ-7 for many years now, and it needed a bit of a revival to get it both looking good and running well. Below is a list of everything that we did to this vehicle to make it what it is.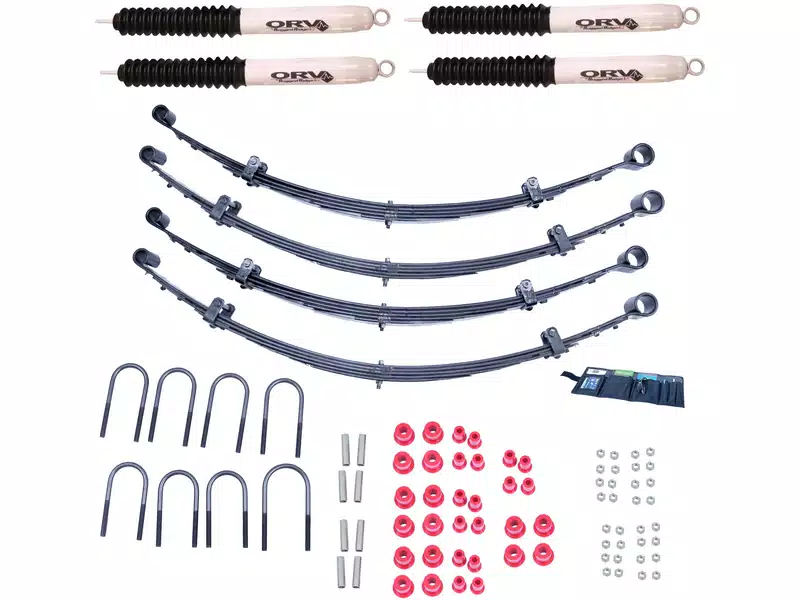 This CJ-7 was in need of new leaf springs and shocks, and the customer was interested in a lift to see if it would be possible to fit some larger tires. This lift kit from Rugged Ridge was perfect as it included all new shocks and springs, and it is not so expensive that is breaks the bank. The kit also comes with all new u-bolts and bushings, which was perfect as the customer needed those replaced too.
The 2″ of lift also made it possible for the customer to upgrade from the 31″ tires that were originally on the Jeep to 33″ tires. The combination of the lift and larger tire would help to improve the ride and give the vehicle a more prominent stance.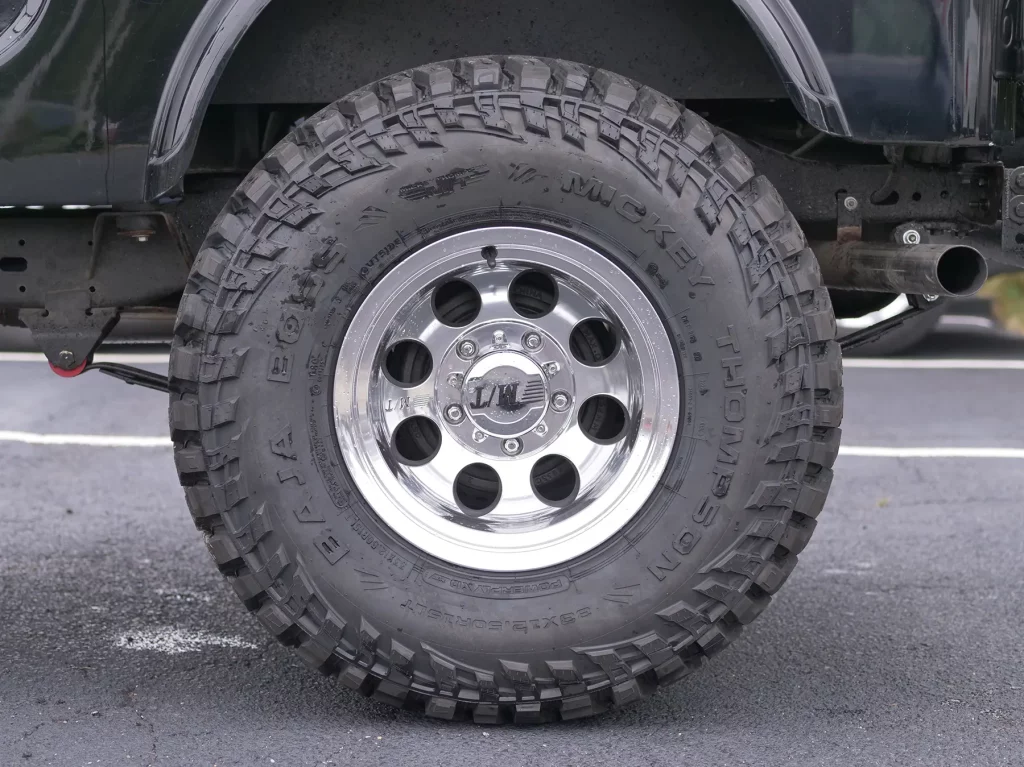 33"x12.5"x15" Mickey Thompson Baja Boss M/T
Now that the customer knew he was able to fit 33″ tires, we had to land on one that fit what the customer was looking for. He was not sure on whether to get all-terrain or mud-terrain tires, but since he wanted to have a smaller wheel he would have more options with a mud-terrain. Also, the nice aggressive tread on the mud-terrains will both give the Jeep a mean look as well as provide ample traction when going out on the beach.
We went with Mickey Thompson for a couple reasons. One is that they build high quality tires that ride amazing, and the American heritage behind Mickey Thompson goes well with the Jeep, which is one of America's most iconic vehicles.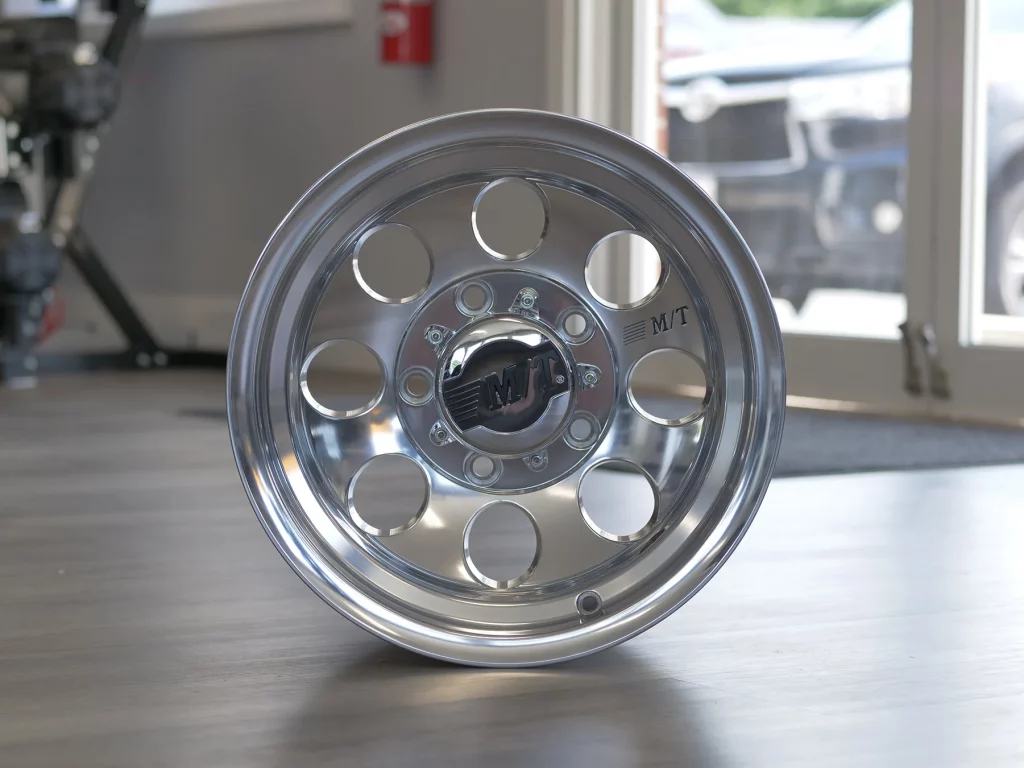 15"x10" (-45mm) Mickey Thompson Classic III's
Next up were wheels. The customer had to both pick a design as well as a size. He opted for 15″ wheels as that is what he had previously, and he liked the larger sidewall look that comes with smaller wheels. He also needed something wide to accommodate the 12.5″ wide tires
Next up was a design. He wanted something classic looking but was unsure between whether he wanted them black or polished. The Classic III from Mickey Thompson was the perfect option as it has that classic 8 hole design and is offered in both a black and polished finished. Ultimately, the customer went with the polished wheels, which we thought was a great choice.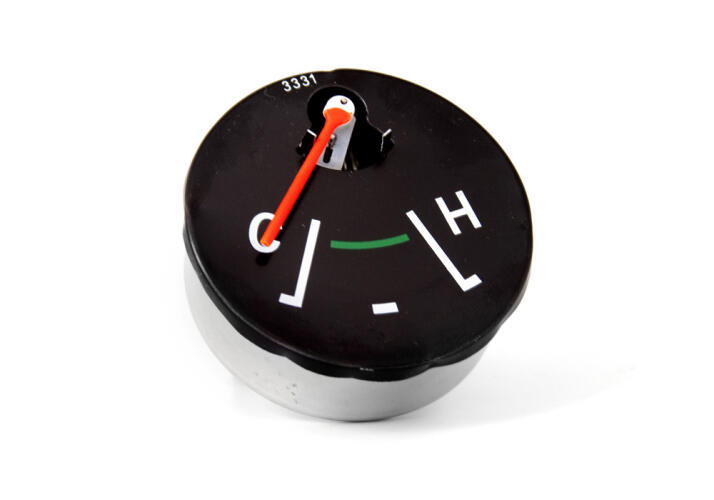 Tune Up & Omix-Ada Temperature Gauge
This old Jeep needed some engine work in addition to the other modifications we were making to it. We performed a tune up to get the engine running nice and clean, and we also installed an OEM style temperature gauge from Omix-Ada to replace the broken one that was on the Jeep.
Another thing the customer will be doing in the future is outfitting the engine with fuel injection, and he is also looking to upgrade his 10 gallon tank to a larger one that will be around 15-20 gallons. This will most likely be a project for this upcoming winter.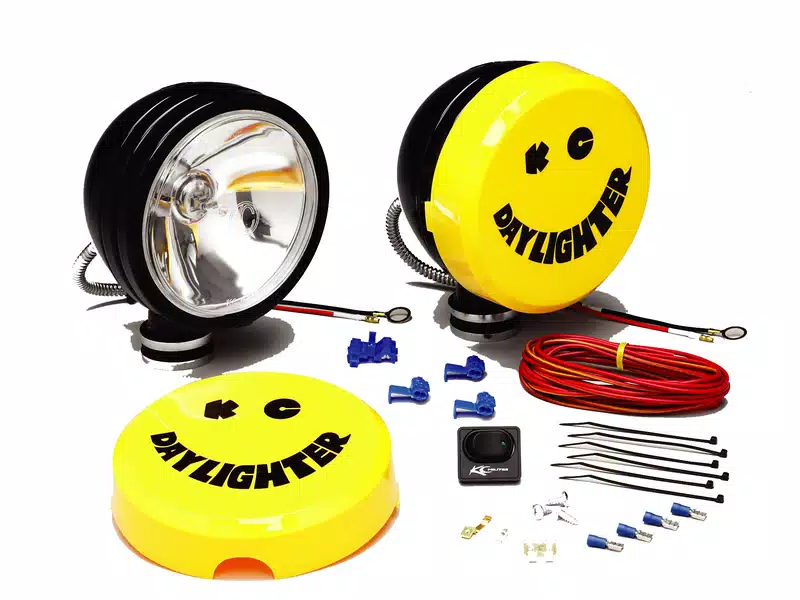 KC HiLites Daylighter Accessory Lights
The customer also wanted to add a few accessory lights to his Jeep to add a bit of personality to it. Naturally, we went with a pair KC HiLites LED accessory lights that come with a fun cover that says "KC Daylighters" on it. 
What was also great is that the bumper we got had two spots for the KC lights that made it easy to mount to with a position that looks natural. These lights can be run with or without the cover.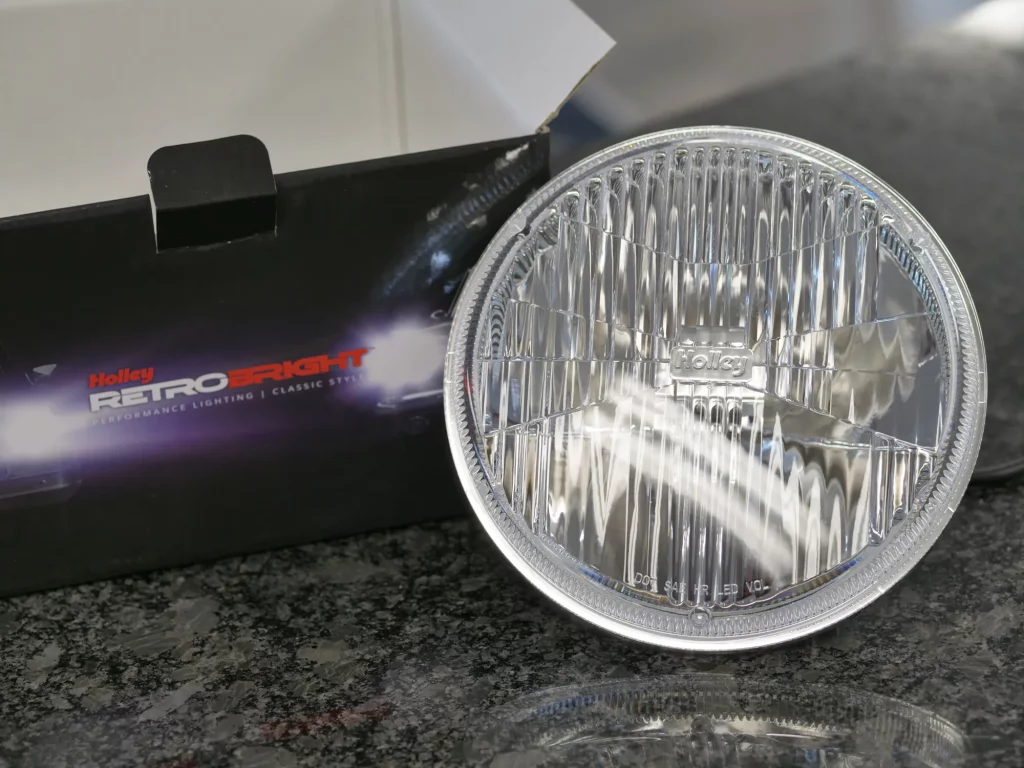 Holley RetroBright LED Headlights
Another mod the customer wanted to make was to upgrade from the stock halogen lights to some LED headlights, and we opted for Holley RetroBright LED lights for a couple reason.
First one is that these LED headlights perform far superior to the original halogen lights that were on there. We do not know the specs of the original halogen lights, but on average Holley's RetroBright LED headlights will output about double the light of stock halogens.
What makes these headlights perfect and different than the rest of the lights on the market, is that they retain the classic look of the stock lights. Most LED headlights look modern, so you often have to compromise between looks and performance. With the Holley RetroBright LED headlights you get the best of both worlds: modern performance with a classic look.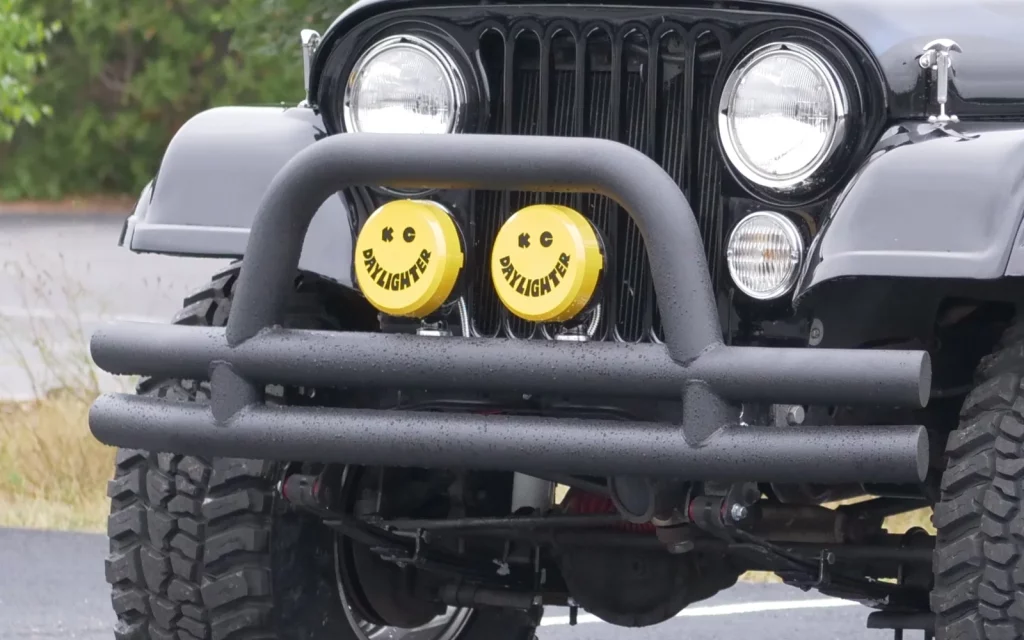 Rugged Ridge Powder Coated Front & Rear Bumpers
Another modification the customer wanted was new front and rear bumpers. He wanted something simple and something that was going to last and look good. These Rugged Ridge tube bumpers were perfect as they were both powder coated and featured a simple design.
The front bumper provided two spots for some accessory lights, and the simple design fit the shape of this vehicle. An added bonus is that these bumpers are quite economical and are worth the added appearance and functionality.