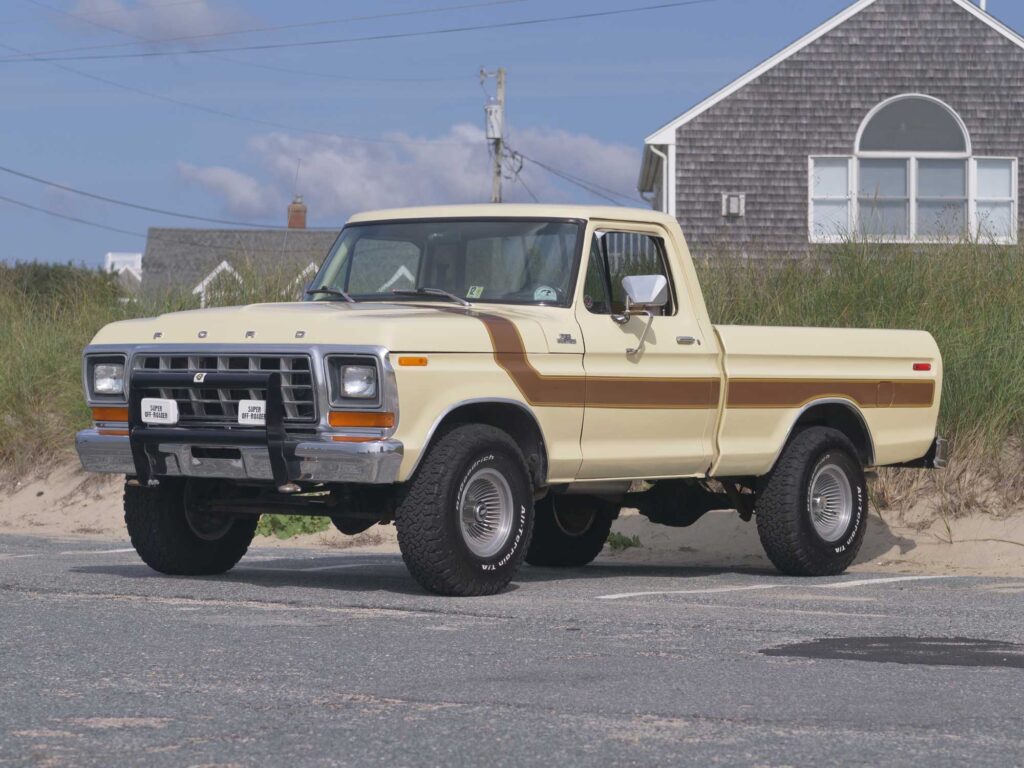 This 1979 Ford F150 featured here is part of the last year of production for the 6th generation F-series pickup trucks, an iconic American model that has been a staple in Ford's lineup for nearly three quarters of a century. Not only is this truck a short bed and mainly original example of this generation F-series, but it also representative of the time that it is from with its retro color scheme and its different memorabilia and gadgets.
          It is difficult to find a truck like this in such clean condition, which can be explained by the fact that this truck has been in storage for nearly 40 years. The truck is a real time capusle as it still sports its inspection sticker from 1984 as well as a city of Chicago and town stickers from the same year. Other vintage decals include NRA stickers on either side window and a hunting club the owner must have been a part of back in the early 1980's. THese pieces of memorabilia pair well with its groovy Turtle Top color scheme and the fact that this truck still sports its original sheet metal. 
          Going along with the theme of originality, is that this truck still features its original powertrain. This F150 is powered by a 351 V8 engine that sends power to an automatic transmission making for a comfortable yet exciting driving experience. The truck rolls along on its original turbine style wheels that are wrapped around by BF Goodrich all-terrain tires. Another notable feature about the exterior of this truck is that it is the desired short bed configuration with the bed coated in Line-X for durability and is in great shape. Up front the truck wears a bull bar that is outfitted with a pair of fog lights. 
          Moving inside, this truck's original shag carpet interior pairs well with the Turtle Top exterior, which really completes this truck's nostalgic look and really makes you feel like you are back in the '70's when driving this vehicle around. Other cool features inside the truck are a Cobra CB radio, tilt wheel, and air conditioning. The headliner and carpeting are in great shape and the seats are overall in pretty good shape with some signs of wear and tear that is expected from an overall 40-year-old vehicle.
          Overall, if you are looking for. truck that will make you feel nostalgic as if you are back in the '70' then this is the truck for you. Its interior and exterior color schemes are representative of the era it is from, and the truck sports most of its original components. To bring it all together this truck features different pieces of memorabilia that are exemplary of the time it is from including its inspection and club stickers as well as its CB radio. Classic vehicles of all sorts have the ability to bring us back to a simpler time and this vehicle is surely one that will do that for you.