Ford Bronco Builds - Cape Cod Edition
The new Ford Bronco is one of the most highly customizable vehicles on the market right now. With so many different aftermarket options you can really make your Bronco your own. Besides that, the Bronco is the perfect vehicle for the Cape. It rides fantastic, has the ability to remove the top for those sunny summer days, and it is offroad capable making it possible to bring your vehicle out on the sandy beaches.
There is so much you can do to make your bronco truly one of a kind. You can lift it, add wheels and tires, color match the vehicle, put on a set of aftermarket bumpers, install custom fiberglass fenders and quarters, add offroad lights, add performance kits, and much much more. The sky is really the limit. Take a look at some of our builds we have done to get a sense of what you can do. 
If you are wondering what a Cape Cod Edition Bronco is, it is a Bronco that we take and transform into what we think is a badass Bronco. That includes color matching the grille and fender flares, adding an aftermarket hood, installing power retractable steps, 35″+ all-terrain or mud-terrain tires, custom leather seats, and other upgrades. 
Click on the pictures below for an in depth view of our Bronco builds
Bronco Body & Paint Upgrades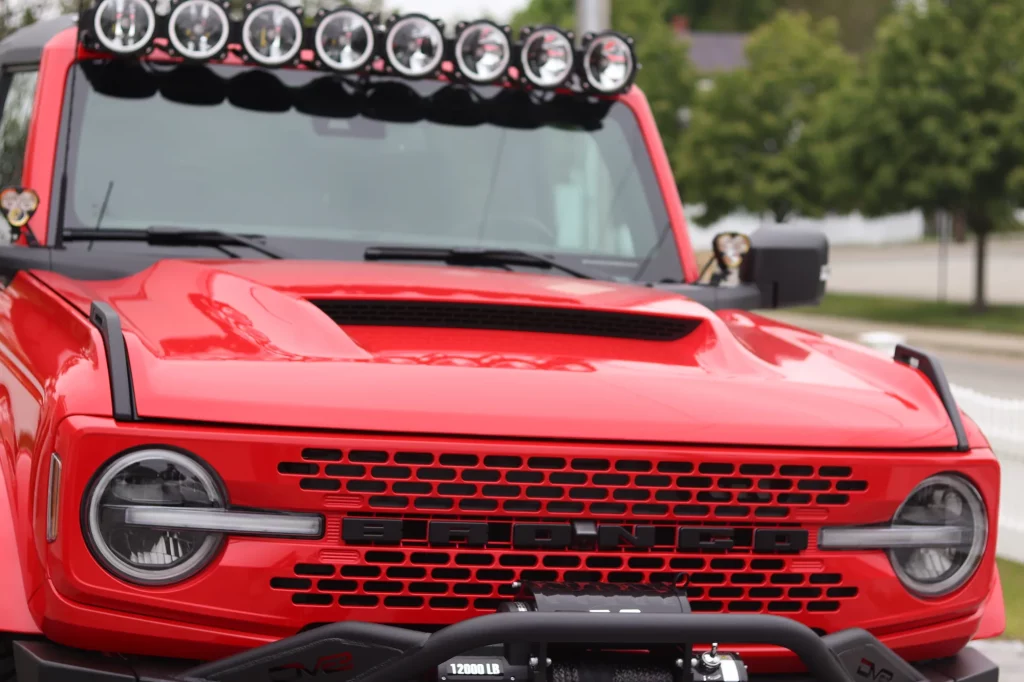 Adding an aftermarket hood is a great way to give your Bronco a more muscular and custom appearance. We offer a couple of different versions from Advanced Fiberglass Concepts.
ADV is a leading manufacturer in aftermarket fiberglass body components. They manufacture two hood different hood styles, which are their Ram Air hood and their Heat Extractor hoods.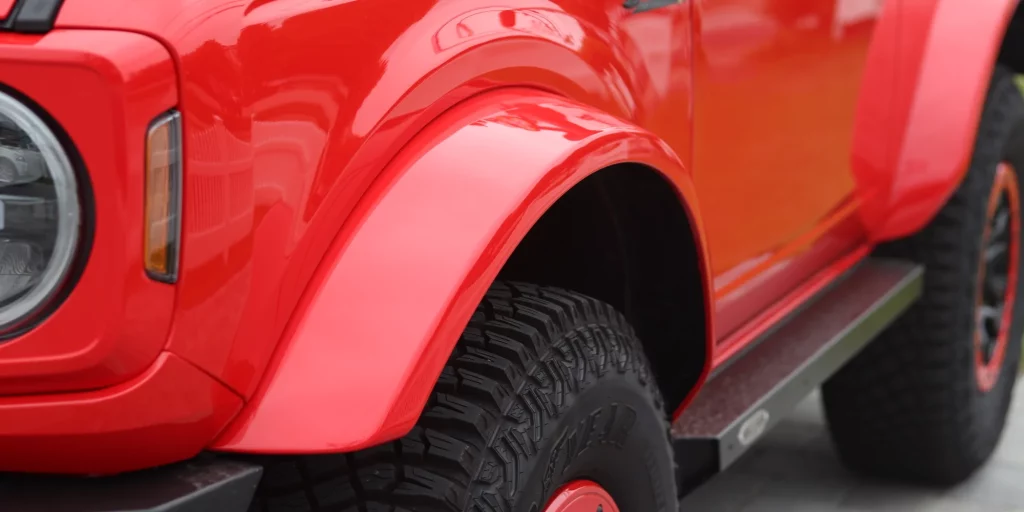 A great way to give your Bronco a nice clean look is to get rid of those textured black fender flares by paint matching them to the color of your Bronco. Some Broncos do come with painted flares but most do not.
We use our Glasurit paint mixing system to get the exact color that is on your Bronco to achieve a look that makes it appear as if your fender flares came painted directly from the factory.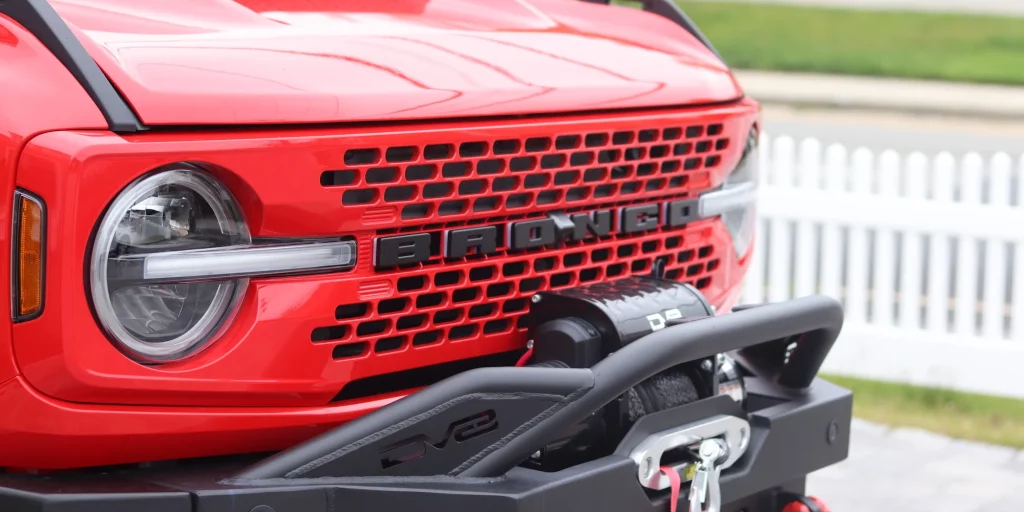 Another item on your Bronco that we think looks really good when paint matched is the grille. Most come textured black from the factory, and some do come painted directly from the factory, but not many come color matched to the body of the vehicle unless it is black. 
In our opinion we think a color matched grille is a great way to give your Bronco a more cohesive look.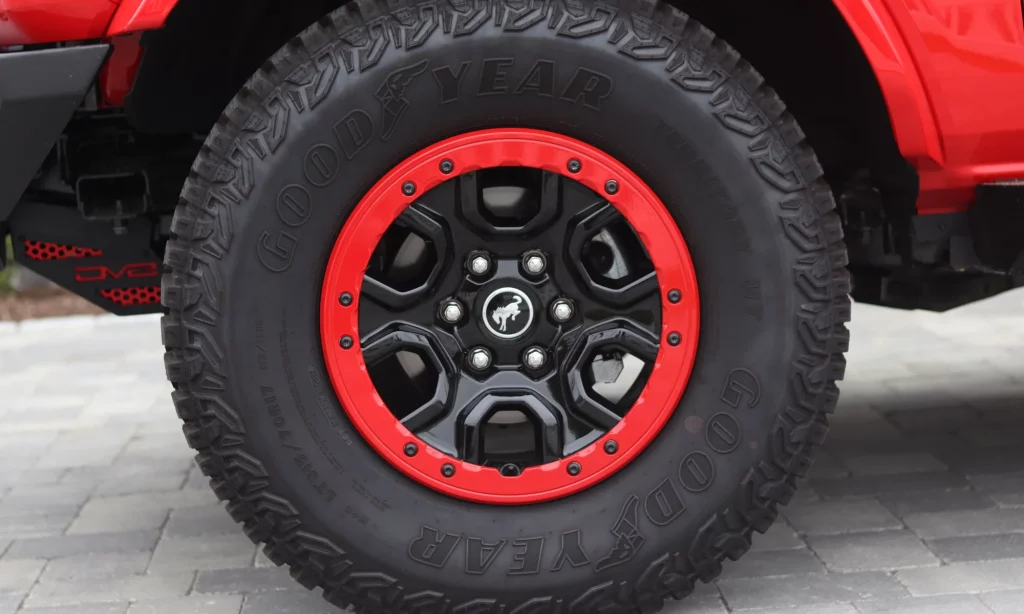 Painted Outer Wheel Beadlock Rings
All Sasquatch Broncos come with wheels that contain an outer wheel beadlock ring. Most come silver from the factory with some of them coming black.
In our opinion these beadlock rings look great when you paint match them  as it helps to tie in the wheels and tires with the rest of the vehicle. It overall helps to further emphasize the color scheme of the vehicle.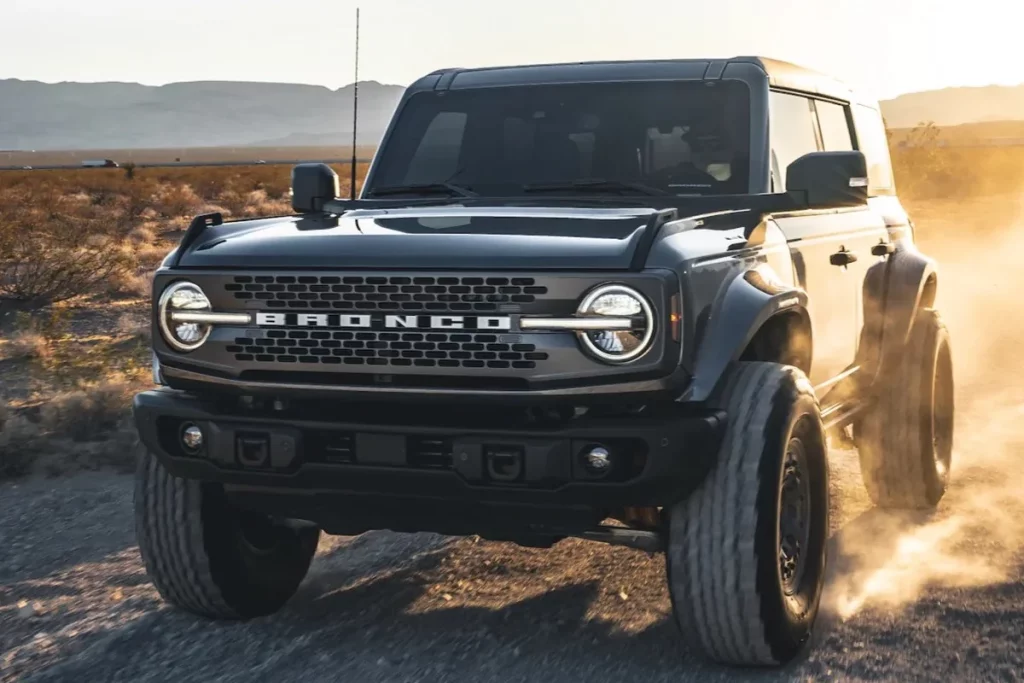 Flared Fenders & Quarters
Our favorite aftermarket Bronco modification is to install a set of 5″ flared fenders and quarters. These body panels are made of fiberglass and are manufactured by the same company that creates the aftermarket hoods we sell, Advanced Fiberglass Concepts.
In our opinion these fenders and quarters give the Bronco a more fierce, and sporty look. It is one of the best ways to give your Bronco that custom and unique appearance.
We use the same Glasurit paint mixing system that we use for all the color matched body parts to help give you that professional factory look.

Illuminated Bronco Letters
One cool feature that we incorporate on nearly all of our Bronco builds are these illuminated Bronco letters from Oracle. These light up anytime the door opens or the headlights turn on. They help form one solid line of light that starts from each headlight that extends over the front part of the grille.